Testimonials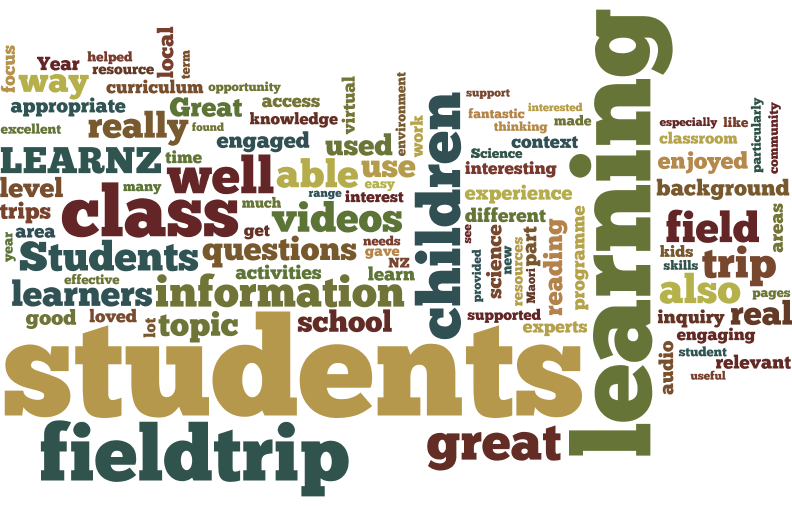 Love your Rubbish
I have been running an online class with my Social Studies class. The virtual field trip enabled the students to utilise a variety of tools and learning medium to enhance their learning. Linked with the topic "Sustainability" extremely well.
Kersty Millar from Reporoa College
Wonderful. Good resources, and meeting with the key competencies. Fantastic resource to fit in with science, social studies etc.
Sheree Jansen from Bishop Edward Gaines Catholic School
LEARNZ is another way to educate the students who are unable to physically participate in these field trips. A great medium for teaching. It's fun having 'live' updates. The students were intrigued with the covering up of the waste, the sheer size of the land area and of course...machinery! We are an Enviro School.
Helen Gibson from Hilltop School
This service is absolutely fantastic - have used it for years!
Daniele Cuthbert from Edgecumbe School
We used the field trip to plan, implement and evaluate a programme to reduce waste and improve hauora of our school environment. I found the videos and background information very useful for my class and I have used the photos for sequencing ideas for writing. My class loved Andrew's diaries and could connect to him when they viewed the videos. Lots of curriculum links to Health and PE, Social Sciences, English, Science and Key Competencies.
Krishna Ramadugu from Puhinui School
Fantastic, up-to-date, real time, interactive resource on a current environmental issue. Related well to Social Sciences, L.4, innovation, challenges, people, places and environment. NZC Vision: a greater awareness of how students can be positive, lifelong contributors. Values:  linked with innovation, community, ecological sustainability. Principles: community engagement, future focus. Related to all KC's as they were communicating, thinking-inquiry, participating, and completing tasks on time.
Gavin Kidd from Ellesmere College
This trip gave the students an insight into ecological sustainability. We also tied in a visit from a council person which gave students an insight into our own rubbish process. Students really enjoy watching the videos at home, which can then encourage further discussion on the topics with families. 
Caroline Arnold from Lepperton School
This field trip was well pitched to my class level,informative and kept the students engaged. The field trip and its sustainability theme supports all learning areas of the curriculum especially science and social studies.
Kaye Gilman from Paraparaumu School
Many accessed the website at home and shared the parts they enjoyed with their family, which was great. My boys loved the machinery and trucks. Great use of technology and targets students of all abilities.
Christine Callingham from St Joseph's School Rangiora
Being an Enviro School, this field trip provided real depth to the enviro theme. As an e-learning class, all of the resources were readily available to the students so they could have some 'student choice' in what they did.  This is what 'personalised learning' is all about.
John Brunton from Marshall Laing School
The field trip was followed by our trip to the Bromley Recycling Centre. So it ... completed the journey of our rubbish. Our children were engaged in following the trip and it prompted them to ask lots of questions.
Kyung-Hee Park from Merrin School
Students got to experience aspects of waste management that they could not in our local environment and have become really motivated to address waste management issues in our local area. I also find that special needs students are supported on Learnz by the differently leveled materials available and by the different types of media (Text, Audio, Video).
Gordon Baird from Tapawera Area School
It really fitted in with our Wellbeing Inquiry and also with us as a Green-Gold school. All learners benefit from LEARNZ in multiple ways but ESOL students partcularly benefit from using the button which allows them to listen to the text being read, while they read themselves. This helps them with new technical vocabulary and helps them to access the curriculum effectively.
Susan Hodge from Elm Park School
The field trip supported our study on the Environment and Sustainability and also worked in well with our Zero Waste Education study on Composting. Students were given an insight into landfills and recycling, and the activities gave the students a lot to think about.
Dylan Kiriona from Ohau School
This field trip tied in nicely with our work looking at how we can care for the environment. It also tied in with our maths which included students collecting and analysing their own data about the rubbish we have in our class, at home and around school. The boys in particular were actively engaged; students were amazed at what they didn't actually know about the process that our rubbish goes through.
Marcia Karaitiana from Longford Intermediate
It (the virtual field trip) helped students think about the environment and how they can contribute to looking after it. The topics related to what we were studying and we did't have to leave the school to experience it.
Peter McDonough from Hebron Christian College (Auckland)
Pages