Testimonials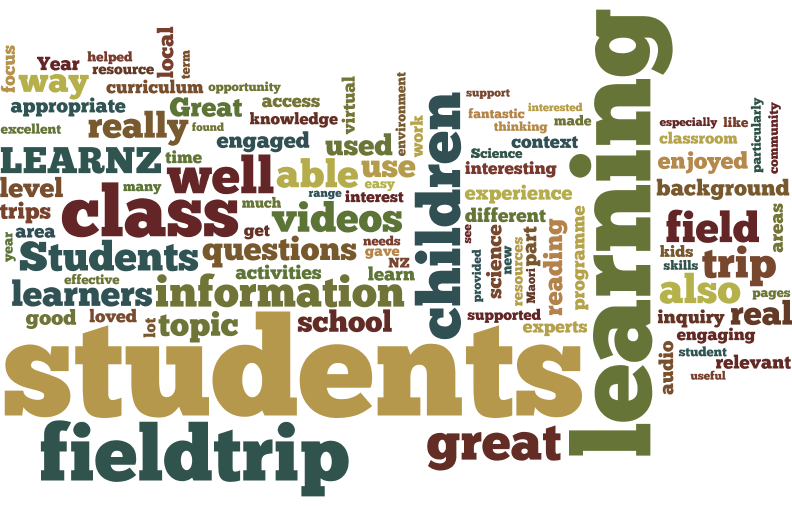 Love your Rubbish
This field trip was well pitched to my class level,informative and kept the students engaged. The field trip and its sustainability theme supports all learning areas of the curriculum especially science and social studies.
Kaye Gilman from Paraparaumu School
Looking at Landfills as intro to our Sustainability study and being able to access your fabulous resources and view audio conferences, fitted in so well. Samples (of the landfill liner) sent to us were an extra bonus.
Yvonne Toa from Tahuna Normal Intermediate
We had just gone through a process of making submissions to our local council - it will be good to continue to ask them questions now that we are knowledgeable about the Kate Valley landfill.
Ryan Fraser from Maheno School
Very effective. We were able to consolidate a lot of the learning we had been doing since our trip to the Wellington landfill.  It (the virtual field trip) catered to a wide range of students and met the learning of my year 4-6's very well. The students were active participants who were challenged to think critically.
Timothy Crawshaw from Newtown School
Fabulous topic. Very easy and user friendly website, accessible for everyone. Thanks for sending the sample of the liner material used in landfills - it was very effective to see and feel the liner, and it covers a big area of technology.
Anja Hennig from Green Bay Primary School
It was a great follow on from our litter less lunch inquiry. Good for Social Action, informing our parents about choices when purchasing goods and disposing of the waste.
Deirdre Duggan from Maungatapu School
Students got to experience aspects of waste management that they could not in our local environment and have become really motivated to address waste management issues in our local area. I also find that special needs students are supported on Learnz by the differently leveled materials available and by the different types of media (Text, Audio, Video).
Gordon Baird from Tapawera Area School
I have been running an online class with my Social Studies class. The virtual field trip enabled the students to utilise a variety of tools and learning medium to enhance their learning. Linked with the topic "Sustainability" extremely well.
Kersty Millar from Reporoa College
High Country
An invaluable insight into the use of technology in the outside world. It gives students another resource for gathering information from experts in particular fields.
Kevin Jones from Te Rapa School
The audio conferences were particularly helpful for our students. As a whanau hub we have been working on aspects of flight and transitioning into digital platforms. This has assisted us to transition our students. 
Charlotte Castle from Redhill School
In the backchannel it was really interesting to have our questions answered during an audioconference when we weren't a speaking school. This was a Maths group involved in this trip, so it was ideal for providing authenticity to their Maths, alongside the natural integration with all other areas of the curriculum.
Jo Dudley from Ilam School
Useful for itroduction of new technologies used in Geography, visual interpretation. Also useful for self directed learning and independence. I have always found LEARNZ field trips a useful tool to back up and extend in school learning. Now retired, I would like to thank the team for your enthusiasm and professional learning.
Gabrielle Campbell from Otaki College
My year 7 and 8 students have really engaged with the trip material. Thank you for providing such an interesting resource. A lot of my students like to spend time in the bush and were keen to learn more about the application of technology in this area.
Gordon Baird from Tapawera Area School
The field trips meet the needs of lots of learners and enables multi level learning on the same topic. I like the ability to easily revise, and work can be looked at outside the classroom. Excellent links to key competencies, self management, use of 21st century learning environment.
Kersty Millar from Reporoa College
Exceptionally appropriate for this age group - particularly the videos, web board and photos. The class also loved having Walt (the class mascot) there.
Jo Dudley from Ilam School
Being able to connect with real people is very meaningful for students. The drones, satellites, pests, and mapping areas became focus areas for the class and they have continued inquiring about these.
Leonie Austin from Waterloo School
Yes the topic was good, interesting etc, linked to the human uses of the environment for 2.1 Geography and was generally interesting to students; drones are very in! So it is a great way to engage students, use technology and get students enthused about Geography.
Kathryn Jordan from Hillmorton High School
It assists with student thinking and setting goals and meeting deadlines.
Marne Hendriks from Rosebank School Balclutha
My class enjoyed reading the information and watching the videos, especially the drones.
Amanda Barrett from St Patrick's School Bryndwr
The video clips of the drone in action was a major success. This put the whole subject in perspective. Because of the novelty of the subject the student engagement was exceptional and they gained skills in elearning as we used the iPads to read and study the background pages.
Graham Elsmore from Christian Renewal School
Pages