Testimonials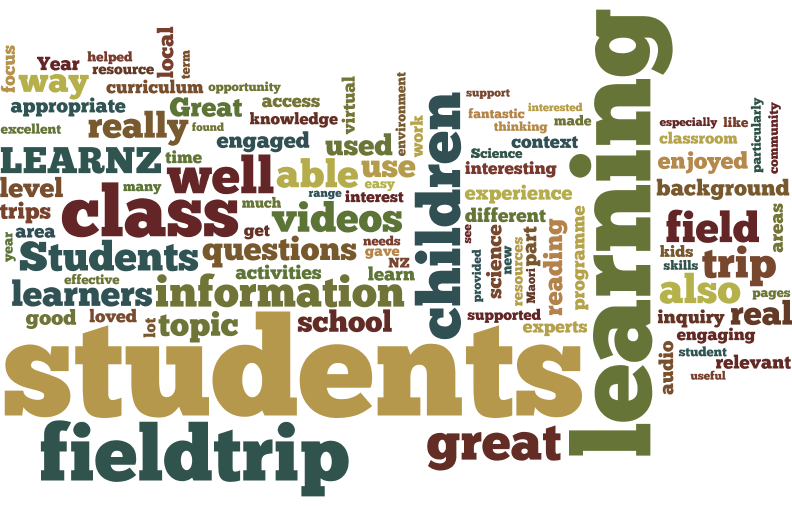 Antarctica
LEARNZ is a great way to study a topic using a medium that is accessible to all, even my low vision student and those with poor reading skills. The Antarctica field trip supported the science and social studies areas of the curriculum and much more, such as the key competencies.
Carolyn Thelning from Weston School
The students became very curious about Antarctica. They couldn't wait to find out what would happen next and were so upset if we didn't watch everything first thing in the morning.
Gemma Forde from St Theresa's School (Invercargill)
For my Year 4 class enjoyed the learning experience. The virtual field trip raised their awareness of how special and unique Antarctica is and made them think about being the guardians of the area.
Jacqueline Barrett from Westbrook School
Real life engagement with scientists on ice was interesting - great for students to see what we had been studying in real life.
Vanessa Carnevale from Waiheke High School
It was in line with our learning focus for this year of being a fully digital classroom. Online help was all good.
Jennifer Barrow from Kaniere School
Great for Nature of Science. Also enviroscience topics. The kids were really interested - we found all the science fascinating and it was delivered in a way that made it understandable for the class. Also just the glimpse into life in the Antarctic.
Deirdre Hutton from Holy Family School Wanaka
My Year 7-10 students can access the field trip whenever needed, not necessarily during the trip. Relevant topic. Students keen to learn more about Antarctica.
Ruth Soper from Southern Regional Health School
The LEARNZ virtual journey to Antarctica was great because EOTC is not possible in Antarctica for a school classroom to do for real. The opportunity to hear real scientists talk to the LEARNZ representative, Shelley Hersy, was very valuable and also helped us form some of our science goals.
Dianne Morgan from Matakana School
The unit was an excellent opportunity to integrate the Principles, Values, Key Competencies across a range of curriculum areas within authentic learning situations. The students really enjoy the online learning resources, especially the audio conferences.
Brigid Conaglen from Clifton Terrace Model School
We loved the field trip! Thanks so much for all that you do. It is such an engaging way to connect with various areas of the curriculum.
Sarah Trethewey from Katikati Primary School
Catered to the needs of all students. Tasks were easily differentiated for all curriculum levels. Great opportunity for students to make connections with the wider community.
Christina Fortes from Hay Park School
I really enjoy the learnz trips. My class loved learning about preservation and discovery in Antarctica. It delved into the deeper questions. 
Gina Matheson from Marshall Laing School
All students (Year 8, Levels 2-5) were able to access and make sense of the content. Antarctica fitted perfectly with our concept study of 'Environments'.  It was our first experience and we will be back for more.
Peter Fowler from Cobham Intermediate
It was a very REAL and engaging focus for a lot of different interest groups. Use of the Audio conferences was a first and was very impactful for the students.
Jean Mallinson from Alfriston School
The field trip supported the development of Key Competencies, and provided up-to-date information relevant to Education for Sustainability.
Ruth Guy from Lincoln High School
The audio conversations were brilliantly done along with the accompanying videos, plus questions being typed and answered while online. I have been intrigued and surprised by how much my young students have taken on board during the trip.
Lesley Johnston from Firth School
Great resource with a variety of media. Very comprehensive, providing students with another layer of learning material connected to real world around them.
Roland Gorlich from Arahoe School
This field trip has been the highlight of the year for all the students. Amazing enthusiasm from the whole school.
Emily Wells from St Mark's School Christchurch
It definitely ticked the boxes. A great topic. We enjoyed all that was on offer.
Lorena McStay from Templeton School
The context of this Antarctica learning trip was helpful to discuss the ESS topic (L5): Earth systems. Students learnt lots of new things about Antarctica and sea ice formation, with some good extra teaching material and activities to extend students.
Nataliia Kravchenko from Te Awamutu College
Pages