Testimonials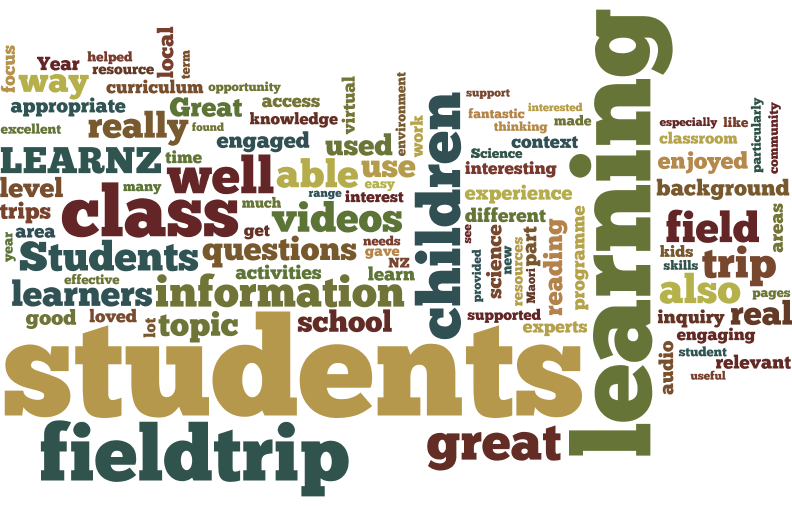 Antarctica
The 'real-time' trip increased motivation for students and hooked them into their learning. The virtual relationship with Shelley was a highlight. A class visit from David Wallace, who visited Antarctica in 2012, reinforced all the students had seen and inquired about through LEARNZ.
Kathleen McIsaac from Cambridge East School
LEARNZ is a great way to study a topic using a medium that is accessible to all, even my low vision student and those with poor reading skills. The Antarctica field trip supported the science and social studies areas of the curriculum and much more, such as the key competencies.
Carolyn Thelning from Weston School
You do a great job of preparing and motivating us to engage with the topic. Well structured for all students. Even low achieving readers well engaged. Covered science, values, aspirations and career information. 
Martin Dodge from Balclutha School
Having all of the Antarctica resources together makes it very easy for students to self-explore the parts of the topic they are especially interested in. The real benefit for us has been having all of the audio with the readings for my lower readers; they prefer to listen and the NZ accent of the reader is a bonus.
Lisa O'Connor from St Teresa's School Featherston
WOW, what a powerful learning tool the Audio Conference was - our extension Year 3-4 students were so engaged in listening and learning that they didn't make a sound.
Joanne Drake from Geraldine Primary School
Provided real meaning and connections to topical subjects like global warming. There was a high level of interest about Antarctica from the students.
John Brunton from Marshall Laing School
It was in line with our learning focus for this year of being a fully digital classroom. Online help was all good.
Jennifer Barrow from Kaniere School
My students have a different view of the world we live in after this field trip. My students love the field trips.
Martie Andrew from Awakeri School
Real life engagement with scientists on ice was interesting - great for students to see what we had been studying in real life.
Vanessa Carnevale from Waiheke High School
The field trip was very effective, especially from the view point of engagement and motivation as the students felt it was relevant and real.
Jeremy Shroff from Glendowie School
I run the GATE programme and we do Future Problem Solving so the ecological sustainability was particularly relevant. A great teaching tool which is motivating for students.
Maree Flashman from St Mary's School Ellerslie
Catered to the needs of all students. Tasks were easily differentiated for all curriculum levels. Great opportunity for students to make connections with the wider community.
Christina Fortes from Hay Park School
It has been one of the best units I have taught in my 16 years of teaching - I would recommend it to anyone. I do think that it has been particularly successful in my classroom because we signed up for the extras such as the ambassador and the audio conferencing - that's what really made it come alive for me and the children in my class.
Samantha Edwards from Kenakena School
We loved the field trip! Thanks so much for all that you do. It is such an engaging way to connect with various areas of the curriculum.
Sarah Trethewey from Katikati Primary School
We used the Inquiry method to study Antarctica and we loved it! Shelley's videos created lots for discussion. Brilliant!
Allison Cotter from Newtown School
The whole field trip has added a sense of authenticity to student learning. This really is a wonderful way to give us invaluable learning experiences - students have been so engaged and have been thinking of their own experiments to test some of the things that they have learnt.
Shannon Mainey from Waiau Pa School
I really enjoy the learnz trips. My class loved learning about preservation and discovery in Antarctica. It delved into the deeper questions. 
Gina Matheson from Marshall Laing School
Great resource with a variety of media. Very comprehensive, providing students with another layer of learning material connected to real world around them.
Roland Gorlich from Arahoe School
The unit was an excellent opportunity to integrate the Principles, Values, Key Competencies across a range of curriculum areas within authentic learning situations. The students really enjoy the online learning resources, especially the audio conferences.
Brigid Conaglen from Clifton Terrace Model School
It was a very REAL and engaging focus for a lot of different interest groups. Use of the Audio conferences was a first and was very impactful for the students.
Jean Mallinson from Alfriston School
Pages