Diary 2


Date:
Tuesday, October 31, 2017
Field Trip Name:
Life at the Boundary
Kia ora koutou,
What a spectacular day to begin your geological journey back in time to find out about natural hazards in Hawkes Bay.
A dynamic landscape
You headed up Te Mata Peak to take in the views and meet with Julian Thomson from GNS Science. Julian had chosen this location because from here you can see evidence of plate tectonics in the landscape. Julian pointed out to sea where the Australian and Pacific Plate meet. He explained that this boundary extends about 15 kilometres beneath where we stood. Being close to a plate boundary means that earthquakes, landslides and tsunami are all possible. It was strange to sit on limestone which had once been beneath the sea. You could see fossils of sea shells in the rock which confirmed this. Over thousands or even millions of years, land can be pushed up many metres by earthquakes. Watch the video about this.
The role of plate tectonics
Once you had looked out over the area and understood the lay of the land you headed out to Cape Kidnappers. Here you tried to connect with schools to complete the web conference. Unfortunately, the cell phone coverage wasn't as good as it first appeared. You had to scramble to connect with Matamata Intermediate and St Francis School. Luckily these schools could still ask their questions and Julian enjoyed answering them. One question about what our world would be like without plate tectonics got us all thinking. Julian talked about how this plate movement recycles rocks and carbon dioxide. Without this movement it unlikely that life could exist. You can listen to a recording of this web conference to find out more.
Layers of history
The web conference ended in time for you to make the most of the low tide and walk along the beach at Cape Kidnappers. It was hard to watch where you were walking as you stared upwards to the huge cliffs that towered above you. These cliffs look very unstable and I know I would not like to be here during a rain storm. You could see where rocks and gravels had recently slid. You could also see different layers in the cliffs. Julian pointed out layers of old marine mudstone, river gravels and ash. These layers were tilted showing that the land had been pushed up by earthquakes. Earthquakes happen where there is a weakness in the surface called a fault and you could see faults in the cliff face. On one side of the fault a layer of river gravel had moved one way while a layer of mudstone had moved another. Geologists study layers like this to learn about what has happened in the past. They can tell when earthquakes have happened, when the climate and sea level has changed, and even when volcanoes have erupted. Watch the video to find out more.
Land that slides
After your wander along the beach you had built up an appetite so headed back to Napier for lunch. Then you headed north to look at a common natural hazard. Landslides are far more common than large earthquakes in New Zealand and can cause a lot of damage. Julian took you to Waipatiki to show you an active rockfall area. Here you could see an exposed cliff with layers of limestone and mudstone. You can see this in the video. The weak rock had cracked and broken away in places and it was obvious that building in areas with steep, weak rock is not a clever idea. Heavy rainfall and earthquakes can trigger landslides so it's important to know which areas are at risk. Julian explained that some rocks are much weaker than others. People can have an impact too. By removing trees, or constructing roads and buildings, slopes can become more unstable.
An earthquake shapes a city
You ended the day back in Napier which has also been shaped by earthquakes. Back in 1931 Napier shook in a devastating earthquake. 256 people were killed. Many buildings were damaged by the shaking and fires spread following the quake. Much was learnt from this event. A building code was set to try to make sure that buildings don't collapse during earthquakes. Land was also pushed up along the coast creating new areas to farm and build on. Another positive from the quake was that much of the city of Napier was rebuilt. Back then Art Deco buildings were the fashion and there are now many amazing examples of these in the city. You could see lots of quirky arches, and rounded buildings. Napier attracts thousands of tourists each year who come to admire these buildings.
It has been a fascinating day looking at what the landscape can tell us about natural hazards. Tomorrow you will meet an earthquake geologist to discover more about the events that have shaped this land.
See you in the morning.
Shelley the LEARNZ field trip teacher.
Julian and Shelley sit on limestone that was once below the sea on Te Mata Peak. How did this limestone end up here? Image: LEARNZ.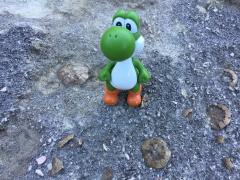 Alvin finds fossils of kina in the limestone rock. Image: LEARNZ.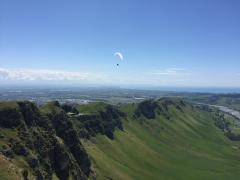 The view out towards Napier from Te Mata Peak showing limestone rock outcrops. Image: LEARNZ.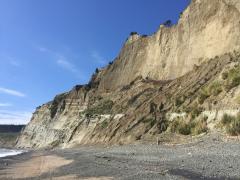 The cliffs at Cape Kidnappers tell a tale of what has happened in the geological past. Layers of mudstone, river gravels and volcanic ash can be seen. Image: LEARNZ.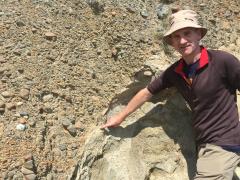 Julian points out a fault in the cliff where a layer of river gravel and mudstone have been displaced during an earthquake. Image: LEARNZ.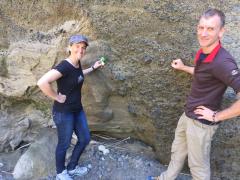 Shelley, Alvin and Julian find another fault at Cape Kidnappers. Image: LEARNZ.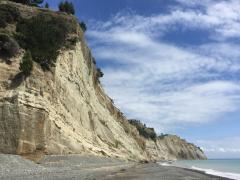 You can see how the layers of different rock types have been tilted by land movement. What causes this movement? Image: LEARNZ.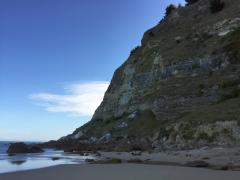 A cliff at Waipatiki Beach shows signs of recent rock fall. What do you think may have caused this rock fall? Image: LEARNZ.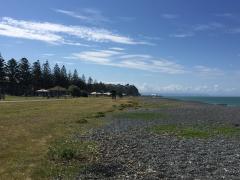 The beach in Napier was pushed up during the 1931 earthquake. This left more land above sea level. Image: LEARNZ.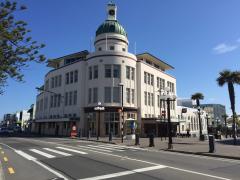 Art Deco buildings replaced earthquake damaged buildings after the 1931 quake. Napier is now famous for these funky buildings. Image: LEARNZ.