Diary 4


Date:
Thursday, November 2, 2017
Field Trip Name:
Life at the Boundary
Weather:
Another stunning day in Hawkes Bay
Kia ora koutou, 
You have made it to the final day of the Life at the Boundary field trip. Your mission for the day was to find out how to reduce the impacts of natural hazards on people. You met with Andy Pomfret and Nathan Hickman in Hastings. Andy and Nathan are geotechnical engineers. Their job is all about understanding the land and how to build strong foundations. 
Questions from Columba College
Before Andy and Nathan could show you some of the projects they have been working on, you completed the last field trip web conference. Columba College from Dunedin had fantastic questions about how to build structures that survive earthquakes. Students asked about whether glass could be strengthed so it doesn't break if it falls out during an earthquake. Nathan explained that this is difficult. It is easier to design buildings so windows don't fall out in the first place. You can listen to a recording of this web conference to find out more.
Smart construction
Following the web conference you headed to a building site in Hastings. You had to put a high-vis vest on and a hard hat before entering the site. Nathan showed you where a new hospital ward is being built. This building is designed to withstand earthquakes. Before construction could start, a lot of work was done to strengthen the ground. If the ground is weak it doesn't matter how strong the building is because, if the ground moves, a lot the building will be damaged. Lots of river gravel was placed in layers and compacted. This means that if the weaker ground below liquefies in an earthquake it will not affect the gravel layers above. This gives the building a much stronger foundation. You can find out more by watching the video. It was impressive to see all the steel framing and it certainly looked like a strong structure.
Problem solving
Andy and Nathan don't always work on new projects. Sometimes they work on fixing problems after they have happened. Andy showed you an area on Napier Hill where houses were damaged by a landslide. Heavy rain triggered this landslide and left the houses above unstable and dangerous. Andy showed you how the landslide has been fixed with netting, bolts and concrete retaining walls. 15 metre long braces have been used to anchor the land and make it safe for people to return to their home. You can see this in the video. Landslides are common in New Zealand and cost this country millions of dollars each year. Andy and Nathan talked about all the clever ways engineers can strengthen slopes to stop them from slipping. But it is probably easier not to build in these areas in the first place.
Reducing hazards
You may have heard that there is a housing shortage in New Zealand. New subdivisions are popping up all over the country. You headed out to Te Awa subdivision to see how a hazardous area can be made safer. This area was uplifted during the 1931 Napier earthquake and used to be a swamp. This soft ground would liquefy in an earthquake. To stop this from happening the land has been built up with gravels and compacted to make it stronger. Flooding is also a hazard, so a pond has been created to capture stormwater and drain it away. Watch the video to find out more about this subdivision.
Building stronger homes
To find out how houses have been built to survive earthquakes you went to have a look inside a brand new home. It was interesting to see the lightweight materials that had been used on the roof and outside of the house. These light but strong materials do not fall down during earthquakes. All houses in this area have special foundations designed to cope with earthquakes. Inside the house, there were even gaps in the some ceilings to allow for earthquake movement. There are lots of ways to make a house safer during earthquakes. Even simple things can make a big difference. Securing items such as televisions, bookcases and hot water cylinders can prevent damage. You can check out the Fix, Fasten, Don't Forget website to find out how to make your own home safer. You can also check out your local council web site to get information on natural hazards in your local area.
It has been a fascinating week here in Napier. I have realised that life at the boundary is full of challenges. But the awesome forces that cause natural hazards also provide us with a stunning place to live. This week you have learnt how to be a geological detective and identify natural hazards. Now you can look at how you can be better prepared for possible earthquakes, landslides and tsunami. I hope you have enjoyed the field trip as much as I have and can join us on another one soon.
Ka kite anō,
Shelley the LEARNZ field trip teacher.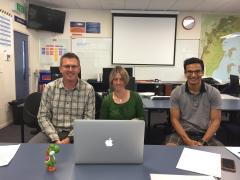 Andy, Shelley and Nathan chat with Columba College during the last field trip web conference. Image: LEARNZ.
A new hospital ward is being built in Hastings. How has this building been designed to withstand earthquakes. Image: LEARNZ.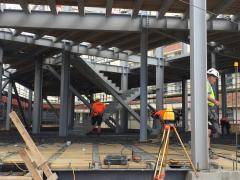 Steel beams, a strengthened stair way and strong foundations make this building much more resilient to earthquakes. Image: LEARNZ.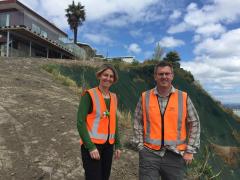 Shelley and Andy take a look at an old landslide site and how it has been stabilised. Image: LEARNZ.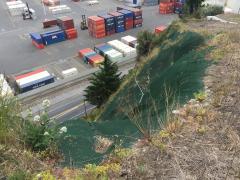 Looking down a landslide on Napier Hill. What has been done to stop this area from eroding further? Image: LEARNZ.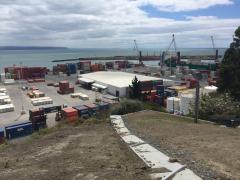 A concrete barrier anchors the slope above a landslide on Napier Hill. Image: LEARNZ.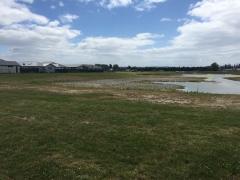 The Te Awa subdivision in Napier has been designed to reduce the impacts of natural hazards such as earthquakes, liquefaction and flooding. What is this ponding area for? Image: LEARNZ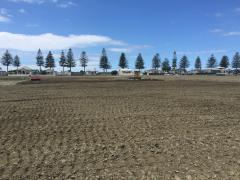 Layers of gravels and soil have been built up and compacted to make the ground stronger to build on. Image: LEARNZ.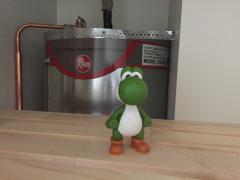 Alvin finds out about making a house quake safe by securing heavy objects such as hot water cylinders. How has this water cylinder been secured? Image: LEARNZ.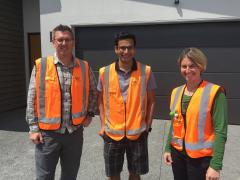 Andy, Nathan and Shelley take a look at a new house to see how it has been built stronger to withstand earthquakes. Image: LEARNZ.