Ambassador Māia


Kia ora,
I'm Māia the kea. My name means bold in Māori. Like most kea I love to give things a go and am often curious and a little mischievous. I am the ambassador that travels all over the place with Shelley the LEARNZ field trip teacher. I love getting out and about on adventures and can't wait to set sail on the Spirit of New Zealand.
See you at sea,
Māia.
Monday 19 February
Kia ora,
This is my first LEARNZ field trip and I am so excited to begin with a sailing adventure. It was nice to be able to fly from Dunedin to Auckland as it would have taken me ages to fly the thousand kilometres. I was surprised at how big the Spirit of New Zealand looks from the outside, yet it seems awfully small on the inside – maybe that's because there are 50 people on board. 
We left Auckland at 10am and had time to set some sails and cruise out beyond Waiheke Island. It was so cool learning how to sail such a big ship.
Tomorrow we are hoping to avoid the storm – wish us luck!
Māia.
Tuesday 20 February
Kia ora,
Kea are used to storms and I was looking forward to some wild weather, but ex-cyclone Gita has left us alone. This meant we could still start the day with a swim and have heaps of fun sailing in the strong wind.
We all had to work together to keep the boat on track as the wind increased and waves crashed over the bow of the boat. If I wasn't such a mountain parrot I'm sure I could be at home on a boat.
Tomorrow we are hoping to head ashore to explore.
See you then,
Māia.
Wednesday 21 February
Kia ora,
Apart from a few showers of rain, the sun shone and we made the most of the day by paddling the inflatable rafts over to Waiheke Island. I think it would have been quicker for me to fly but not nearly as challenging. 
We also learned about how to stay healthy during a sailing voyage. Like all outdoor activities its important to eat well and stay hydrated. I love food so am always finding ways to eat more than my share. We have eaten really well on this trip and I have made great friends with JR the cook.
Tomorrow we are going to learn how to sail a different kind of boat.
Bye for now,
Māia.
Thursday 22 February
Kia ora,
Everyone was so excited about the mast climb today but I was more excited about sailing in the little boats because I could have flown to the top of the mast. It was great fun sailing the luggers. You are much closer to the water and even though it hardly ever happens you feel like the boat could easily tip over if the sail catches too much wind.
Well it has been an adventurous and rewarding trip and I'm now looking forward to heading home to rest up so I'm ready for another field trip soon.
See you then,
Māia.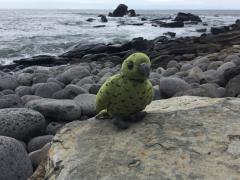 Māia loves adventures and is looking forward to the Spirit of Adventure field trip. Image: LEARNZ.
Māia prepares to board the Spirit of New Zealand in Auckland. Image: LEARNZ.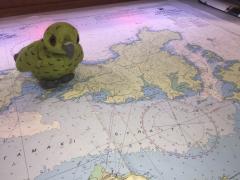 Māia checks out our progress on a nautical chart. Image: LEARNZ.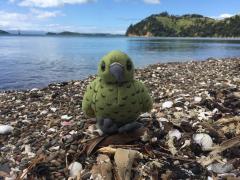 Māia explores Man O' War Bay on Waiheke Island. Image: LEARNZ.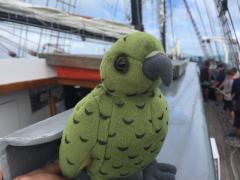 Māia enjoys her last full day on the Spirit of New Zealand before heading back to Auckland tomorrow. Image: LEARNZ.