Diary 1


Date:
Monday, July 29, 2019
Field Trip Name:
Tūhura Ahuahu
Field Trip Place:
Ahuahu Great Mercury Island
Weather:
Showers with fine breaks
Where You Are:
Travelling to Whitianga
It was a bit of a wet start to the travel day as the ambassadors and I headed to Bay of Islands airport. Luckily for us there was enough of a fine break for the plane to land in time for our departure to Auckland.
Kerikeri to Auckland
As we began our flight south to Auckland, I looked east to the Bay of Islands/Pēwhairangi. Like Ahuahu Great Mercury Island, this area was the site of early Polynesian landing and occupation in Aotearoa. And, like Ahuahu, there has also been archaeological research conducted on some of these islands. Mangahawea, on Moturua Island, is the site of a recent excavation. There are similarities between these two sites. Both have evidence of taro gardening, moa bones found in middens, pieces of rock such as obsidian, and other various artefacts.
I am looking forward to learning more about archaeology and how it can help us to understand our past and the way of life of early Polynesian explorers. If you want to investigate more about archaeology related to early sites in New Zealand after this field trip, you could also take part in the Rāranga tuku iho, tohatoha whiwhi ōrite - dual heritage, shared future field trip taking place in the Bay of Islands in September.
It was only a short flight to Auckland. After touchdown and making our way to the terminal, we went to uplift our bags and pickup the rental car. It was to be a bit of a road trip from Auckland to Whitianga.
Auckland to Whitianga
Before leaving Auckland for our drive south to Whitianga, we visited the supermarket to stock up on supplies. There are no shops on Ahuahu Great Mercury, so it was important we had everything we needed for our stay on the island. We could have shopped when we arrived in Whitianga, but I knew that going to the supermarket would be the last thing I felt like doing after all that driving!
From Auckland we drove south on State Highway 1. Near Pokeno we turned onto State Highway 2. From SH2 we turned onto SH25 near Mangatarata. SH25 then turns into SH25A as we drove over the Waihou River and by-passed Thames to instead go through Coromandel Forest Park.
We continued to wind out way over and around the Coromandel Peninsula, passing through towns such as Hikuai, Tairua, Coroglen, and Kaimarama, before finally arriving in Whitianga, Mercury Bay. All up, including stops, the drive took around three hours.
Whitianga
Once in Whitianga we checked into the motel we are staying in for tonight. It will be tomorrow that we go by boat to Ahuahu Great Mercury Island. I was thankful that I had already done my shopping for the week. I instead went for a relaxing stroll along the beach.
As I walked along the beach, I thought about how Captain Cook and local Māori had a friendly encounter nearby back in 1769. It was said that Captain Cook was the first European to receive a pōwhiri in Ngāti Hei's Wharetaewa pā. I wasn't sure where this pā was exactly, but it seems to me to be a significant place in terms of our bicultural heritage.
It is special to visit sites that hold the history of our nation. It is one thing to read about them, but to visit them in person creates a whole different feeling. I am excited about visiting Ahuahu Great Mercury for that very reason.
I hope that after this field trip you are inspired to get out and do the same.
Mā te wā
Andrew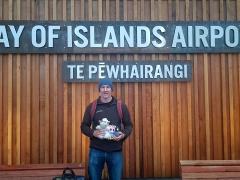 Andrew and the ambassadors at Bay of Islands airport. Image: Karren Penny.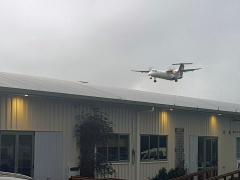 Andrew was pleased to see the plane arrive given it was such a wet morning. Image: Andrew Penny, LEARNZ.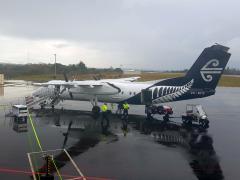 The luggage is about to get loaded onto the Bombardier Q300 aircraft. Image: Andrew Penny, LEARNZ.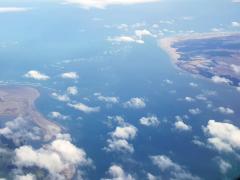 The weather improved as we neared Auckland. This is a view of the Kaipara Heads. Image: Andrew Penny, LEARNZ.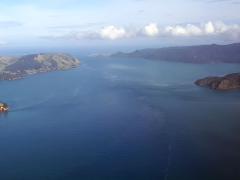 On the descent into Auckland airport, looking west towards Cornwallis and the Manukau Heads. Image: Andrew Penny, LEARNZ.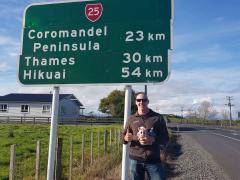 A quick stop to stretch our legs on the way to Whitianga. Image: Shelley Hersey, LEARNZ.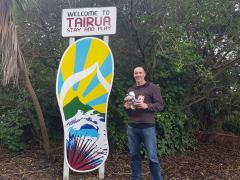 Andrew and the ambassadors in Tairua, only 40 minutes drive from Whitianga. Image: Shelley Hersey, LEARNZ.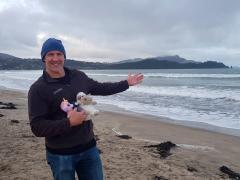 Andrew and the ambassadors at the beach in Whitianga - we made it! Image: Shelley Hersey, LEARNZ.