Diary 4


Date:
Thursday, August 1, 2019
Field Trip Name:
Tūhura Ahuahu
Field Trip Place:
Ahuahu Great Mercury Island
It was another sunny but windswept day on Ahuahu. Today we looked at conservation on the island.
Final web conference
First up this morning we had our final web conference for the week. The questions from our speaking schools, Waipipi School and Mercury Bay Area School, started some interesting discussion around conservation and archaeology. These two areas are similar in many ways. Like conservation, archaeology also looks to preserve natural areas, especially those which can tell us stories about how people lived in the past.
Our experts Louise Furey and Greg van der Lee have given us much to think about and learn from these discussions. A recording of all web conferences from the week are available on the web conferences page.
Sassy the rodent dog
After the web conference we went to Coralie Bay. It was nice and sheltered here from the southwesterly wind. At the beach we met Greg's rodent dog Sassy. Sassy has been trained to sniff out rats and mice. She's cute but clever too!
Sassy can check boats quickly to see if any rodents are present. Her work is important when it comes to keeping islands such as Ahuahu pest free. Greg said that during summer he will go kayaking with Sassy so she can check on boats that visit the islands. Sounds like fun! Check out the video to see Sassy in action.
War on weeds
Other conservation work happening on Ahuahu is getting rid of weeds. Some weeds are a problem because their seeds spread by wind. This means they can travel to nearby islands. Greg took us to an area near Peach Grove where he has been pulling out moth plant. This weed can climb trees and strangle them. Its seeds can drift long distances on air currents.
If Ahuahu will host endangered native animals in the future, there must be the right sort of habitat to support them. Getting rid of weeds that can choke native plants is therefore an important task.
Keeping Ahuahu pest free
All around Ahuahu you can see trap boxes. Even though there are no rodents or mustelids on the island, there is always a chance that one of these pests could make it ashore. In fact, in 2016 a rat did make it onto the island. However, the traps did their job and the rat was caught.
Greg showed us some trap boxes to see how they work. He also showed us a tracking tunnel that can indicate if any unwanted critter has been hanging around. There are over 300 of these stations around the island. It is fantastic that they are there but I'm glad I don't have to check them all!
Final thoughts
We finished our day where it started – at Coralie Bay. Greg and Louise shared their thoughts on the future of Ahuahu. For Greg, it is about creating a habitat so that Ahuahu can act like an ark in the future. That way DOC can translocate endangered species there, with the idea being to eventually repopulate areas of the mainland with these animals.
For Louise, it is about preserving sites of historical significance. This will keep these important stories in the landscape alive for future generations to learn from.
You could think about conservation projects to get involved in near your place. After all, everybody needs to play a part in helping make New Zealand predator free by 2050. You might also like to find out if any archaeological excavations have taken place near you. Even if there hasn't, it would be interesting to investigate early settlement in the area you live in. Because learning about our past can help us to understand and appreciate who we are today.
Do join us on another field trip soon!
Mā te wā,
Andrew
Andrew and the ambassadors with Louise and Greg with Sassy the dog on this morning's web conference at the Shearers' quarters. Image: Shelley Hersey, LEARNZ.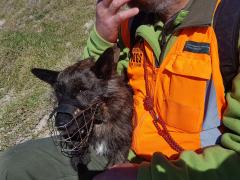 Sassy the rodent dog has been trained to sniff out rats and mice. Why do you think she wears a muzzle? Image: Andrew Penny, LEARNZ.
Greg with Sassy near the dunes at Coralie Bay. Why would dunes be an area for Sassy to sniff around? Image: Andrew Penny, LEARNZ.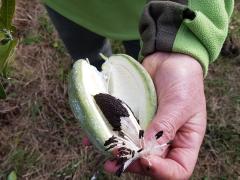 Greg shows the seed pod of a moth plant. Why are these seeds such a problem? Image: Andrew Penny, LEARNZ.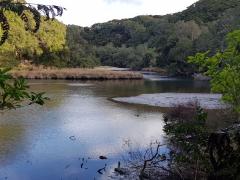 Areas like this on Ahuahu are great places for native plants and animals to thrive. Image: Andrew Penny, LEARNZ.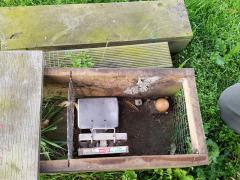 There are over 300 trap boxes on Ahuahu. If there are no animal pests, why are there traps for them? Image: Andrew Penny, LEARNZ.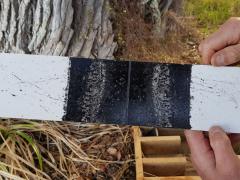 A tracking card from a tracking tunnel. What information can these provide? Image: Andrew Penny, LEARNZ.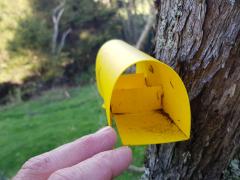 Wasps are also a problem on Ahuahu. This is a wasp bait station to help control them. What problems do wasps cause? Image: Andrew Penny, LEARNZ.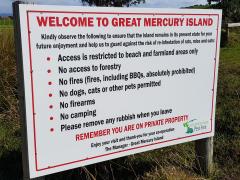 Ahuahu is privately owned but the public can still come onto the island. There are signs on popular beaches to remind people of their responsibilities. Image: Andrew Penny, LEARNZ.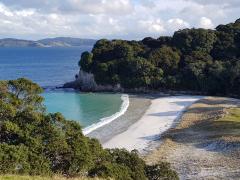 Peach Grove Bay, Ahuahu. Image: Andrew Penny, LEARNZ.