Welcome to Bioblitz - what's living in your backyard?. This field trip takes place on 2-4 April 2019 and is supported by the Ministry of Education/Te Tāhuhu o te Mātauranga and the Department of Conservation/Te Papa Atawhai. Enrol now.
Introduction 
Take a breathtaking journey into the heart of the Southern Alps to explore Ō Tū Wharekai, a unique highcountry wetland area. Join experts from the Department of Conservation to find out how to complete a Bioblitz and investigate the biodiversity of this stunning glacial carved landscape.
The air you breathe, the water you drink and the food you eat all rely on biodiversity. Biodiversity is not something that only exists in places like Ō Tū Wharekai. Your own backyard can be home to a surprising variety of plants and animals. On this field trip you will learn how to find, identify and record living things so you can then discover what's living in your own backyard.
Watch the introductory video - coming soon
Meet Shelley - LEARNZ field trip teacher


Location
Follow the mighty Rangitata River, one of the braided rivers that helped form the Canterbury Plains up into the Hakatere Conservation Park. Explore Ō Tū Wharekai, a protected wetland area nestled amongst high country tussocklands and surrounded by the towering Southern Alps/Kā Tiritiri o te Moana.
Ō Tū Wharekai is one of three sites that make up the national Arawai Kākāriki wetland restoration programme. This programme aims to protect wetlands and increase our understanding of these productive environments.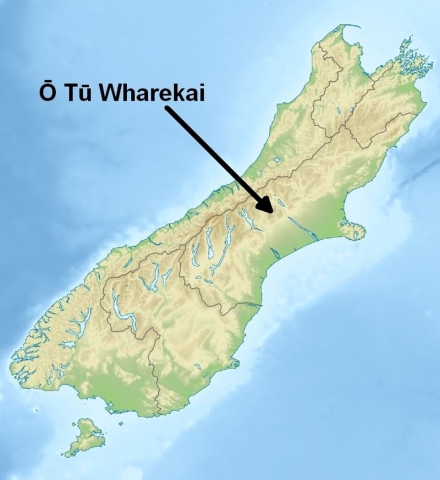 Field Trip Plan
| | |
| --- | --- |
| Monday 1 April | Travel day: Join Shelley and the ambassadors as they make their way to Mt Somers to begin the field trip.  |
| Tuesday 2 April | Day 1: Explore Ō Tū Wharekai and discover what's living in this unique highcountry wetland. Use a variety of strategies to catch, record and release local animals. See how you could use similar techniques to find out what lives in your backyard. |
| Wednesday 3 April | Day 2: Work with experts to identify and monitor native and introduced plants and animals. Find out how predators are monitored and use identification keys to name local species. |
| Thursday 4 April | Day 3: Look at how you can take action to preserve and restore biodiversity to an area. Help plant a wetland area and manage predators that threaten biodiversity. |
What's New
| | |
| --- | --- |
| Monday 4 March | Newsletter 1 will be sent to all enrolled teachers |
| Monday 4 March | Background reading pages are now online. Narrations for these pages and related activities will be online soon. |
| Monday 4 March | Bioblitz 2019 website is now online. |
NZASE and staying connected through the NZ Science Teacher will help you become a better teacher of science.