Testimonials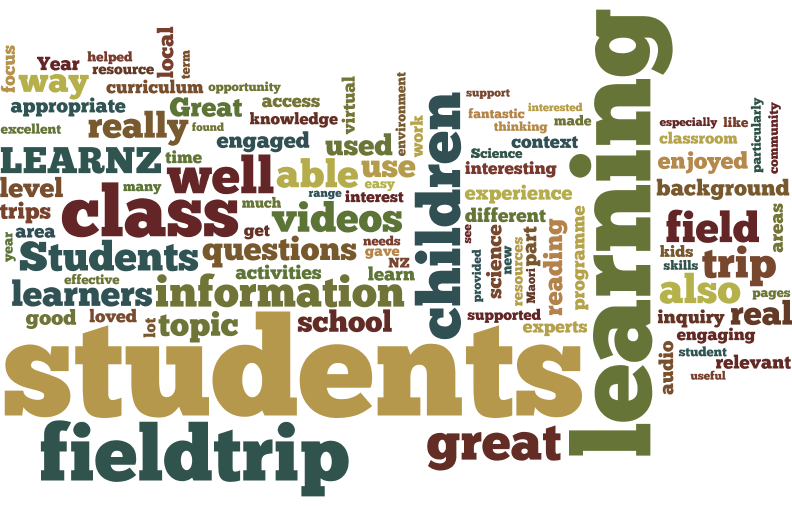 Wetland Biodiversity
Ties in to EOTC with the school camp this week which will focus on ecological sustainability. Students are already talking about the Rangitata River with new terminology. The boys were especially entranced with it all. 
Jason Shaw from Geraldine High School
Real life visuals and information were very specific and had a greater impact on my students and myself then scrolling through unlimited amounts of information via search engines. It supported my students learning with in-depth knowledge on worldwide topics from within New Zealand. Learnz caters for all learning needs. Totally appropriate.
Nick Sakaria from Finlayson Park School
You bring the outside world to us! Boys especially are absorbed by the videos and discussions with scientists - you help turn them on to learning. The field trip helped us connect and participate with our community and is making science real and meaningful.
Jennifer Kitchin from Weston School
Key competencies were all addressed through the use of this field trip and it was easy use the material to differentiate for different learners. The LEARNZ trips are motivating for students and supporting for teachers. They are broad enough to use as the basis for many Inquiry topics and versatile enough to use over a long or short period. 
Leone Baylis from Fairburn School
Our school curriculum focuses on the environment and having outside experts present information is a fantastic way to extend my students' learning and knowledge.
Sarah Laugeson from Lynton Downs School
Wonderfully appropriate. Supported our science focus very well, as well as the key competencies of self management, relating to others (sharing tablets, working together) and texts (reading and responding to the information).
Carolyn Thelning from Weston School
It supported excellence, high expectations, learning to learn, diversity and environmental sustainability, as well as the NZC level 4. It ticked all our Level 4 boxes. Great resource. My class can't wait to use it again.
Stephen Wood from Greymouth Main School
Students got to continue to learn about the environment (following on from involvement in the Virtual Great Walks field trip). The detail and facts included in the background pages made things more interesting to read (or listen to!).
Marcia Ferguson from Rosebank School Balclutha
Very purposeful learning. Supported our bi-cultural focus. Supported different learning styles. Found it very easy to incorporate into our long term plan and to integrate across learning areas. 
Amanda Ferguson from Wakanui School
Students felt they learned a lot. The LEARNZ trip was used to introduce our inquiry and then provided a good follow up. We also visited a local wetlands and planted trees. The key competencies of Thinking, and Participating and Contributing were well covered. The field trip integrated well with Science, Social Science, Art and English. There was also a good emphasis on ecological sustainability and community engagement.
Kathleen Rutherford from Sacred Heart School Dunedin
I feel it covered all areas of the key competencies - I used it to foster new learning relationships within our class, and it was an excellent tool to draw out my innovative thinkers. Due to the video nature of this field trip, the students were very engaged.
Kathryn Rayson from Brooklyn School Motueka
Fitted in very well with our Term School focus of Kaitiaki and Science focus of Living World. Preparing for the audio conference extended our students thinking and created a whole new level of class discussions and understanding.
Richard Kerr from Avondale Intermediate
I particularly used the field trip in a Science context and looking at work scientists do (science capabilities). Videos had lots of content that was appropriate to use to discuss what scientists do. Community and participation as well as ecological sustainability were principles that were supported by the wet land field trip. We had a discussion about the drought as our overarching topic this year is water. 
Britta Martin from Otari School
Great for our integrated units. Fun and engaging. Allows students to greater understand ICT and the topic at the same time. I was able to adapt the materials and information provided so that it aligned with our school values, structure and learning areas we are focusing on at the moment. Fantastic and well organised. Thank you.
Patrick Wyatt from Weedons School
We were studying a local waterway and were able to compare the bio-diversity between our waterway in the Far North with a fresh waterway in the South Island. The students were motivated to research their topic, find out more about their own community and particularly enjoy the audio conference and following their ambassador.
Diane Henderson from Ohaeawai School
Supported inquiry questions. Connections were made between areas visited on the virtual field trip and local known areas. Questions that accompanied videos matched the questions students had in discussions.
Gabriel Hawke from St Mary's School (Hastings)
Great for Maori and Pasifika students and ESOL.
Anthony Cairns from Wellington High School
My students loved learning about the animals in the wetlands and why they are important. I have used the field trip integrated into my planning and programme.
Cheryl Isherwood from Methven School
Great trip well presented by all involved. The topic of water and conservation of wetlands will effect all New Zealanders. Great information at appropriate reading age.
Stuart Cooke from Queenstown School
Ability to have contact with scientists and other experts provides an authentic learning experience. We were able to learn about other wetlands and compare them to our local wetlands. Great background information and resources. Thank you!
Sonjia Campbell from Mercury Bay Area School
Pages