Testimonials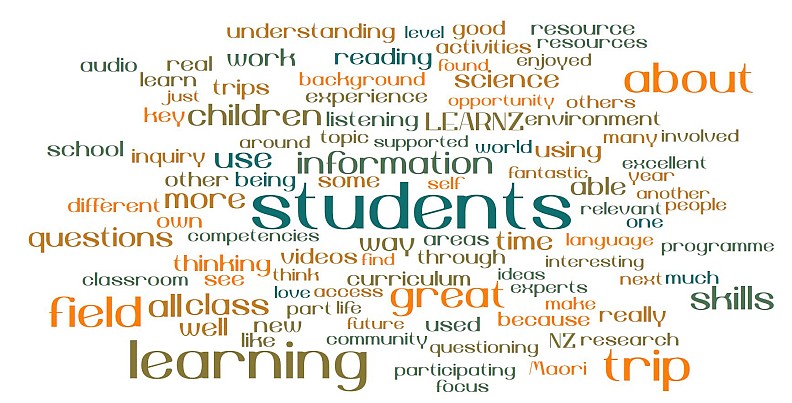 Whats the Plan Stan?
The amount of information my students learn in these mini units is impressive and they generally retain more knowledge this way. Thanks for all the effort you put in. Saves on my planning too.
Alison McCartie from Waitetuna School
Activities (interactive) are great. Visiting places and discussing in short (video) clips are useful. Students had information at a variety of levels and had access to an expert, allowing teacher to become facilitator.
Kerry Godkin from Red Beach School
The field trip really helped the children to think and plan ahead what they would do to keep safe in an emergency. The videos linked to disasters that could happen in our area.
Angela Hunt from Red Beach School
The fieldtrip background pages allowed my Year 8 class of very diverse abilities to engage at their various levels - at least a quarter of the class really appreciated the audio text! It was also a great opportunity for my students to integrate inquiry learning into our course.
Claudine Tyrrell from Kaikorai Valley College
Our students are manly visual learners so through watching the videos they were able to sustain attention longer and retain more information. Also every activity in the field trip, I believe, has in some way reflected the Key Competencies and Values in the Curriculum.
Mateja Kotnik from Oaklynn Special School
Fitted in well with our civil defence week. Engaged the students. Have recommended to colleagues and our whole team will use this next year.
Jayne Senington from Conifer Grove School
It was well organised and at the students' levels so no-one was left behind. They now have a good understanding of what to do next in the case of an emergency.
Amanda Carter from Pukekohe Intermediate
Very useful for convincing children that we really do need to prepare for a disaster. Being an e-learning class, we made a disaster plan for our own family. The variety of content is more engaging than normal classroom activities, and this helps to motivate priority learners.
John Brunton from Marshall Laing School
Field trips like these help build connected, lifelong, sustainable learners.
Steven Bodger from Piopio College
I find the teacher support section very helpful and have never thought, "I wish they had this here". Students were able to read and understand the easy background information and were able to discuss the ideas put forward, then form evacuation plans for school and home.
Paula O'Neill from New River Primary
We were involved in the Nationwide 'Shake it Out' and this added value to the day. LEARNZ is a 'one stop shop' for me - it means I do not have to spend hours surfing on the internet to support my learning programmes.
Sandra Harnett from Rangiora Borough School
Linked very well with our school ShakeOut focus. Great for building Participating and Contributing, and Self-Management in students. Good design in that I can pick-and-choose what is useful for my class.
Britta Martini from Otari School
My class enjoyed the little videos and learnt heaps about earthquakes. Linked well to managing self and community. It involves the children with things outside the classroom - connects them to real life NZ.
Michelle Clark from Milford School
All New Zealanders need to know this info - new immigrants were quite surprised by some of it. Ticks all of the boxes. Allows my diverse learners to engage in their own style with the material, which frees me up to move around and have quality conversations about the topic with each of the students - no crowd control needed! Brilliant!
Claudine Tyrrell from Kaikorai Valley College
It led to a combination of other tasks including preparing their own households in the event of a disaster, getting to know their neighbourhood and even who can assist in times of need. Children can explore the information independently, challenge their understanding with the quizzes and then be encouraged to follow-up with related tasks and websites.
Glynn Hills from Central School
It helped students to see the key competencies in action in a real life situation outside of the classroom.
Beverley Boyd from Milford School Auckland
This field trip most definitely supported our students in becoming lifelong learners, who develop skills and strategies for real-life situations. Everything is well-researched and my Year 6-8 students and I particularly enjoy the presentation of the video clips.
Rachel O'Connell from Clutha Valley School
The resources were excellent for research and reading tasks, and we learnt the importance of being prepared as we practiced our earthquake drills. Everything supported our unit of inquiry about natural disasters specific to New Zealand and my students valued being able to speak to experts in the field.
Jane Rickman from Hamilton West School
LEARNZ supports all areas of NZC - a wonderful resource!
Natasha Greatorex from Whakamarama School
I used it as part of my independent learning and group reading sessions. This field trip showed the children how they can be managing their own safety.
Kim-Sherree Dalton from Kaharoa School
Children engaged with this resource and were excited to learn about disasters in this way. Background pages were a great support to the children's learning as they were easy to use as an independent or group or whole class activity, especially with two reading levels and with the read-aloud option.
Karen Buchanan from Whakamarama School
This field trip linked in really well with our Science Inquiry and the real world nature of the field trip, which the children felt connected to and motivated them to self-direct their learning and go further. I have had excellent learning from my children from the LEARNZ Virtual Field Trips. I think they are fantastic.
Kelly Parker from Papakowhai School
It was great to have real-life experiences recounted and for students to be able to communicate with scientists. The "What's the Plan, Stan?" topic was relevant, and seeing the conference call made students even more interested.
Dale Machin from Buckland School
Connects with studets' wider lives, and engages the support of their families, whānau, and communities. Another vehicle that can be used to engage students with like-thinking students across the motu.
Tarakihana Roberts from Kaitao Intermediate
Participation helped students to learn to work together as a team, so they were able to formulate appropriate questions to put to the experts. Really created an awareness of the need to have an emergency plan.
Nadeema Nordien from Zayed College for Girls
Pages