Testimonials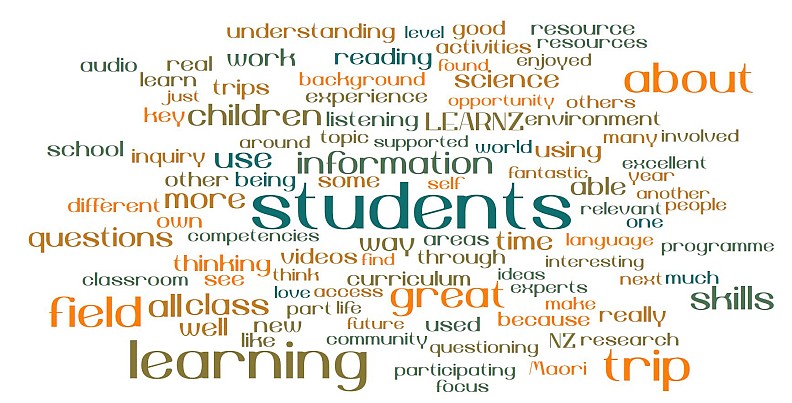 Sustainable Seas
Supported our study of Tangaroa, based on Te Marautanga o Aotearoa. We all learnt so much, both the students and kaiako. Very informative newsletters made using the site easy.
Anna Houston from Te Kura Kaupapa Māori o Mangere
My 7 to 11 year olds all got something out of this trip. It integrated science, literacy, social science and math beautifully. My Maori and Pacific students were rapt to see the te reo aspect.
Lauren Milnes from Ngatimoti School
Absolute perfect mix of Living World Science and Sustainability/Social Studies aspect that tied in well with our Inquiry. Curated to make life simple for teachers and very engaging for students, especially when putting their own questions to experts.
Nadine Mackereth from Sancta Maria Catholic Primary School
Thank you for such an engaging and worthwhile week of learning, complete with extra activities. It has really helped to make Seaweek one to remember! Our class cannot wait for our next Tour!
Hayley Bamborough from Green Bay Primary School
The children were focused for the entire live conference and the conversation that was generated afterwards was great. A great lead in to our next topic - Our Local Ponds. Thank you to those of you who make these conferences possible.
Mary Brown from Summerland Primary
Great for my class - they really enjoyed the trip, as it was fun and informative. I have been a member for many years and all my students love the LEARNZ programme.
Daniele Cuthbert from Edgecumbe School
I felt that the live feeds were aimed at a younger audience than my Year 13 Geography class but the resources and background pages are excellent.
Judith McKenzie from Craighead Diocesan School
Great for students to be connecting with expert scientists. They also find the videos and photos engaging and interesting. I loved how the concepts and values overarched the science, social studies and english learning areas. Nice to have the links to Te Ao Māori highlighted in a genuine, meaningful way.
Jessica McConnell from Mount Hutt College
Spot on for our Inquiry context. So good to have it online after the trip is finished. Children enjoyed the 'real' places we are seeing.
Jennifer Sinclair from Kaiapoi Borough School
The highlight of the trip was the web conference and the class being able to ask their burning questions. My whole teaching team were all very impressed with the field trip and with the level of motivation and engagement it evoked in our students.
Justine Delport from Sancta Maria Catholic Primary School
Highly engaging, targeted the Principles, Values, Key Competencies, Learning Areas and Vision of the NZ Curriculum very well. Fantastic resource!
Malcolm Hepburn from Ngatimoti School
We explored the sustainable use of this area (Nelson) of NZ. We were really interested in the types of fish that were examined and dissected by the experts.
Vanessa Burrell from Haeata Community Campus
It consolidated what we are undertaking with our inquiry unit.
Jonathan Coburn from Puriri School
Appropriate topic to implement the Principles, KC and Vision of the NZC with Year 10 class. Variety of learning activities, useful support and help.
Seuga Frost from Otaki College
This field trip supported all students in developing their own learning direction for this topic. Enabled students to make contact and initiate conversations with experts who do not live in their area.
Danielle Budge from Hawea Flat School
Many areas of the curriculum were covered for me during this field trip. Having the option for the children to listen to the text being read is really helpful, as it gives all children the same opportunity to access the information. The children have learnt a lot and we are now applying this knowledge in our follow up activities.
Louise Parker from Twyford School
Great learning to be had by all children. Very engaging. We also used this field trip to prepare for an overnight trip to the Tawhiranui Open Sanctuary.
Veronica Jones from St Francis Catholic School (Pt Chevalier)
Highly effective. Year 5&6 totally engaged. The videos are gold, prompting much discussion and the kids loved being part of the webinars.
Anthony Webb from Paraparaumu Beach School
Fitted in perfectly with our school's vision, the key competencies and values. It was an excellent resource to supplement what we were doing in the classroom.
Christine Bilderbeck from Lepperton School
It has helped add innovative, engaging material to my teaching and further engaged my students in the issues we were already examining. Supported the principles, values and key competencies as well as LO's for NCEA Level 1 Geography.
Aidan Daly from Hobsonville Point Secondary School
It was perfect for our purposes. I'm looking forward to the next one!
Louise Peirce from Korokoro School
It has given me a fantastic resource to use in the classroom to motivate and engage the students. It was perfect timing for Sea Week and it had the students participating and contributing, thinking, relating to others and making connections.
Caitlin Weston from Red Beach School
Complements classroom programmes really well. Useful for the strands in SST on Place & Environment and Continuity and Change. The trip also supported the future focus and sustainability concepts found in the front of the NZC.
Robyn Gillies from Roncalli College
The children really loved the field trip. They could relate lots of the content to our local area. We used the field trip as a supplement for our science programme in the classroom.
Ryan Fraser from Maheno School
It has provided authentic and real contexts for teaching and learning and really engages students. It tied in with what we had been learning around Sea Week and covered all the key competencies as well as many learning areas such as Science, Health, Reading, and Oral Language.
Lisa Davies from Red Beach School
Pages