Testimonials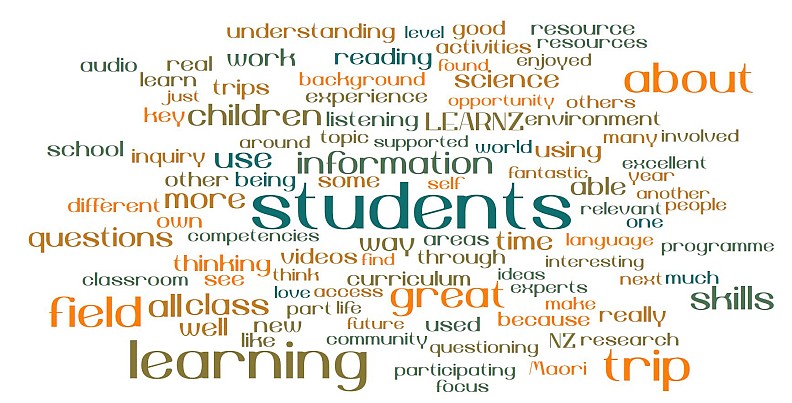 Sustainable Seas
Many areas of the curriculum were covered for me during this field trip. Having the option for the children to listen to the text being read is really helpful, as it gives all children the same opportunity to access the information. The children have learnt a lot and we are now applying this knowledge in our follow up activities.
Louise Parker from Twyford School
I appreciate the support these field trips give to my broader teaching programme and the fact they are so accessible. Thank-you!
Judith McKenzie from Craighead Diocesan School
This was amazing. My students could relate to it and it introduced some excellent topics such as food chains and ecosystems. My students gained a deep understanding of how fragile an ecosysytem is and that all ecosystems are under both natural and human threats. 
Christina Smith from Paihia School
Great for literacy, using computers in a different way, introduced science thinking and specific vocabualary in Maori and English. It was effective in the sense that it gave me a framework to work within and draw ideas from, as the material was there to guide me.
Jane Pearson from Hira School
Encouraged teaching and learning about sustainability. Very informative for students and teachers alike. I used the audio in background pages to support multi level reading in my class.
Braede Campbell from Mt Maunganui School
It has provided authentic and real contexts for teaching and learning and really engages students. It tied in with what we had been learning around Sea Week and covered all the key competencies as well as many learning areas such as Science, Health, Reading, and Oral Language.
Lisa Davies from Red Beach School
The children really loved the field trip. They could relate lots of the content to our local area. We used the field trip as a supplement for our science programme in the classroom.
Ryan Fraser from Maheno School
Complements classroom programmes really well. Useful for the strands in SST on Place & Environment and Continuity and Change. The trip also supported the future focus and sustainability concepts found in the front of the NZC.
Robyn Gillies from Roncalli College
It has given me a fantastic resource to use in the classroom to motivate and engage the students. It was perfect timing for Sea Week and it had the students participating and contributing, thinking, relating to others and making connections.
Caitlin Weston from Red Beach School
It was perfect for our purposes. I'm looking forward to the next one!
Louise Peirce from Korokoro School
It has helped add innovative, engaging material to my teaching and further engaged my students in the issues we were already examining. Supported the principles, values and key competencies as well as LO's for NCEA Level 1 Geography.
Aidan Daly from Hobsonville Point Secondary School
Fitted in perfectly with our school's vision, the key competencies and values. It was an excellent resource to supplement what we were doing in the classroom.
Christine Bilderbeck from Lepperton School
Highly effective. Year 5&6 totally engaged. The videos are gold, prompting much discussion and the kids loved being part of the webinars.
Anthony Webb from Paraparaumu Beach School
Great learning to be had by all children. Very engaging. We also used this field trip to prepare for an overnight trip to the Tawhiranui Open Sanctuary.
Veronica Jones from St Francis Catholic School (Pt Chevalier)
Supported our study of Tangaroa, based on Te Marautanga o Aotearoa. We all learnt so much, both the students and kaiako. Very informative newsletters made using the site easy.
Anna Houston from Te Kura Kaupapa Māori o Mangere
This field trip supported all students in developing their own learning direction for this topic. Enabled students to make contact and initiate conversations with experts who do not live in their area.
Danielle Budge from Hawea Flat School