Testimonials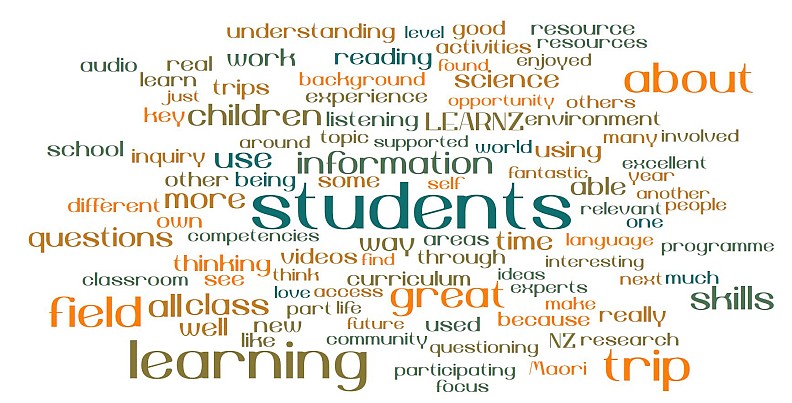 Map my Waahi
Love the links to tikanga and Maoridom - something that is a focus for us as  school right now, but can be hard to do in an authentic way. This field trip helped us to achieve that. Students also hadn't thought of 'mapping' beyond the one on the wall so this opened up a whole new world for them.
Jessica McConnell from Mount Hutt College
The students have continued, even after the end of the field trip, to explore their own passions around mapping, e.g. mapping their own whanau story. My Maori students showed full engagement in this trip, especially when listening to the oral stories of the local area. LEARNZ definitely supports my teaching, by providing a wide variety of resources and experts to support the class inquiry learning. 
Patricia Molloy from Turitea School
This trip was useful in discussing the topography of New Zealand, prior to guiding the students into thinking about natural disasters as part of our Cause and Effect inquiry. We found the web conferences most helpful.
Emma Newton from Karori Normal School
The way the field trip was structured caught students attention and kept them interested. The emphasis on local history, starting with Maori legend worked really well. Lots of interest in being able to plot the trip using the mapping tool.
Gabriel Hawke from St Mary's School (Hastings)
Not only were we able to see mapping and other tasks being done in the field, but being enjoyed. Life long learning was modelled.
Steven Bodger from Piopio College
This fieldtrip fitted into our planned learning well as it had a variety of linked objectives. It enabled lower ability readers from my Year 5/6 class to work with a buddy to complete reading and activities for the fieldtrip.
Janine Kroening from Harewood School
As we are a Whanau class, it is great to have the glossary and the Cultural mapping context as this relates perfectly to my tamariki. It inspired curiosity and inquiry, especially in relation to Technology and the Nature of Science.
Jane Norman from Kamo School
Helped provide an exciting context for students to learn about mapping. The field trip was presented in an interdisciplinary way which made the learning meaningful. It also supported me as a teacher to provide learning through the use of digital devices, and made learning both fun and engaging.
Sonia Dickson from St Joseph's Catholic School Opotiki
I thought the weaving of both Te Reo and tikanga/Mātauranga Māori was organic and well done. I also found it useful that the appropriate Achievement Objectives were linked to the Resource section of the website. Overall, this field trip supported the NZ Curriculum well. 
Rose Ellis from Karori Normal School
Supported our heavy focus on the key competencies and principles as we develop our local curriculum. Interesting, well thought out, engaging, and followed on nicely from other inquiries.
Eric Daubé from Dalefield School
Children made good connections to previous knowledge and we are now using mapping tools online to record where traps are and their catch rate etc. The field trip tied in nicely to our current inquiry about pest management and previous inquiries into the blue duck and kiwi.
Christopher Mattock from Makahu School
This mapping field trip was a great context to explore sustainability and te ao māori.
Paul Gilbert from Raumati Beach School
The web conferences in particular encouraged my Year 1-8 students to listen carefully to ideas from other schools and the experts, so they could contribute themselves.
Wendy Bishell from Pitt Island School