Testimonials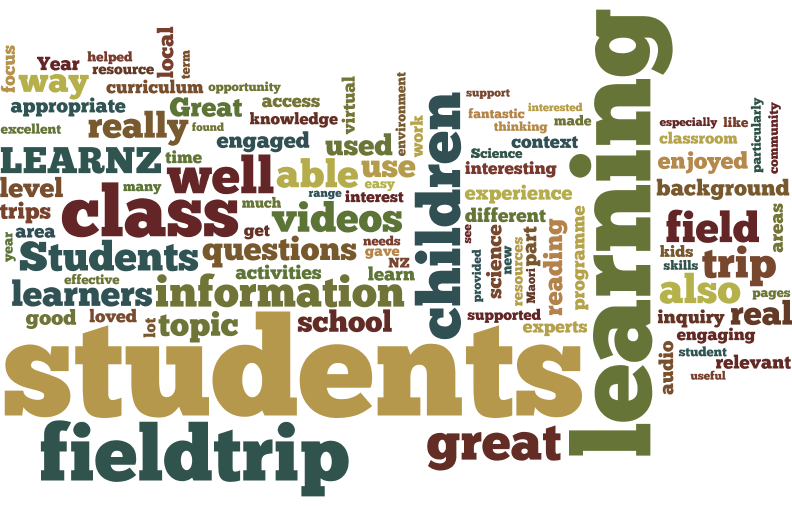 Antarctica
Students were highly engaged, especially by the videos and photos of our ambassador. Students who need extra support with literacy really appreciated the easy to read background material.
Cristy Yonetani from St Mark's School Christchurch
We loved the field trip! Thanks so much for all that you do. It is such an engaging way to connect with various areas of the curriculum.
Sarah Trethewey from Katikati Primary School
Real life engagement with scientists on ice was interesting - great for students to see what we had been studying in real life.
Vanessa Carnevale from Waiheke High School
Having all of the Antarctica resources together makes it very easy for students to self-explore the parts of the topic they are especially interested in. The real benefit for us has been having all of the audio with the readings for my lower readers; they prefer to listen and the NZ accent of the reader is a bonus.
Lisa O'Connor from St Teresa's School Featherston
I thought LEARNZ did a great job of mixing up content that covered multiple curriculum areas in a logical and accessible way. Most of the time my Year 8-9 class were engaged and absorbed by what was happening.  Well done.
Adrian Humm from Ruawai College
My curriculum focus was supported fully by the LEARNZ Antarctica programme and two NIWA scientists visiting the class in person helped no end to endorse what we had learned. Some students were able to really drive their own learning, while having the two levels for reading enabled some of my less able readers to participate more fully. 
Valerie Moratti from Havelock North Intermediate
Students became very curious with lots of wonderings about Antarctica and they decided that science is really cool. The field trip made for fun learning and helped us use the i-pads and laptops more effectively for independent research.
Paula O'Neill from New River Primary
Excellent presentation and a great learning experience for the students. Students really enjoyed a different approach to learning and it was good that the weaker readers were able to participate.
Susan Dane from Elm Park School
This was so engaging for our class. This is a great way to bring science alive in the classroom and it led to so many discussions.
Amie-Lee Mills from Te Akau ki Papamoa Primary School
It definitely ticked the boxes. A great topic. We enjoyed all that was on offer.
Lorena McStay from Templeton School
Interactive, engaging and highly motivating. Helps create partnership between home and school as students are extremely keen to share the field trip experiences with their parents.
Karen Edwards from Brightwater School
Rather than just researching independently about Antarctica, the students enjoyed having a variety of tools at their fingertips. The mixture of videos, photos, quiz etc kept students interested and being able to listen to the information rather than having to read it is highly beneficial.
Marcia Karaitiana from West Gore School
This field trip has been the highlight of the year for all the students. Amazing enthusiasm from the whole school.
Emily Wells from St Mark's School Christchurch
It was a very REAL and engaging focus for a lot of different interest groups. Use of the Audio conferences was a first and was very impactful for the students.
Jean Mallinson from Alfriston School
The field trip supported the development of Key Competencies, and provided up-to-date information relevant to Education for Sustainability.
Ruth Guy from Lincoln High School
The LEARNZ virtual journey to Antarctica was great because EOTC is not possible in Antarctica for a school classroom to do for real. The opportunity to hear real scientists talk to the LEARNZ representative, Shelley Hersy, was very valuable and also helped us form some of our science goals.
Dianne Morgan from Matakana School
For my Year 4 class enjoyed the learning experience. The virtual field trip raised their awareness of how special and unique Antarctica is and made them think about being the guardians of the area.
Jacqueline Barrett from Westbrook School
Catered to the needs of all students. Tasks were easily differentiated for all curriculum levels. Great opportunity for students to make connections with the wider community.
Christina Fortes from Hay Park School
Led to better engagement and met the learning towards taumata 5 tikanga ā-iwi marau in the TMOA. Outcomes for my kura were evident and supported our kura value system or mātāpono, kaitiakitanga (guardianship of our earth mother Papatuānuku) and rangatiratanga (self-determination that comes from our own actions).
Kararaina Iasona from Te Kura Maori o Porirua
The trips like Antarctica are fantastic. It enables all children no matter what ethnicity or socioeconomic group to explore the world. My teaching practice has been transformed as LEARNZ allows me to present learning with a digital approach, using multiple computers and devices and guiding students in combination with Google Classroom.
Pamela McDowell from Westbrook School
Pages