Testimonials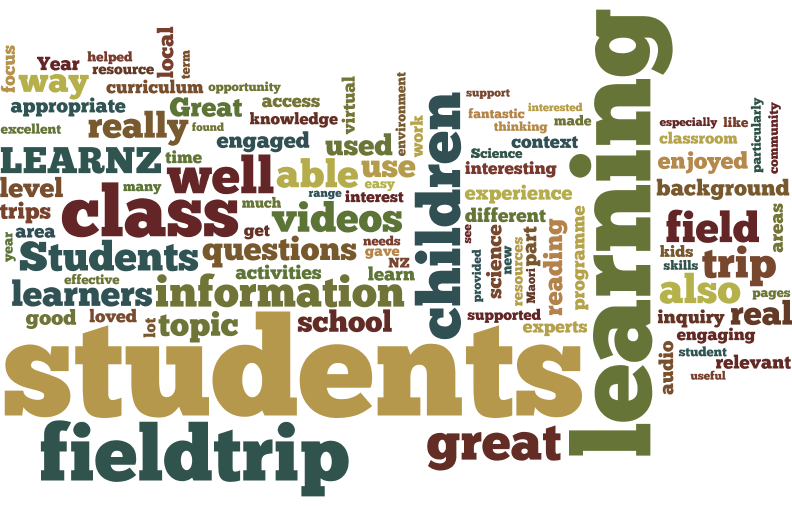 Love your Rubbish
Fabulous topic. Very easy and user friendly website, accessible for everyone. Thanks for sending the sample of the liner material used in landfills - it was very effective to see and feel the liner, and it covers a big area of technology.
Anja Hennig from Green Bay Primary School
It was a great follow on from our litter less lunch inquiry. Good for Social Action, informing our parents about choices when purchasing goods and disposing of the waste.
Deirdre Duggan from Maungatapu School
As we move to inquiry learning, this is a wonderful tool for supporting teachers - scaffolding our professional development. For students, because there are several ways to access the information our lower ability readers can still complete tasks, supporting their literacy.
Erica Lindridge from Buller High School
Under our sustainability inquiry during this field trip, students had a say in what they learned (student voice and agency); they were motivated to learn new things and were comfortable about this (personal agency); and they worked in groups to find answers (peer support). Also students are thinking about changes/actions needed in the future (future-focussed learning); and they worked with other students and people in the community who help them learn (connected agency).
Helen Kennedy from Waverley Park School
This trip was fantastic as it made direct links to sustainability and future focus. It was also ideal for our new collaborative teaching techniques which included students recording their ideas on iPads.
Dorothy Hutton from Columba College
The field trip fitted with our environment and sustainability topic and saved a lot of resource development time which allowed me to focus more on my students learning. The content was readily accessible for my year 9 students and was effective because of the bite-size delivery e.g. short videos and diary entries that did not take too long to read.
Jonathan Carter from Tikipunga High School
The trip was very effective for my class as we had just finished a school inquiry based on the Invercargill estuary which had been used as the city dump. It inspires students to do something about their environment or begins conversations about how life used to be and how things change, such as the new technology that has been used to make the Kate Valley landfill safe for the environment.
Paula O'Neill from New River School
The trip supported the Curriculum values by enabling students to work in differing capacities. LEARNZ gives me the opportunitiy to share experiences from all over NZ with the students in my class whose life experiences may be limited.
Laura Hensley from Rosehill Intermediate
Looking at Landfills as intro to our Sustainability study and being able to access your fabulous resources and view audio conferences, fitted in so well. Samples (of the landfill liner) sent to us were an extra bonus.
Yvonne Toa from Tahuna Normal Intermediate
We had just gone through a process of making submissions to our local council - it will be good to continue to ask them questions now that we are knowledgeable about the Kate Valley landfill.
Ryan Fraser from Maheno School
The definition of waste was a fantastic platform for discussion. Getting the layers from the lining of Kate Valley was very cool and made it that bit more interactive.
SandRa Timmins from A Home School
The students were very interested and challenged throughout this virtual field trip. It was very appropriate, as we are completing an Inquiry on "Our Environment". The online support section was comprehensive and well organised.
Christine Hailes from North Street School
Great way to have EOTC without leaving the classroom. Very visual and it was awesome that they sent us a sample of the liner material they use for the landfill.
Heidi Leathart from Papatoetoe West School
The children all understood and could remember the waste process because of the clarity of the message from the videos.
Denise O'Reilly from Red Beach School
This field trip was so appropriate for my class - they really enjoyed it and were excited to receive the 3 liner samples from the landfill at Kate Valley. As a teacher, this LEARNZ field trip has seen me use more technology in the classroom, while still including activities like interviews and visiting speakers.
Ngawahine Apanui from Te Waha O Rerekohu Area School
The field trip supported our delivery of the curriculum - especially having the ambassador, as he gave an added interest and focus. Students found it user-friendly and easy to access on our Chromebooks. 
Marian Gray from Tainui School
I love the authenticity of the experience. Being able to tangibly hold something (the liner that was sent to enrolled classes) and discuss the layers of the landfill, it was very powerful and got the kids thinking.
Gina Matheson from Marshall Laing School
Effective with real time and current information that covered many facets of inquiry and opened up deeper thinking. Receiving the letter with the liner sample from CWS was fabulous! Established a very tangible connection for students.
Richard Kerr from ACG Sunderland
Very effective as we have been studying zero waste.  Students also gained skills in "Participating and Contributing" and "Managing Self".
Clare Murdoch from Riverview School
Very effective. We were able to consolidate a lot of the learning we had been doing since our trip to the Wellington landfill.  It (the virtual field trip) catered to a wide range of students and met the learning of my year 4-6's very well. The students were active participants who were challenged to think critically.
Timothy Crawshaw from Newtown School
Pages