Welcome to Natural Hazards -  The Alpine Fault. This trip is now running in term 4 2020, starting November 3. Supported by EQC - Earthquake Commision | Kōmihana Rūwhenua. Enrol now.
Introduction 
Come and explore the Alpine Fault, one of the world's major geological features. Experts will take you to remote locations to help you understand what causes earthquakes, landslides and tsunami and how you can manage the risk of these events. Aotearoa sits on the boundary between the moving Pacific and Australian Plate. These plates continue to shape our amazing landscape, creating spectacular mountains, valleys and lakes.
Discover the power of these geological forces as you look at the evidence left behind in the Franz Josef Waiau landscape.
Meet Shelley the LEARNZ field trip teacher.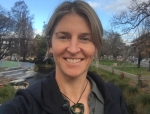 Watch the introductory video - on Vimeo.
Location
The Alpine Fault is a very distinct feature along Te Waipounamu, the South Island. This is because Kā Tiritiri o te Moana, the Southern Alps have been uplifted along their eastern side, making the fault clearly visible from space. The town of Franz Josef Waiau is located directly above the Alpine Fault making it an ideal place to study the largest seismic hazard in Aotearoa, New Zealand.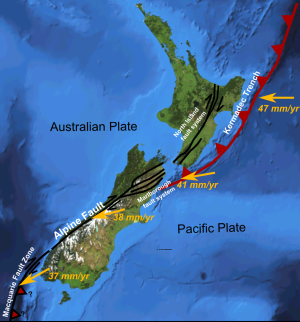 Field Trip Plan - Term 4 2020
Tuesday 3 November

 

Exploring shaky ground

Discover the spectacular scenery of Tai Poutini Westland and take a closer look at the Alpine Fault. Find out how this fault has shaped Te Waipounamu, the South Island.

Wednesday 4 November

 

Living near an active fault

Investigate the possible impacts of a magnitude 8 Alpine Fault earthquake. Look at what is being done in Franz Josef Waiau township to manage these impacts.

Thursday 5 November

 

Getting prepared

Meet students from South Westland Area School and see how they have identified local hazards. Learn how to prepare for natural hazards such as earthquakes, tsunami and landslides and protect your property.
The LEARNZ Team think that joining NZASE and staying connected through its email newsletter will help you become a better teacher of science.