Kettle Holes
A kettle hole is a bowl-shaped, sediment-filled hollow that has been left by a melting glacier. When a melting glacier retreats, large blocks of ice remain. These blocks of ice are covered in outwash. When a block of ice melts, it leaves a kettle hole.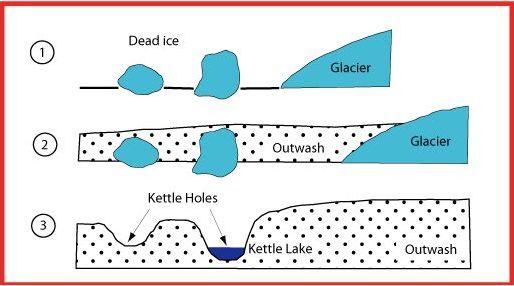 Swamps
A nutrient-rich wetland where trees and shrubs such as flax/harakeke, mānuka, and trees like kahikatea and cabbage trees/tī kōuka grow. They are fed by streams, ground water or run-off.
Bogs
A low nutrient wetland where dead plants have formed peat. They are poorly aerated and usually acidic. They are fed solely by rainwater and are often found in alpine areas.
Ephemeral (temporary) tarns
An ephemeral tarn is a small mountain lake that is also sometimes dry – usually in the summer months. The plants of ephemeral tarns are ground-hugging and intertwined. This turf-vegetation looks like a thick carpet. A tarn is often the result of a kettle hole and provides important habitat for water birds.
The table below shows photos of the same ephemeral tarn. It is a good way of seeing how the tarn changes throughout the year.
March

April

early May

mid May

late May

August

November



December

 
Photos courtesy of George Iles
Ashburton Lakes
The larger hollows that formed behind the terminal moraines have become the Ashburton Lakes. The four main lakes are:
Lake Heron
Lake Clearwater/Te Puna-o Taka
Lake Camp/Otautari
Lake Emma.
Lake Heron is an important habitat of the endangered Australasian crested grebe and is also the largest of the Ashburton lakes.
Rangitata River
The Rangitata River is a braided river. It runs down from the Southern Alps and was formed by a glacier. As the river gets bigger, it breaks into many strands (braids) across a wide gravel bed made of stones eroded from the mountains.
Braided rivers are in constant movement. This movement is part of the reason they are such productive ecosystems and make great feeding and nesting grounds for threatened native birds.