Diary 6


Date:
Tuesday, November 3, 2015
Field Trip Name:
Antarctica Cool Science in Action
Field Trip Place:
Antarctica
Weather:
Fine, -20 degrees Celsius
Where You Are:
Scott Base and K131 field camp

Watch Shelley's diary cam video.
Kia ora koutou,
I can't believe how quickly our time here in Antarctica has gone. Weather permitting you will be back on the C17 Globemaster aircraft heading for Christchurch tomorrow. At least you have managed to make the most of your time here and today will be no different.
Calling K131 field camp
Before gearing up for a skidoo ride back out to the field camp you spoke to Coley Street School and Banks Avenue School during the last audioconference. It was amazing to have conversations with students back in New Zealand as well as Craig who was patched into the call from their camp via a radio link. There were some interesting questions about climate change which you can find out more about by listening to the recording.
I have been really impressed with the food here at Scott Base with three great meals each day as well as morning tea. This morning you were able to fuel up on pizza before braving the cold skidoo ride back out to the camp. When the sun is shining here in Antarctica it is amazing how far you can see. The cold, clear air means there is no haze and you can see for miles. 
The importance of Antarctica
Once you had arrived at the camp and warmed up you met with Craig to talk about how his work fits into a global picture. Antarctica is a unique place, miles from anywhere but its ice and surrounding ocean has a large impact on sea level and global climate. 
Rising sea level
If the floating ice shelves continue to melt this will lead to the Antarctic Ice Sheet melting. Melting ice shelves doesn't lead to a rise in sea level because ice shelves float on the surface of the ocean so there is no change in the amount of water if they melt. But ice shelves play a critical role in keeping the land-based Antarctic ice sheet in place. The ice shelves act as a break on the ice sheet. Without the ice shelves the ice sheet will move downhill and into the warming ocean where it will melt and cause sea level rise. This isn't going to happen quickly. Research suggests that in a hundred year,s at the current rate of warming, we can expect the sea level to be about 1.5 to 2 metres higher. The trouble is that if carbon dioxide emissions are not reduced now then we will not be able to stop this melting process. You could think about ways that you can help by reducing your carbon emissions and your use of resources . Watch the videos about this.
From an artist's point of view
The field camp has a bread maker so you were able to enjoy fresh bread and soup for lunch. After lunch Gabby showed you the work that she has been doing to document the work here at the field camp and study platelet ice. She had amazing photos of individual ice platelets and created time lapse sequences by using a black turntable and background. You can see these stunning images on the video. No one has studied platelet ice as closely as Gabby, so her observations are going to help the scientists to improve their understanding of these platelets. Gabby will also be able to share the science through an art exhibition next year. Not many science groups are lucky enough to have an artist as part of the team and Craig believes that sharing a different point of view like this can lead to new learning.
Seal snot
While you were talking to Gabby, Trevor the friendly Weddell seal popped up through the hole in the ice that the scientists had made. The ambassadors rushed over to say, "hello". Gabby had to warn them not to go too close because Trevor can sneeze and cover you in snot! Gabby said that it was like having a bucket of warm sticky liquid thrown over you. This made me step back so I could admire Trevor from a safer distance!
Heading home
You could have spent hours looking at Gabby's work but unfortunately we had to head back to Scott Base. After saying your final farewells to the K131 team you headed back to base on the skidoos. The weather was amazing and you drove at a leisurely pace so you could enjoy the views. Your time at Scott Base seems to have flown by but you certainly have managed to make the most of your adventure! I would like to say a big thank you to the K131 science team and Antarctica New Zealand for making this trip so successful and memorable. 
I hope you have enjoyed the trip as much as I have and can join us on another field trip soon.
Ngā mihi nui,
Shelley the LEARNZ field trip teacher.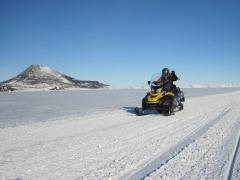 Shelley heads back out to the K131 field camp on the skidoo for the last time. Image: LEARNZ.
The clear weather meant that you could see for miles. This is Mount Discovery. Can you find out how it got its name? Image: LEARNZ.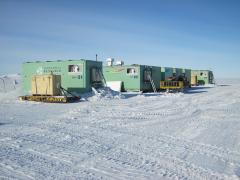 After a 26 kilometre journey on the skidoo from Scott Base you arrived at the K131 field camp. Image: LEARNZ.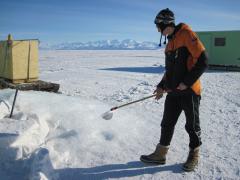 Brett shows you the platelet ice that has been sieved out of the ice hole so that instruments can be lowered safely into the sea water below the sea ice. Image: LEARNZ.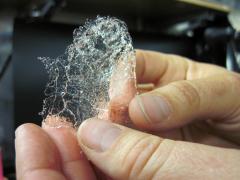 Gabby shows you a sea ice platelet which she has been measuring. Image: LEARNZ.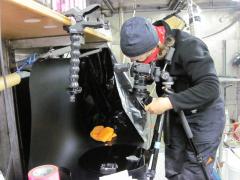 Gabby has been measuring and photographing ice platelets. Why do you think Gabby is so interested in these platelets? Image: LEARNZ.
A stunning image of an Antarctic sea ice platelet taken by Gabby. Image: Gabby O'Connor.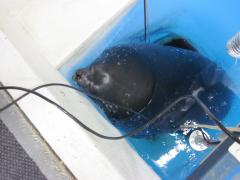 Trevor the friendly seal goes to sleep in the hole the scientists have made through the sea ice. Don't get too close to Trevor because he might sneeze. Image: LEARNZ.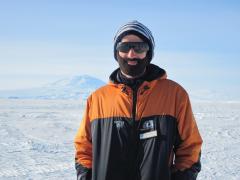 Brett shows off a home knitted face shield that helps keep his face warm while working out on the sea ice. Can you come up with any design ideas for useful Antarctic accessories? Image: LEARNZ.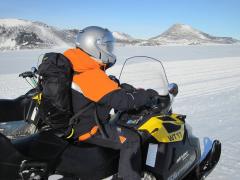 You had perfect conditions for your final skidoo journey back to Scott Base. Image: LEARNZ.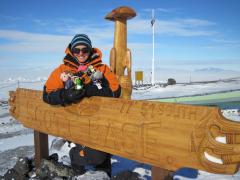 Shelley and the ambassadors say a final farewell from Scott Base. Image: LEARNZ.