Testimonials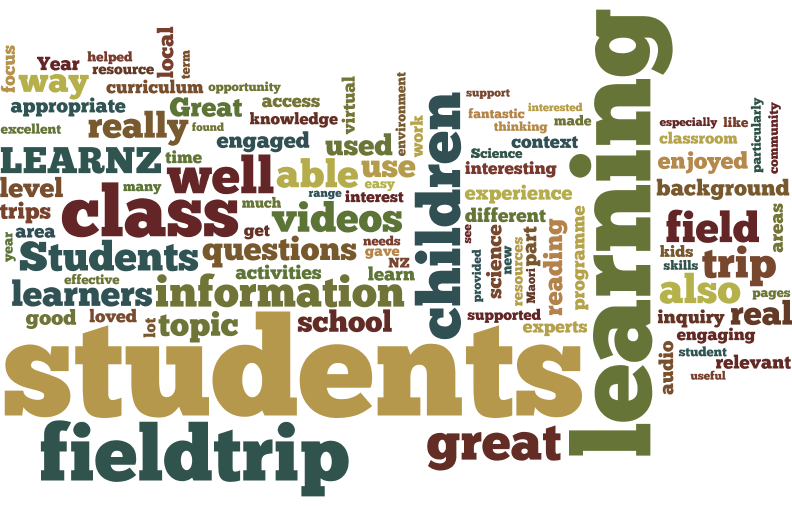 Antarctica
My Year 7-10 students can access the field trip whenever needed, not necessarily during the trip. Relevant topic. Students keen to learn more about Antarctica.
Ruth Soper from Southern Regional Health School
The students became very curious about Antarctica. They couldn't wait to find out what would happen next and were so upset if we didn't watch everything first thing in the morning.
Gemma Forde from St Theresa's School (Invercargill)
It was great to have people there in real time - it connected the students to the context. It was fantastic where they could type questions to the experts even though they didn't have a speaking role.
Sarah Prescott from Waimate High School
My students have a different view of the world we live in after this field trip. My students love the field trips.
Martie Andrew from Awakeri School
Fantastic links to the science curriculum AOs - lots of learning due high interest and combination of videos and great background information. Learnz is real world and happening at the moment. Where else can you get this sort of access to scientists and researchers?
Christopher Wratt from Hanmer Springs School
The students were highly motivated throughout this field trip. A fantastic resource that can be used easily within any classroom setting to support classroom programmes around skills and attitudes we are fostering with our children.
Kiri Waghorn from Cornwall Park District School
Engages the students. Interesting material which covers a breadth of issues and topic areas. Students gained an understanding of the Antarctic food web.
Michael Reed from Loburn School
It was a great way to learn about people places and animals without actually being there.
Jennifer Barrow from Karoro School
We used the Inquiry method to study Antarctica and we loved it! Shelley's videos created lots for discussion. Brilliant!
Allison Cotter from Newtown School
The field trip was very effective, especially from the view point of engagement and motivation as the students felt it was relevant and real.
Jeremy Shroff from Glendowie School
WOW, what a powerful learning tool the Audio Conference was - our extension Year 3-4 students were so engaged in listening and learning that they didn't make a sound.
Joanne Drake from Geraldine Primary School
The whole field trip has added a sense of authenticity to student learning. This really is a wonderful way to give us invaluable learning experiences - students have been so engaged and have been thinking of their own experiments to test some of the things that they have learnt.
Shannon Mainey from Waiau Pa School
Very appropriate for year 7/8 students. They absolutely loved being able to look at the resources, especially the photo/video content. It gave maximum opportunity to discuss what they were looking at and learning.
Adrianne Harding from Ross Intermediate
My Year 3-4 students found the field trip extremely interesting, particularly as we had an ambassador join Shelley on the trip, too. We used the background pages for our reading programme and used the videos. There was a high degree of curiosity from the students, and their questions were answered at their level.
Fiona Mackley from Alexandra School
Great for Nature of Science. Also enviroscience topics. The kids were really interested - we found all the science fascinating and it was delivered in a way that made it understandable for the class. Also just the glimpse into life in the Antarctic.
Deirdre Hutton from Holy Family School Wanaka
This field trip supported our science and geography topics. We found the videos very informative.  It was great to listen to scientists and the artist giving us a glimpse of what living and working in Antarctica is really like.
Brenda Town from Town Family Home School
It takes us to a place we have never been and experienced before and it gives us more insights of what's happening there. It's incredibly interesting.
Arfi Binsted from Binsteds Home School
Great for students to have new people connecting to them in a different way, linking many aspects of the curriculum in a real setting.
Janet Valentine from St Brigids School Johnsonville
The field trip was extremely appropriate and challenging. Very effective. My class really got into it - it was so well organised for teachers and students.
Jane Austen from Cornwall Park District School
This is a rich experience for students who know NZ but are often living offshore.
Robina Smythe from Te Aho o Te Kura Pounamu
Pages