Testimonials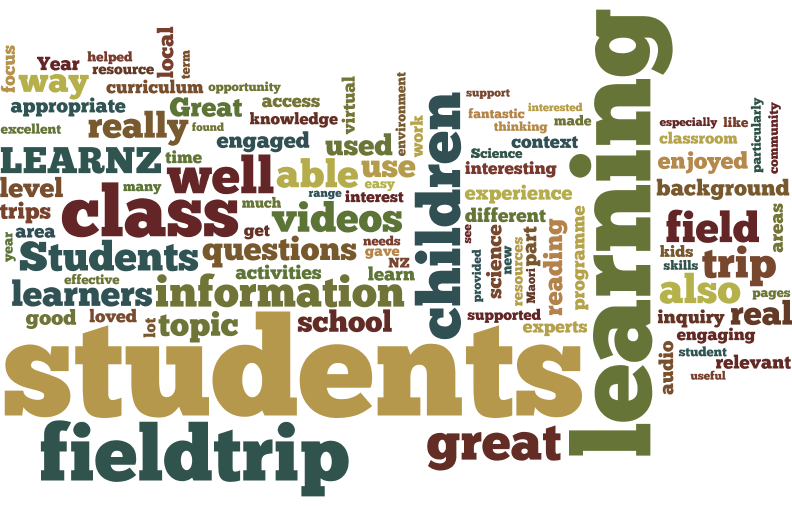 People and Water
The LEARNZ delivery method made it easier to work alongside students with their learning rather than in front of them. Students have been engaged and motivated to ask questions and wonder about things.
Amanda O'Brien from St Joseph's School Timaru
Marine Mammals
Game 3, "Where have all the dolphins gone?", was so successful that we've played it with a younger class and with the new entrants, and also with the pre-school over the road! The children got a really thorough understanding of this topic through the Virtual Field trip, which tied in perfectly with our whole school topic of "The Ocean".
Amanda Barrett from St Patrick's School (Bryndwr)
I use this extensively in my reading programme - high interest content. The children love the interactives which also shows me how carefully the children have read the text.
Louise Parker from Twyford School
The children enjoyed the focus on marine mammals and the field trip was a very effective, engaging way of learning. Supported the overall vision of the NZC to become confident, connected life-long learners along with Values around Community Engagement and Future Focus. Supported the Learning Areas of Social Science, Science.
Jillian Evans from St Margaret's College
I love the links to Te Reo and the culture of the Maori people, particularly things like kaitiaki and karakias. Thank you.
Louise Parker from Twyford School
Integrated perfectly with our current Year 6 Living World topic about life cycles and threats to NZ marine species. Resources are fantastic! Excellent for sustainability and future focus learning.
Dorothy Hutton from Columba College
Making the resources very NZ based and knowing other students were also doing it around the country was motivating for many. Having the correct pronunciation of words (Māori and English) available was valuable for the teacher, as was allowing the lower readers to listen to the text.
Victoria Stevens from Queenstown School
Fitted nicely into science. Authentic contexts. High level of engagement. Loved the Maori song and actions.
Lyndal Fonokalafi from Pukekohe East School
It tied in perfectly with our focus on Toiora te Moana. Supports strongly our values at Merrin - Kaitiakitanga - guardianship especially.
Francis Ganderton from Merrin School
The field trip had a place in all areas of the NZ curriculum e.g covered reading, writing, geography, mathematics, art. Students were able to make connections to their own personal experiences.
Adrienne Maxwell from Waitara East School
Every time I used the support area I was able to find what I needed. The virtual field trip was very appropriate - I had to differentiate content for my littlies but it was very usable.
Jennifer Sinclair from Kaiapoi Borough School
I felt the field trip was well done and very engaging. It supported the key competencies very well and there was a lot of thinking, cooperative learning and activities that required a lot of self-management and participation by the students.
Karla Jorgensen from Coastal Taranaki School
It encouraged students to use a range of communication skills and certainly helped us to target the Living World science curriculum.
Anita Phillips from Alfredton School
It has given my predominantly Pasifika students an invaluable and accessible EOTC experience that would normally be beyond our ability to provide in real time. Oral recordings made it very accessible and having ambassador on board increased engagement further.
Katherine Smith from Nga Iwi School
It was great to have a topic that linked into Sea Week. It clearly  linked to the curriculum for social science, science, literacy, and Te Reo Māori.  As a digital classroom, it was fantastic to be able to do our work through the website and access it from home so that learning could be shared with whanau.
Te Ireland from Karoro School
It was really well set up with appropriate material for classroom writing and got all of my students excited about marine mammals.
Nik Serhijenko from Pamapuria School
It was related to a topic the students could branch out into/feel passionate about and the resources were suited and adaptable to our year 7 class. Engaging with an expert models the quest for knowledge and students take it more seriously/engage more when they know the expert has dedicated their life to their chosen field.
Dale Hitchcock from Pukekohe Intermediate
Motivating, engaging, the short video clips hold student interest and provide plenty of scope for discussion. Well supported with activities, both paper and digital.
Caroline Arnold from Lepperton School
Great for motivating students, relevant and NZ based. Made me more open to interactive/web conferences/real time learning.
Karen Nicholls from Matamata Intermediate
We are learning about sustainability and this was a good trip to take.
Gillian Bartlett from Mission Heights Junior College
Pages