Testimonials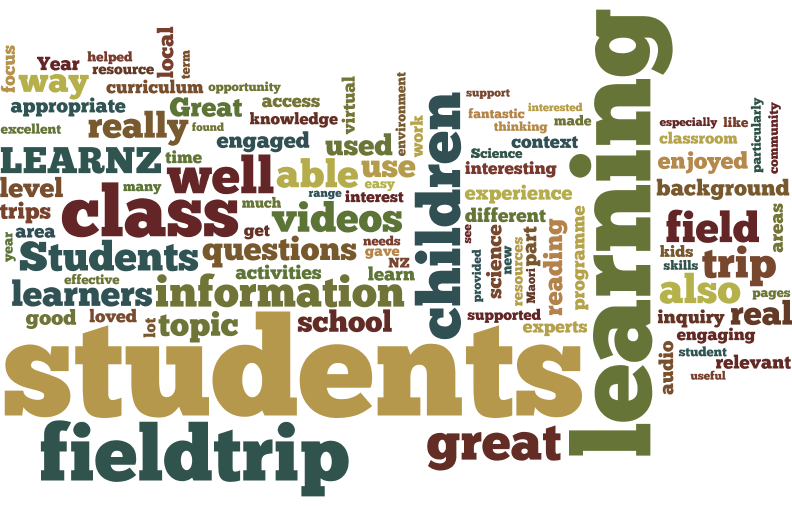 Land Sky and Space
Provides a genuine NZ connection to learning that the students can actually follow. Lots of relevant background information, and overall helped to tie in learning from a variety of sources to support student learning about Space.
Frank Usherwood from Bethlehem School
Students participated fully in the drone demonstration and researched after the field trip had been completed. They were able to come up with their own inquiry into a part of the topic they were interested in. It involved all the class.
Michelle O'Neill from Verdon College
I enjoy the real life aspect of LEARNZ with relevant topics for our students learning across the curriculum. This was of interest to my year 7 students of all (learning) levels.
Ann Sheehan from Rotorua Intermediate
We are currently studying Outer Space and so learning about satellites was very appropriate. Students generated great "I wonder .." questions, which led to excellent discussions.
Mary Brown from Summerland Primary
Motivating and inspirational for students. A really good way to get them motivated to read and write, plus they all wanted to delve deeper, based on our school-wide theme of "Learn From Yesterday / Change Tomorrow".
Diane Henderson from Ohaeawai School
Globalisation, excellence, maths, science, engineering were all supported. It helped make connections between maths and science in real world contexts.
Jacob Plummer from Tauranga Intermediate
This was fantastic, so interesting. We are a year 0-8 school and the content was at a level that challenged students. It was great to have a good cross section of students from other schools for them to listen to. Our big idea was awe and wonder, and I put that under the science lens of Space so it met our needs completely.
Judith Parker from St Anne's School (Woolston)
LEARNZ is so great for Science and Technology. This field trip provided awesome help with GPS and satellites.
Dorothy Hutton from Columba College
This term our focus was on Ranginui and Navigation. This field trip was perfect for connecting our focus to technology and making it relatable. The newsletters were also really helpful in providing info on how the trip would work.
Benjamin Baxendine from Ross Intermediate
Used with Year 10 science, and they especially enjoyed joining the live web conference. HOD was impressed with engagement.
Lucy Meagher from Havelock North High School
It discussed topics that were of particular interest to the boys in my class, and was effective in engaging all the students to learn through a different tool. It required the class to use the Key Competencies throughout the whole journey.
Nicola Burtenshaw from Ross Intermediate
Well connected to the science curriculum and reading. Students found the background information easy to read and gave them lots of information. The audio was very helpful to some of my less able students.
Maureen Keane from Valley School
Amazing link and overlap with Chapter Chat and interests in my students. Kept them engaged. Being in a bi-lingual class the Māori terms and definitions helped to make connections for our learners and gave them a sense of value and pride.
Denise Barrington from Kerikeri Primary School
Sustainable Seas
It has helped add innovative, engaging material to my teaching and further engaged my students in the issues we were already examining. Supported the principles, values and key competencies as well as LO's for NCEA Level 1 Geography.
Aidan Daly from Hobsonville Point Secondary School
Fitted in perfectly with our school's vision, the key competencies and values. It was an excellent resource to supplement what we were doing in the classroom.
Christine Bilderbeck from Lepperton School
Highly effective. Year 5&6 totally engaged. The videos are gold, prompting much discussion and the kids loved being part of the webinars.
Anthony Webb from Paraparaumu Beach School
Great learning to be had by all children. Very engaging. We also used this field trip to prepare for an overnight trip to the Tawhiranui Open Sanctuary.
Veronica Jones from St Francis Catholic School (Pt Chevalier)
Many areas of the curriculum were covered for me during this field trip. Having the option for the children to listen to the text being read is really helpful, as it gives all children the same opportunity to access the information. The children have learnt a lot and we are now applying this knowledge in our follow up activities.
Louise Parker from Twyford School
I appreciate the support these field trips give to my broader teaching programme and the fact they are so accessible. Thank-you!
Judith McKenzie from Craighead Diocesan School
This was amazing. My students could relate to it and it introduced some excellent topics such as food chains and ecosystems. My students gained a deep understanding of how fragile an ecosysytem is and that all ecosystems are under both natural and human threats. 
Christina Smith from Paihia School
Pages