Testimonials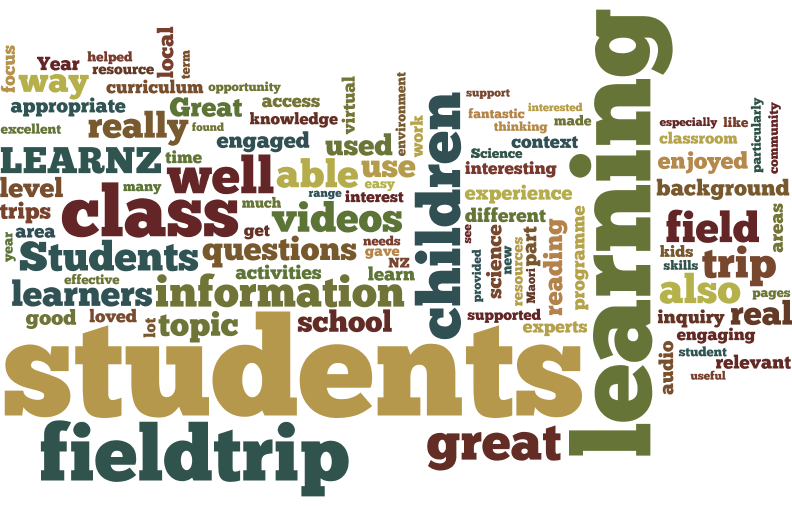 Sustainable Seas
Supported our study of Tangaroa, based on Te Marautanga o Aotearoa. We all learnt so much, both the students and kaiako. Very informative newsletters made using the site easy.
Anna Houston from Te Kura Kaupapa Māori o Mangere
Encouraged teaching and learning about sustainability. Very informative for students and teachers alike. I used the audio in background pages to support multi level reading in my class.
Braede Campbell from Mt Maunganui School
It has provided authentic and real contexts for teaching and learning and really engages students. It tied in with what we had been learning around Sea Week and covered all the key competencies as well as many learning areas such as Science, Health, Reading, and Oral Language.
Lisa Davies from Red Beach School
The children really loved the field trip. They could relate lots of the content to our local area. We used the field trip as a supplement for our science programme in the classroom.
Ryan Fraser from Maheno School
Complements classroom programmes really well. Useful for the strands in SST on Place & Environment and Continuity and Change. The trip also supported the future focus and sustainability concepts found in the front of the NZC.
Robyn Gillies from Roncalli College
It has given me a fantastic resource to use in the classroom to motivate and engage the students. It was perfect timing for Sea Week and it had the students participating and contributing, thinking, relating to others and making connections.
Caitlin Weston from Red Beach School
It was perfect for our purposes. I'm looking forward to the next one!
Louise Peirce from Korokoro School
It has helped add innovative, engaging material to my teaching and further engaged my students in the issues we were already examining. Supported the principles, values and key competencies as well as LO's for NCEA Level 1 Geography.
Aidan Daly from Hobsonville Point Secondary School
Fitted in perfectly with our school's vision, the key competencies and values. It was an excellent resource to supplement what we were doing in the classroom.
Christine Bilderbeck from Lepperton School
Highly effective. Year 5&6 totally engaged. The videos are gold, prompting much discussion and the kids loved being part of the webinars.
Anthony Webb from Paraparaumu Beach School
Spirit of Adventure
Encouraged students to use and manipulate technology devices to complement their learning. Especially great for the boys. Enhanced our whole school thematic topic. I look forward to the next field trip. Thank you Learnz.
Ina Whanarere from Te Kura Kokohuia School
The field trip certainly connected my students with the NZC. It was an authentic context for children to be involved in, covering all the key competencies, learning areas etc.
Patricia Molloy from Turitea School
Stimulated lots of conversations about participating and contributing, managing self and taking risks. Also how people had to work together and support each other to achieve their goals.
Hilary Lintott from Brooklyn School (Wellington)
This field trip enabled my students to explore diversity, excellence - aiming high and giving things a go and themes of working together to achieve goals. Really helped in developing a great classroom culture.
Andrew de Wit from Papakowhai School
We used this field trip to support our learning on hauora/wellbeing and as part of our work looking at respect, responsibility, and community participation. It also linked in with our work on Growth Mindset and goal setting.
Te Ireland from Karoro School
The children were really engaged and being able to ask an expert made them feel like they were really on board the Spirit of New Zealand. I particularly found the easy readings great for my Year 4-5 class and used them as the reading programme. Totally satisfied with all that was offered!
Elizabeth Ives from Picton School
The differentiated text pages and supporting photographs and videos ensured all the students had success in their learning. Students absolutely loved participating in the live webinar - the writing they produced after it was inspiring and many students reflected it was the best writing they had ever done.
Jane Rickman from Hamilton West School
People and Water
The LEARNZ delivery method made it easier to work alongside students with their learning rather than in front of them. Students have been engaged and motivated to ask questions and wonder about things.
Amanda O'Brien from St Joseph's School Timaru
Marine Mammals
It was great to have a topic that linked into Sea Week. It clearly  linked to the curriculum for social science, science, literacy, and Te Reo Māori.  As a digital classroom, it was fantastic to be able to do our work through the website and access it from home so that learning could be shared with whanau.
Te Ireland from Karoro School
It has given my predominantly Pasifika students an invaluable and accessible EOTC experience that would normally be beyond our ability to provide in real time. Oral recordings made it very accessible and having ambassador on board increased engagement further.
Katherine Smith from Nga Iwi School
Pages