Testimonials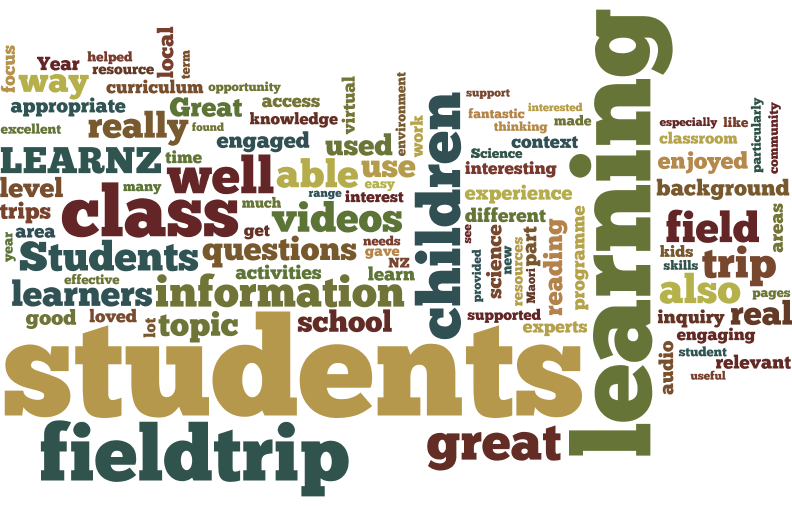 Marine Mammals
I love the links to Te Reo and the culture of the Maori people, particularly things like kaitiaki and karakias. Thank you.
Louise Parker from Twyford School
Integrated perfectly with our current Year 6 Living World topic about life cycles and threats to NZ marine species. Resources are fantastic! Excellent for sustainability and future focus learning.
Dorothy Hutton from Columba College
Making the resources very NZ based and knowing other students were also doing it around the country was motivating for many. Having the correct pronunciation of words (Māori and English) available was valuable for the teacher, as was allowing the lower readers to listen to the text.
Victoria Stevens from Queenstown School
Fitted nicely into science. Authentic contexts. High level of engagement. Loved the Maori song and actions.
Lyndal Fonokalafi from Pukekohe East School
It tied in perfectly with our focus on Toiora te Moana. Supports strongly our values at Merrin - Kaitiakitanga - guardianship especially.
Francis Ganderton from Merrin School
The field trip had a place in all areas of the NZ curriculum e.g covered reading, writing, geography, mathematics, art. Students were able to make connections to their own personal experiences.
Adrienne Maxwell from Waitara East School
Every time I used the support area I was able to find what I needed. The virtual field trip was very appropriate - I had to differentiate content for my littlies but it was very usable.
Jennifer Sinclair from Kaiapoi Borough School
It encouraged students to use a range of communication skills and certainly helped us to target the Living World science curriculum.
Anita Phillips from Alfredton School
I felt the field trip was well done and very engaging. It supported the key competencies very well and there was a lot of thinking, cooperative learning and activities that required a lot of self-management and participation by the students.
Karla Jorgensen from Coastal Taranaki School
Whats the Plan Stan?
It made my children more aware that floods, earthquakes and other natural disasters don't just happen to other people in other places but can happen anywhere at anytime. Thank you, I am enjoying learning along with my class!
Margaret Cassidy from Kaikohe East School
It was well organised and at the students' levels so no-one was left behind. They now have a good understanding of what to do next in the case of an emergency.
Amanda Carter from Pukekohe Intermediate
The field trip was appropriate for our class of Yr 3 students and met many aspects of the NZ curriculum. Students are now highly motivated to find out more about hazards/disasters that are likely to impact them at some stage.
Jessica Byrne from Rata Street School
Totally appropriate for my Y3&4 class, with the children being very engaged with their learning. Love the videos and photos which make the content accessible to all children, no matter their reading ability.
Carolyn Thelning from Weston School
It is a great platform for the children to engage with their parents about what they are learning, in this case to get families to talk about how to be prepared. The children love seeing real people in real time. They engage with the learning but also relate it to the people on screen as if they are their friends.
Lesley Johnston from Firth School
It got the class thinking deeply about the actualaties that would happen, particularly in our area of Porirua, even though the field trip was based in Auckland. The class enjoyed being part of a New Zealand-wide group during the audio conferences.
Jacqueline Bassett from Paremata School
The trip encouraged a great deal of thinking, with students participating in discussions where they could develop empathy for others in disaster situations. They were able to do lots of reading and writing in a meaningful context.
Caroline Arnold from Lepperton School
Tied the emergency drills that we practice in the school into a wide context. It supported the learning we were doing in class.
Aaron Frost from Whitiora School
Linked to emergency procedures practised during the year. Online, current, and relevant to curriculum.
Helen Gibson from Hilltop School
All of my students, including Maori Pasifika and ESOL, have good understandings as a result of the LEARNZ What's the plan, Stan field trip. It was helpful having experts answer inquiry questions my student had, and videos helped certain students gain a deeper understanding.
Mary Herlihy from Royal Road School
Engagement levels were very high, and they were keen to know more following the video conferences, even though we were watching them after they were recorded. The field trip enabled me to support learners with barriers to their learning, e.g. reading, and enabled the class to continue to develop their self-directed/guided learning style.
Anne Rodgers from Hanmer Springs School
Pages