Testimonials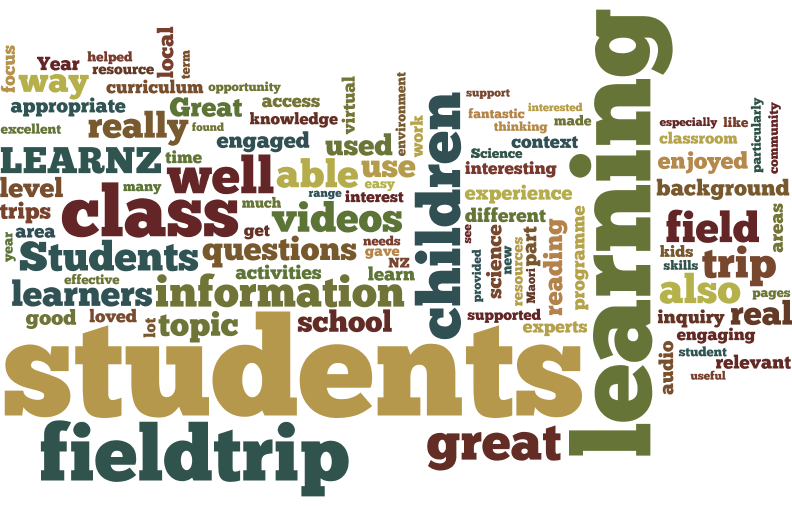 Virtual Great Walker
Our class is studying ecology in the lead up to our annual camp so the information was very fitting in all aspects.
Nina Booth from Newbury School
It was very engaging for all students and they learnt a lot. It was also easy to integrate across the curriculum. Very effective to encourage fitness and knowledge of other New Zealand Great Walks.
Bridget Patrick from Rosebank School Balclutha
Relates well to developing thinking and analysis skills, applying information and evaluating conservation issues. Students used the information as a basis to do further research on NZ Great Walks.
Gavin Kidd from Ellesmere College
Children inspired to walk tracks and parents wanting to join them. Great topics, different way of presenting things in class, able to get involved through audioconferences. Differentiated readings and audio/video options meant all class could access information, including Special Needs children.
Hazel Halton from Rapaura School
Students said about the live audioconferences: "We got to talk to real people who are actually there" and "We get to ask questions and they actually listened to us". This field trip enabled my students of different academic abilities to all access the same information in a number of different ways, which led to great discussion and debate about aspects of physical activity and conservation.
Shelley Galloway from St Albans School
We thought it was brilliant! It tied nicely in with out Health, and Science topics. Kids loved the Ambassador and (the field trip) helped prepare for our own walks.
Stacey Vowles from Hillcrest Normal School
It was a great support for the Virtual Great Walkers competition, that we have entered in. Lots of helpful information that covered all areas. Valuable resource.
Stacey Hockey from Gisborne Home School
Very engaging. Tied perfectly with our current inquiry into Hauora.
Courtney Wiedel from Ashburton Borough School
Antarctica
Students became very curious with lots of wonderings about Antarctica and they decided that science is really cool. The field trip made for fun learning and helped us use the i-pads and laptops more effectively for independent research.
Paula O'Neill from New River Primary
Excellent source of information for the students, aimed at their level, well presented and easy for the students to access and work with. Students found it extremely interesting and they learnt plenty of new things about Antarctica.
Susan Dane from Elm Park School
This is a rich experience for students who know NZ but are often living offshore.
Robina Smythe from Te Aho o Te Kura Pounamu
Fantastic links to the science curriculum AOs - lots of learning due high interest and combination of videos and great background information. Learnz is real world and happening at the moment. Where else can you get this sort of access to scientists and researchers?
Christopher Wratt from Hanmer Springs School
Children loved every part of the experience- thoroughly engaging. Really cool for the students to be able to participate with a group outside of their immediate context!
Ruth Millett from Upper Harbour Primary School
The field trip was extremely appropriate and challenging. Very effective. My class really got into it - it was so well organised for teachers and students.
Jane Austen from Cornwall Park District School
It motivated my top reading group. It was well organised, informative and something different to use as a reading tool/experience.
Heather Mangan from St Joseph's School (Upper Hutt)
My Year 3-4 students found the field trip extremely interesting, particularly as we had an ambassador join Shelley on the trip, too. We used the background pages for our reading programme and used the videos. There was a high degree of curiosity from the students, and their questions were answered at their level.
Fiona Mackley from Alexandra School
My curriculum focus was supported fully by the LEARNZ Antarctica programme and two NIWA scientists visiting the class in person helped no end to endorse what we had learned. Some students were able to really drive their own learning, while having the two levels for reading enabled some of my less able readers to participate more fully. 
Valerie Moratti from Havelock North Intermediate
This unit linked with our topic of sustainability and enabled cross curricular learning in a digital context. This type of learning resource helps students to work at their level, irrespective of where they start and their reading ability.
Kersty Millar from Reporoa College
Great for students to have new people connecting to them in a different way, linking many aspects of the curriculum in a real setting.
Janet Valentine from St Brigids School Johnsonville
Very appropriate for year 7/8 students. They absolutely loved being able to look at the resources, especially the photo/video content. It gave maximum opportunity to discuss what they were looking at and learning.
Adrianne Harding from Ross Intermediate
Pages