Testimonials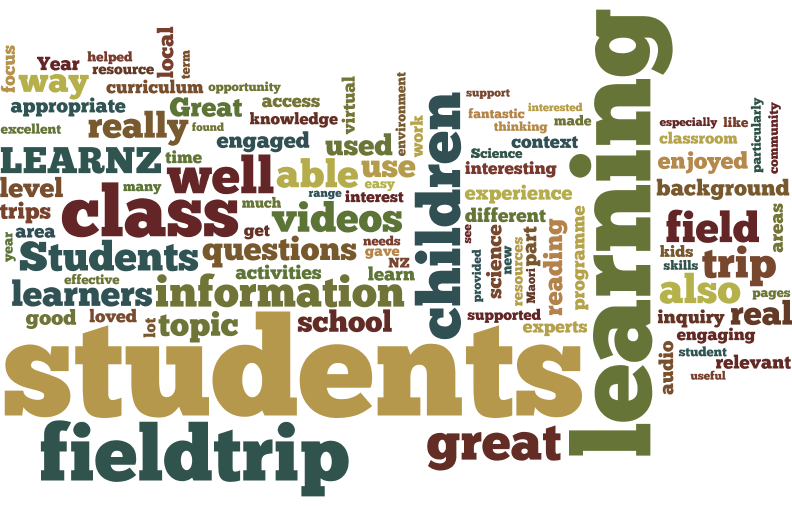 Virtual Great Walker
Our Inquiry is called "Waipahihi Kakariki". We are a pilot school involved in Kids Greening Taupo so it was very appropriate to our Inquiry. We are wanting to plant natives to bring back native birds into our area so this field trip supported it well.
Beth Willis from Waipahihi School
It was a great support for the Virtual Great Walkers competition, that we have entered in. Lots of helpful information that covered all areas. Valuable resource.
Stacey Hockey from Gisborne Home School
This field trip ... encouraged students to develop Future Focused thinking - how the way we interact with our environment now, impacts on the future.
Marcia Ferguson from Rosebank School Balclutha
It was very engaging for all students and they learnt a lot. It was also easy to integrate across the curriculum. Very effective to encourage fitness and knowledge of other New Zealand Great Walks.
Bridget Patrick from Rosebank School Balclutha
Great for extension group. Broad range of materials for reading and writing.
Rhys Clark from Rahotu School
For the Year 7/8 class I was working with, the field trip tied in perfectly with their camp (Borland Lodge). It worked well using the background pages as build up prior to camp, then using the audio-conferences the week following the camp.
Marcia Ferguson from Rosebank School Balclutha
Giving the students the option of listening to the background pages is fantastic!  It takes away the fear of trying to read something that is 'too hard'.  It also develops a familiarity with the LEARNZ teacher.
Marcia Ferguson from Rosebank School Balclutha
It was an excellent insight into exploring a new area that not a lot of children had visited before. The children came up with a lot of great questions, especially around saving native birds and the effect of a beach mast this year.
Jeffrey Burrow from Warrington School
Antarctica
LEARNZ is a great way to study a topic using a medium that is accessible to all, even my low vision student and those with poor reading skills. The Antarctica field trip supported the science and social studies areas of the curriculum and much more, such as the key competencies.
Carolyn Thelning from Weston School
This unit linked with our topic of sustainability and enabled cross curricular learning in a digital context. This type of learning resource helps students to work at their level, irrespective of where they start and their reading ability.
Kersty Millar from Reporoa College
Great for students to have new people connecting to them in a different way, linking many aspects of the curriculum in a real setting.
Janet Valentine from St Brigids School Johnsonville
Excellent presentation and a great learning experience for the students. Students really enjoyed a different approach to learning and it was good that the weaker readers were able to participate.
Susan Dane from Elm Park School
We used the Inquiry method to study Antarctica and we loved it! Shelley's videos created lots for discussion. Brilliant!
Allison Cotter from Newtown School
It was a great way to learn about people places and animals without actually being there.
Jennifer Barrow from Karoro School
It was in line with our learning focus for this year of being a fully digital classroom. Online help was all good.
Jennifer Barrow from Kaniere School
It takes us to a place we have never been and experienced before and it gives us more insights of what's happening there. It's incredibly interesting.
Arfi Binsted from Binsteds Home School
Students became very curious with lots of wonderings about Antarctica and they decided that science is really cool. The field trip made for fun learning and helped us use the i-pads and laptops more effectively for independent research.
Paula O'Neill from New River Primary
Engages the students. Interesting material which covers a breadth of issues and topic areas. Students gained an understanding of the Antarctic food web.
Michael Reed from Loburn School
Catered to the needs of all students. Tasks were easily differentiated for all curriculum levels. Great opportunity for students to make connections with the wider community.
Christina Fortes from Hay Park School
This field trip supported our science and geography topics. We found the videos very informative.  It was great to listen to scientists and the artist giving us a glimpse of what living and working in Antarctica is really like.
Brenda Town from Town Family Home School
Pages