Testimonials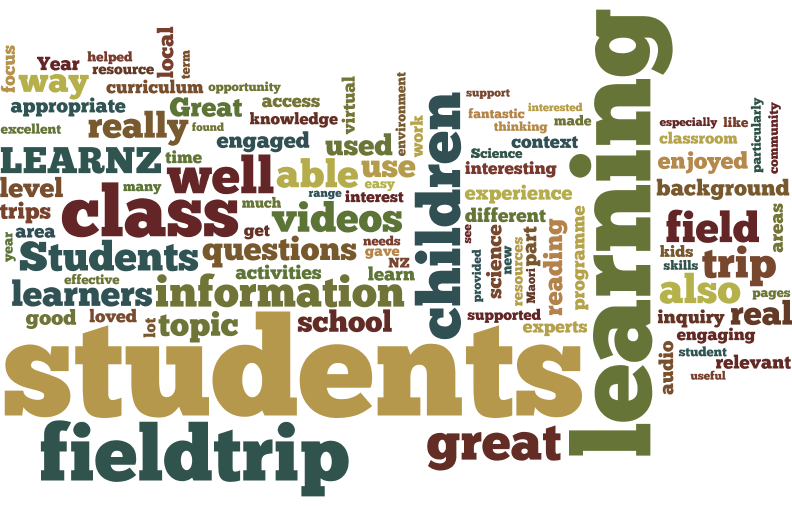 Antarctica
This field trip was very appropriate for my Year 4 class as we used it under the theme of Kaitiakitanga. I feel the effectiveness (of the virtual field trip) can be gauged by the involvement and the questions asked by the children, and this Antarctica study has really had them enthused and doing independent research of their own. It is fascinating to discover how much knowledge the children take home and discuss with their families.
Pam McDowell from Westbrook School
It definitely ticked the boxes. A great topic. We enjoyed all that was on offer.
Lorena McStay from Templeton School
The LEARNZ personnel and experts feel like real friends or students' own personal teacher, which helps to make the learning experiences very potent. They field trips like Antarctica are great and I just love the work you all do to make them interesting and engaging. Thank you.
Lesley Johnston from Firth School
The audio conversations were brilliantly done along with the accompanying videos, plus questions being typed and answered while online. I have been intrigued and surprised by how much my young students have taken on board during the trip.
Lesley Johnston from Firth School
Very effective, especially the videos. Fantastic with much of the planning done for the time-poor teacher. This field trip is fully supportive of Principles, Key values and Competencies as well as learning areas of our curriculum, thanks.
Maureen Robertson from Verran Primary School
For my Year 4 class enjoyed the learning experience. The virtual field trip raised their awareness of how special and unique Antarctica is and made them think about being the guardians of the area.
Jacqueline Barrett from Westbrook School
We integrated the learning across all curriculum areas, which was easily done. All my students enjoy learning in this way and the background reading was perfect for my Year 4 class.
Jacqueline Barrett from Westbrook School
It was great to have people there in real time - it connected the students to the context. It was fantastic where they could type questions to the experts even though they didn't have a speaking role.
Sarah Prescott from Waimate High School
Listening to someone who was there reinforced how close we are to Antarctica and viewing the videos diaries really focused the students into the whole experience. The readings and activities made students manage their time appropriately.
Ian Timo from Linwood College
The LEARNZ virtual journey to Antarctica was great because EOTC is not possible in Antarctica for a school classroom to do for real. The opportunity to hear real scientists talk to the LEARNZ representative, Shelley Hersy, was very valuable and also helped us form some of our science goals.
Dianne Morgan from Matakana School
It has taken my students to new worlds of understanding, given them purpose and focus to read and write about a 'real-life' topic that is of interest to them.
Alice Keeling from Springston School
The students became very curious about Antarctica. They couldn't wait to find out what would happen next and were so upset if we didn't watch everything first thing in the morning.
Gemma Forde from St Theresa's School (Invercargill)
The trips like Antarctica are fantastic. It enables all children no matter what ethnicity or socioeconomic group to explore the world. My teaching practice has been transformed as LEARNZ allows me to present learning with a digital approach, using multiple computers and devices and guiding students in combination with Google Classroom.
Pamela McDowell from Westbrook School
The field trip supported the development of Key Competencies, and provided up-to-date information relevant to Education for Sustainability.
Ruth Guy from Lincoln High School
It was a very REAL and engaging focus for a lot of different interest groups. Use of the Audio conferences was a first and was very impactful for the students.
Jean Mallinson from Alfriston School
Students love them (LEARNZ field trips) - they are engaging, use real life contexts which have an impact on students' lives, encourage whanau involvement. Fabulous resource.
Caroline Arnold from Lepperton School
My Year 7-10 students can access the field trip whenever needed, not necessarily during the trip. Relevant topic. Students keen to learn more about Antarctica.
Ruth Soper from Southern Regional Health School
Led to better engagement and met the learning towards taumata 5 tikanga ā-iwi marau in the TMOA. Outcomes for my kura were evident and supported our kura value system or mātāpono, kaitiakitanga (guardianship of our earth mother Papatuānuku) and rangatiratanga (self-determination that comes from our own actions).
Kararaina Iasona from Te Kura Maori o Porirua
It was superbly rich with a wide range of activities to select from, to cater for differentiated learning in a class of individuals with multiple learning needs. LEARNZ Field trips have been an intrinsic part of my teaching aand learning programme for many years now. Extremely appropriate.
Graham Elsmore from Christian Renewal School
This field trip has been the highlight of the year for all the students. Amazing enthusiasm from the whole school.
Emily Wells from St Mark's School Christchurch
Pages