Testimonials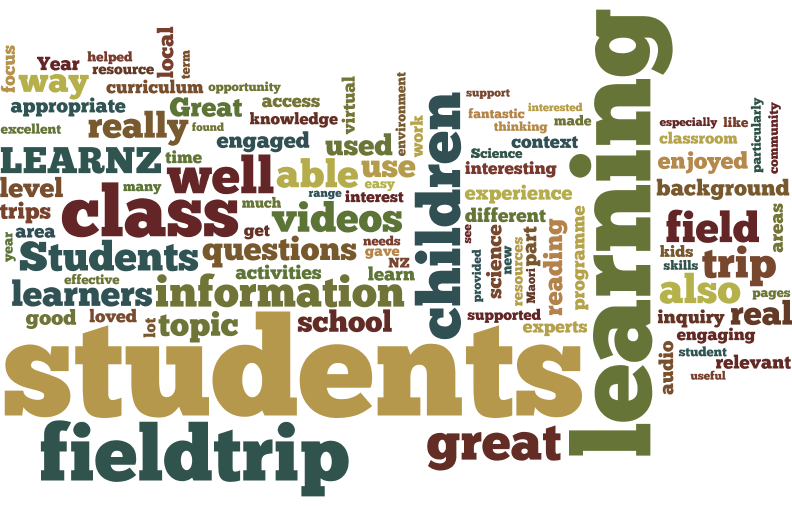 Antarctica
For my Year 4 class enjoyed the learning experience. The virtual field trip raised their awareness of how special and unique Antarctica is and made them think about being the guardians of the area.
Jacqueline Barrett from Westbrook School
The LEARNZ virtual journey to Antarctica was great because EOTC is not possible in Antarctica for a school classroom to do for real. The opportunity to hear real scientists talk to the LEARNZ representative, Shelley Hersy, was very valuable and also helped us form some of our science goals.
Dianne Morgan from Matakana School
Students became very curious with lots of wonderings about Antarctica and they decided that science is really cool. The field trip made for fun learning and helped us use the i-pads and laptops more effectively for independent research.
Paula O'Neill from New River Primary
Very effective, especially the videos. Fantastic with much of the planning done for the time-poor teacher. This field trip is fully supportive of Principles, Key values and Competencies as well as learning areas of our curriculum, thanks.
Maureen Robertson from Verran Primary School
The field trip supported the development of Key Competencies, and provided up-to-date information relevant to Education for Sustainability.
Ruth Guy from Lincoln High School
My class of all boys love the LEARNZ background readings and activities; their non-fiction reading levels have all improved. They like the fact that they can work at their level and at their own pace. They all love science and anything (like LEARNZ) that helps develop their understanding of how our world works.
Angela Moeke from St Patrick's Catholic School Taupo
It was great to have people there in real time - it connected the students to the context. It was fantastic where they could type questions to the experts even though they didn't have a speaking role.
Sarah Prescott from Waimate High School
My curriculum focus was supported fully by the LEARNZ Antarctica programme and two NIWA scientists visiting the class in person helped no end to endorse what we had learned. Some students were able to really drive their own learning, while having the two levels for reading enabled some of my less able readers to participate more fully. 
Valerie Moratti from Havelock North Intermediate
LEARNZ is a great way to study a topic using a medium that is accessible to all, even my low vision student and those with poor reading skills. The Antarctica field trip supported the science and social studies areas of the curriculum and much more, such as the key competencies.
Carolyn Thelning from Weston School
The students became very curious about Antarctica. They couldn't wait to find out what would happen next and were so upset if we didn't watch everything first thing in the morning.
Gemma Forde from St Theresa's School (Invercargill)
It was superbly rich with a wide range of activities to select from, to cater for differentiated learning in a class of individuals with multiple learning needs. LEARNZ Field trips have been an intrinsic part of my teaching aand learning programme for many years now. Extremely appropriate.
Graham Elsmore from Christian Renewal School
I thought LEARNZ did a great job of mixing up content that covered multiple curriculum areas in a logical and accessible way. Most of the time my Year 8-9 class were engaged and absorbed by what was happening.  Well done.
Adrian Humm from Ruawai College
Provided real meaning and connections to topical subjects like global warming. There was a high level of interest about Antarctica from the students.
John Brunton from Marshall Laing School
It was in line with our learning focus for this year of being a fully digital classroom. Online help was all good.
Jennifer Barrow from Kaniere School
My Year 7-10 students can access the field trip whenever needed, not necessarily during the trip. Relevant topic. Students keen to learn more about Antarctica.
Ruth Soper from Southern Regional Health School
You do a great job of preparing and motivating us to engage with the topic. Well structured for all students. Even low achieving readers well engaged. Covered science, values, aspirations and career information. 
Martin Dodge from Balclutha School
Having all of the Antarctica resources together makes it very easy for students to self-explore the parts of the topic they are especially interested in. The real benefit for us has been having all of the audio with the readings for my lower readers; they prefer to listen and the NZ accent of the reader is a bonus.
Lisa O'Connor from St Teresa's School Featherston
I run the GATE programme and we do Future Problem Solving so the ecological sustainability was particularly relevant. A great teaching tool which is motivating for students.
Maree Flashman from St Mary's School Ellerslie
Catered to the needs of all students. Tasks were easily differentiated for all curriculum levels. Great opportunity for students to make connections with the wider community.
Christina Fortes from Hay Park School
All students (Year 8, Levels 2-5) were able to access and make sense of the content. Antarctica fitted perfectly with our concept study of 'Environments'.  It was our first experience and we will be back for more.
Peter Fowler from Cobham Intermediate
Pages