Testimonials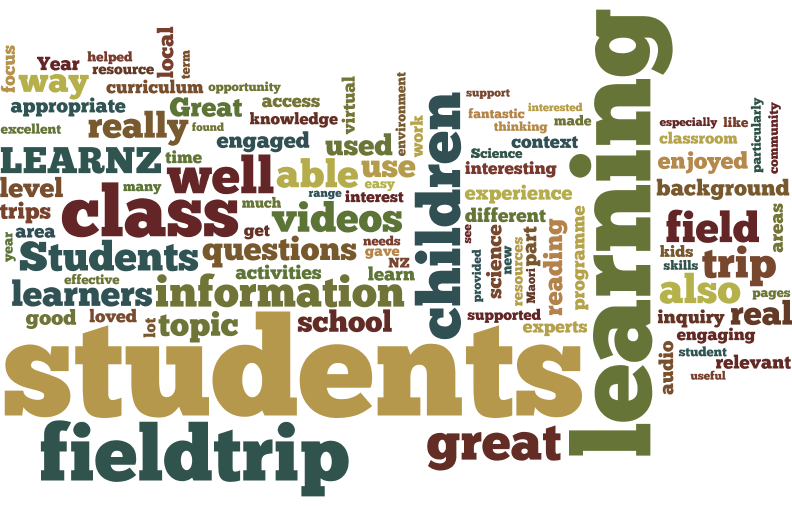 Antarctica
This is a rich experience for students who know NZ but are often living offshore.
Robina Smythe from Te Aho o Te Kura Pounamu
Great resource with a variety of media. Very comprehensive, providing students with another layer of learning material connected to real world around them.
Roland Gorlich from Arahoe School
The unit was an excellent opportunity to integrate the Principles, Values, Key Competencies across a range of curriculum areas within authentic learning situations. The students really enjoy the online learning resources, especially the audio conferences.
Brigid Conaglen from Clifton Terrace Model School
It was a very REAL and engaging focus for a lot of different interest groups. Use of the Audio conferences was a first and was very impactful for the students.
Jean Mallinson from Alfriston School
Excellent source of information for the students, aimed at their level, well presented and easy for the students to access and work with. Students found it extremely interesting and they learnt plenty of new things about Antarctica.
Susan Dane from Elm Park School
WOW, what a powerful learning tool the Audio Conference was - our extension Year 3-4 students were so engaged in listening and learning that they didn't make a sound.
Joanne Drake from Geraldine Primary School
The field trip was extremely appropriate and challenging. Very effective. My class really got into it - it was so well organised for teachers and students.
Jane Austen from Cornwall Park District School
The context of this Antarctica learning trip was helpful to discuss the ESS topic (L5): Earth systems. Students learnt lots of new things about Antarctica and sea ice formation, with some good extra teaching material and activities to extend students.
Nataliia Kravchenko from Te Awamutu College
This field trip has been the highlight of the year for all the students. Amazing enthusiasm from the whole school.
Emily Wells from St Mark's School Christchurch
Children loved every part of the experience- thoroughly engaging. Really cool for the students to be able to participate with a group outside of their immediate context!
Ruth Millett from Upper Harbour Primary School
It definitely ticked the boxes. A great topic. We enjoyed all that was on offer.
Lorena McStay from Templeton School
The field trip was very effective, especially from the view point of engagement and motivation as the students felt it was relevant and real.
Jeremy Shroff from Glendowie School
Great for students to have new people connecting to them in a different way, linking many aspects of the curriculum in a real setting.
Janet Valentine from St Brigids School Johnsonville
Students said it was great because it simulated going to Antartica and it was awesome seeing (our ambassador) BuzzBee there. It was easy to set up my programme using Google classroom so students and their families could see what was happening whenever they wanted.
Cheryl Dunick from Spring Creek School
Rather than just researching independently about Antarctica, the students enjoyed having a variety of tools at their fingertips. The mixture of videos, photos, quiz etc kept students interested and being able to listen to the information rather than having to read it is highly beneficial.
Marcia Karaitiana from West Gore School
This unit linked with our topic of sustainability and enabled cross curricular learning in a digital context. This type of learning resource helps students to work at their level, irrespective of where they start and their reading ability.
Kersty Millar from Reporoa College
Caves Critters and Karst
Seeing people passionate about their interest is so encouraging for kids. We were focusing on fossils and limestone of North Otago, so it was  useful comparing with Waitomo.
Jennifer Kitchin from Weston School
This field trip tied in nicely with our Science topic this term. Students were highly engaged throughout the field trip and are highly passionate about using LEARNZ in the classroom.
Marcia Ferguson from Rosebank School (Balclutha)
 Fantastic - we were going to Waitomo on our field trip, and the timing and content could NOT have been better. Greatly improved audioconferences - the backchannel improved engagement, and the kids were highly interested in hearing their questions asked over the Internet, and the immediate responses.
David Hanah from Knighton Normal School
Airport
We had a fabulous visit to New Plymouth Domestic airport as well as the virtual field trip to Christchurch International Airport. We had lots of fun and the virtual field trip provided a good range of activities.
Caroline Arnold from Lepperton School
Pages