Testimonials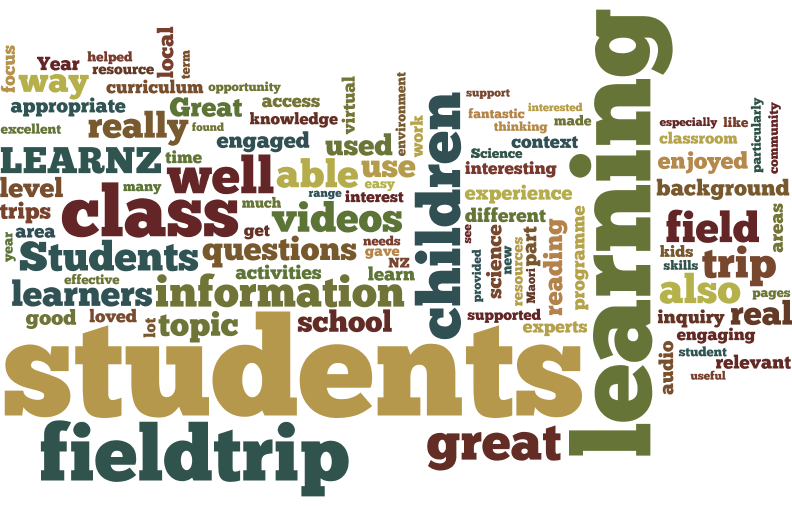 Virtual Great Walker
The students had their own inquiry questions and enjoyed the freedom to move around the field trip. They are learning to refer to their evidence in their statements of writing, and a LEARNZ field trip is a great resource for doing that.
Suzanne Paice from St Bernard's School Brooklyn
We are about to follow up the Virtual with our own 'Great Walk' in the Catlins. Great motivation an assistance with planning and risk management. This Field Trip was a superb avenue for exploring our devices, forming cooperative groups and accessing the curriculum. Even struggling readers found plenty of information and were able to follow with ease.
Martin Dodge from Balclutha School
Our Inquiry is called "Waipahihi Kakariki". We are a pilot school involved in Kids Greening Taupo so it was very appropriate to our Inquiry. We are wanting to plant natives to bring back native birds into our area so this field trip supported it well.
Beth Willis from Waipahihi School
Definitely sparked some very valuable discussions on stewardship of our natural resources. Worked well in bringing the reality of the walk to students who are unfamiliar with these areas.
Gabriel Hawke from St Mary's School Hastings
We connected this field trip with an older one - Restoring the Kepler.  By doing this, students began to look at ways that they can contribute in the wider community as well as our school community, working towards a common goal. Maori students in the class particularly liked the glossary - we also added more to our own one on the wall.
Marcia Ferguson from Rosebank School Balclutha
It (LEARNZ) is the best online learning community I know of for NZ students.  Working with real scientists on real issues and practical matters such as preparing for a tramp really fired the imaginations of my students. It has been fantastic for my ESOL learners, particularly the videos and it is great to be able to listen to the text as well.
Sue Hodge from Elm Park School
From the start of the trip, the students were actively engaged - making connections with their own lives and new information they were receiving - even our hunters were interested! Throughout this year we are looking at environmental issues and what we can do to help - as individuals and as a school.  This field trip aligned with this nicely.
Marcia Ferguson from Rosebank School Balclutha
I have a Yr 5 6 7 class and all were interested. LEARNZ helps with the range of learning abilities within my class. It also gives students from different backgrounds a variety of different experiences that they may never have the chance to do.
Karen Catchpole from Wairere School
Photos and videos were great! I have Year 1 and 2 children so I chose the activities etc that I though were most appropriate to support our virtual walk.
Stephanie Kitto from Clyde School
Ruud Kleinpaste's enthusiasm was very engaging for the students. The field supported: Principles - Learning to learn; Future focus (sustainability) Values - innovation, inquiry, and curiosity; ecological sustainability Key Competencies - Thinking; Managing self (encouraging students to think about how to prepare for a tramp); Participating and contributing (encouraging students to think about what they can do in their own area) Learning Areas - English (Listening, Reading, and Viewing); Science (Living World, Planet Earth and Beyond) Vision - Connected (seeing what the kids from Glenorchy are doing); Actively involved (encouraging students to think about what they can do); Lifelong learners (tramping is something they are likely to do throughout their lives). 
Sarah Hoult from Waiheke Primary School
This field trip ... encouraged students to develop Future Focused thinking - how the way we interact with our environment now, impacts on the future.
Marcia Ferguson from Rosebank School Balclutha
Audio conference was brilliant - by far the best component of the field trip (for us)! I used it (the field trip) from a health and physical education and science perspective.
Sarah Gaskin from Chertsey School
For the Year 7/8 class I was working with, the field trip tied in perfectly with their camp (Borland Lodge). It worked well using the background pages as build up prior to camp, then using the audio-conferences the week following the camp.
Marcia Ferguson from Rosebank School Balclutha
Antarctica
Engages the students. Interesting material which covers a breadth of issues and topic areas. Students gained an understanding of the Antarctic food web.
Michael Reed from Loburn School
The field trip supported the development of Key Competencies, and provided up-to-date information relevant to Education for Sustainability.
Ruth Guy from Lincoln High School
The students were highly motivated throughout this field trip. A fantastic resource that can be used easily within any classroom setting to support classroom programmes around skills and attitudes we are fostering with our children.
Kiri Waghorn from Cornwall Park District School
My curriculum focus was supported fully by the LEARNZ Antarctica programme and two NIWA scientists visiting the class in person helped no end to endorse what we had learned. Some students were able to really drive their own learning, while having the two levels for reading enabled some of my less able readers to participate more fully. 
Valerie Moratti from Havelock North Intermediate
My class of all boys love the LEARNZ background readings and activities; their non-fiction reading levels have all improved. They like the fact that they can work at their level and at their own pace. They all love science and anything (like LEARNZ) that helps develop their understanding of how our world works.
Angela Moeke from St Patrick's Catholic School Taupo
Fantastic links to the science curriculum AOs - lots of learning due high interest and combination of videos and great background information. Learnz is real world and happening at the moment. Where else can you get this sort of access to scientists and researchers?
Christopher Wratt from Hanmer Springs School
It was superbly rich with a wide range of activities to select from, to cater for differentiated learning in a class of individuals with multiple learning needs. LEARNZ Field trips have been an intrinsic part of my teaching aand learning programme for many years now. Extremely appropriate.
Graham Elsmore from Christian Renewal School
Pages