Testimonials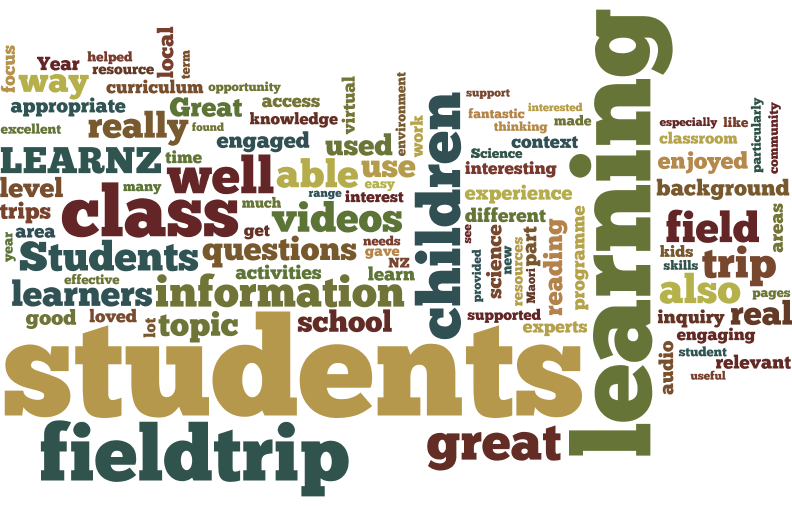 Antarctica
For my Year 4 class enjoyed the learning experience. The virtual field trip raised their awareness of how special and unique Antarctica is and made them think about being the guardians of the area.
Jacqueline Barrett from Westbrook School
It has taken my students to new worlds of understanding, given them purpose and focus to read and write about a 'real-life' topic that is of interest to them.
Alice Keeling from Springston School
The students became very curious about Antarctica. They couldn't wait to find out what would happen next and were so upset if we didn't watch everything first thing in the morning.
Gemma Forde from St Theresa's School (Invercargill)
The trips like Antarctica are fantastic. It enables all children no matter what ethnicity or socioeconomic group to explore the world. My teaching practice has been transformed as LEARNZ allows me to present learning with a digital approach, using multiple computers and devices and guiding students in combination with Google Classroom.
Pamela McDowell from Westbrook School
The LEARNZ virtual journey to Antarctica was great because EOTC is not possible in Antarctica for a school classroom to do for real. The opportunity to hear real scientists talk to the LEARNZ representative, Shelley Hersy, was very valuable and also helped us form some of our science goals.
Dianne Morgan from Matakana School
It was a very REAL and engaging focus for a lot of different interest groups. Use of the Audio conferences was a first and was very impactful for the students.
Jean Mallinson from Alfriston School
Students love them (LEARNZ field trips) - they are engaging, use real life contexts which have an impact on students' lives, encourage whanau involvement. Fabulous resource.
Caroline Arnold from Lepperton School
My Year 7-10 students can access the field trip whenever needed, not necessarily during the trip. Relevant topic. Students keen to learn more about Antarctica.
Ruth Soper from Southern Regional Health School
Led to better engagement and met the learning towards taumata 5 tikanga ā-iwi marau in the TMOA. Outcomes for my kura were evident and supported our kura value system or mātāpono, kaitiakitanga (guardianship of our earth mother Papatuānuku) and rangatiratanga (self-determination that comes from our own actions).
Kararaina Iasona from Te Kura Maori o Porirua
It was superbly rich with a wide range of activities to select from, to cater for differentiated learning in a class of individuals with multiple learning needs. LEARNZ Field trips have been an intrinsic part of my teaching aand learning programme for many years now. Extremely appropriate.
Graham Elsmore from Christian Renewal School
The field trip supported the development of Key Competencies, and provided up-to-date information relevant to Education for Sustainability.
Ruth Guy from Lincoln High School
This field trip has been the highlight of the year for all the students. Amazing enthusiasm from the whole school.
Emily Wells from St Mark's School Christchurch
It made the students aware of the value of the work done in Antarctica, both in the past and in the present, more effectively than just reading about it.
Jacinta Drummond from Mount Hutt College
All students (Year 8, Levels 2-5) were able to access and make sense of the content. Antarctica fitted perfectly with our concept study of 'Environments'.  It was our first experience and we will be back for more.
Peter Fowler from Cobham Intermediate
You do a great job of preparing and motivating us to engage with the topic. Well structured for all students. Even low achieving readers well engaged. Covered science, values, aspirations and career information. 
Martin Dodge from Balclutha School
Provided real meaning and connections to topical subjects like global warming. There was a high level of interest about Antarctica from the students.
John Brunton from Marshall Laing School
Caves Critters and Karst
 Fantastic - we were going to Waitomo on our field trip, and the timing and content could NOT have been better. Greatly improved audioconferences - the backchannel improved engagement, and the kids were highly interested in hearing their questions asked over the Internet, and the immediate responses.
David Hanah from Knighton Normal School
Seeing people passionate about their interest is so encouraging for kids. We were focusing on fossils and limestone of North Otago, so it was  useful comparing with Waitomo.
Jennifer Kitchin from Weston School
This field trip tied in nicely with our Science topic this term. Students were highly engaged throughout the field trip and are highly passionate about using LEARNZ in the classroom.
Marcia Ferguson from Rosebank School (Balclutha)
Airport
Best when you build an inquiry unit around the Field Trip. Being able to ask questions using Back Channel was particularly useful during audioconferences. Great to have access to experts that you would otherwise not have access to. The video footage and commentaries were a perfect length. 
Rachel O'Connell from Lawrence Area School
Pages