Testimonials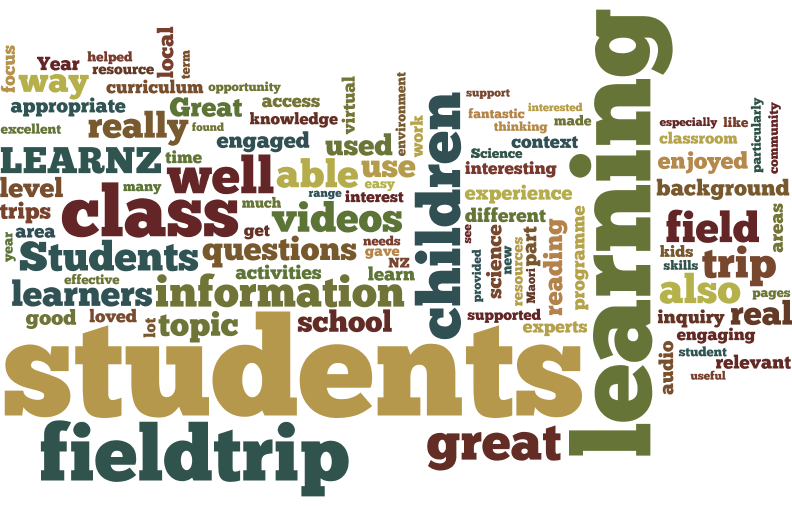 Antarctica
Interactive, engaging and highly motivating. Helps create partnership between home and school as students are extremely keen to share the field trip experiences with their parents.
Karen Edwards from Brightwater School
We integrated the learning across all curriculum areas, which was easily done. All my students enjoy learning in this way and the background reading was perfect for my Year 4 class.
Jacqueline Barrett from Westbrook School
We used the Inquiry method to study Antarctica and we loved it! Shelley's videos created lots for discussion. Brilliant!
Allison Cotter from Newtown School
It was a great way to learn about people places and animals without actually being there.
Jennifer Barrow from Karoro School
This field trip supported our science and geography topics. We found the videos very informative.  It was great to listen to scientists and the artist giving us a glimpse of what living and working in Antarctica is really like.
Brenda Town from Town Family Home School
Listening to someone who was there reinforced how close we are to Antarctica and viewing the videos diaries really focused the students into the whole experience. The readings and activities made students manage their time appropriately.
Ian Timo from Linwood College
Students were highly engaged, especially by the videos and photos of our ambassador. Students who need extra support with literacy really appreciated the easy to read background material.
Cristy Yonetani from St Mark's School Christchurch
It has taken my students to new worlds of understanding, given them purpose and focus to read and write about a 'real-life' topic that is of interest to them.
Alice Keeling from Springston School
Engages the students. Interesting material which covers a breadth of issues and topic areas. Students gained an understanding of the Antarctic food web.
Michael Reed from Loburn School
The trips like Antarctica are fantastic. It enables all children no matter what ethnicity or socioeconomic group to explore the world. My teaching practice has been transformed as LEARNZ allows me to present learning with a digital approach, using multiple computers and devices and guiding students in combination with Google Classroom.
Pamela McDowell from Westbrook School
My Year 3-4 students found the field trip extremely interesting, particularly as we had an ambassador join Shelley on the trip, too. We used the background pages for our reading programme and used the videos. There was a high degree of curiosity from the students, and their questions were answered at their level.
Fiona Mackley from Alexandra School
This was so engaging for our class. This is a great way to bring science alive in the classroom and it led to so many discussions.
Amie-Lee Mills from Te Akau ki Papamoa Primary School
Students love them (LEARNZ field trips) - they are engaging, use real life contexts which have an impact on students' lives, encourage whanau involvement. Fabulous resource.
Caroline Arnold from Lepperton School
The students were highly motivated throughout this field trip. A fantastic resource that can be used easily within any classroom setting to support classroom programmes around skills and attitudes we are fostering with our children.
Kiri Waghorn from Cornwall Park District School
Great for Nature of Science. Also enviroscience topics. The kids were really interested - we found all the science fascinating and it was delivered in a way that made it understandable for the class. Also just the glimpse into life in the Antarctic.
Deirdre Hutton from Holy Family School Wanaka
Led to better engagement and met the learning towards taumata 5 tikanga ā-iwi marau in the TMOA. Outcomes for my kura were evident and supported our kura value system or mātāpono, kaitiakitanga (guardianship of our earth mother Papatuānuku) and rangatiratanga (self-determination that comes from our own actions).
Kararaina Iasona from Te Kura Maori o Porirua
Very appropriate for year 7/8 students. They absolutely loved being able to look at the resources, especially the photo/video content. It gave maximum opportunity to discuss what they were looking at and learning.
Adrianne Harding from Ross Intermediate
Excellent presentation and a great learning experience for the students. Students really enjoyed a different approach to learning and it was good that the weaker readers were able to participate.
Susan Dane from Elm Park School
It made the students aware of the value of the work done in Antarctica, both in the past and in the present, more effectively than just reading about it.
Jacinta Drummond from Mount Hutt College
Fantastic links to the science curriculum AOs - lots of learning due high interest and combination of videos and great background information. Learnz is real world and happening at the moment. Where else can you get this sort of access to scientists and researchers?
Christopher Wratt from Hanmer Springs School
Pages