Testimonials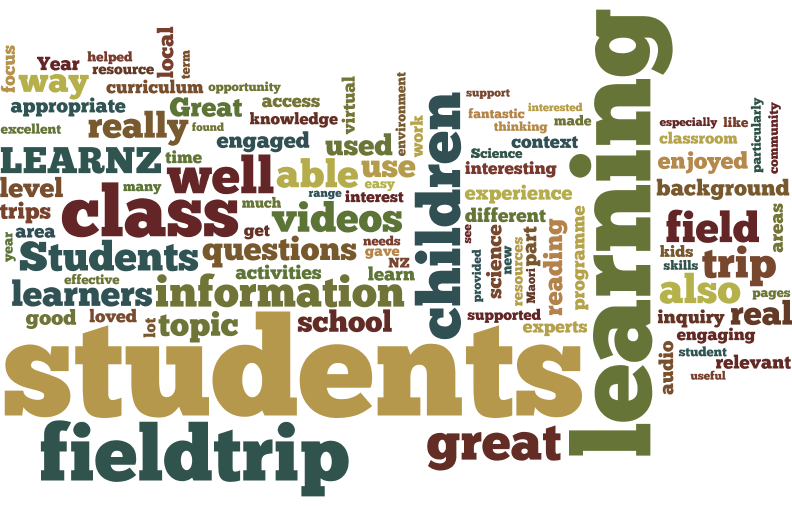 Virtual Great Walker
From the start of the trip, the students were actively engaged - making connections with their own lives and new information they were receiving - even our hunters were interested! Throughout this year we are looking at environmental issues and what we can do to help - as individuals and as a school.  This field trip aligned with this nicely.
Marcia Ferguson from Rosebank School Balclutha
Students were really interested in the content which we used as part of our weekly reading programme and to support digital literacy. We also set it up for independent learning so students could gain self-management skills.
Megan Croll from Beachlands School
Photos and videos were great! I have Year 1 and 2 children so I chose the activities etc that I though were most appropriate to support our virtual walk.
Stephanie Kitto from Clyde School
I have a Yr 5 6 7 class and all were interested. LEARNZ helps with the range of learning abilities within my class. It also gives students from different backgrounds a variety of different experiences that they may never have the chance to do.
Karen Catchpole from Wairere School
Ruud Kleinpaste's enthusiasm was very engaging for the students. The field supported: Principles - Learning to learn; Future focus (sustainability) Values - innovation, inquiry, and curiosity; ecological sustainability Key Competencies - Thinking; Managing self (encouraging students to think about how to prepare for a tramp); Participating and contributing (encouraging students to think about what they can do in their own area) Learning Areas - English (Listening, Reading, and Viewing); Science (Living World, Planet Earth and Beyond) Vision - Connected (seeing what the kids from Glenorchy are doing); Actively involved (encouraging students to think about what they can do); Lifelong learners (tramping is something they are likely to do throughout their lives). 
Sarah Hoult from Waiheke Primary School
This field trip ... encouraged students to develop Future Focused thinking - how the way we interact with our environment now, impacts on the future.
Marcia Ferguson from Rosebank School Balclutha
Audio conference was brilliant - by far the best component of the field trip (for us)! I used it (the field trip) from a health and physical education and science perspective.
Sarah Gaskin from Chertsey School
For the Year 7/8 class I was working with, the field trip tied in perfectly with their camp (Borland Lodge). It worked well using the background pages as build up prior to camp, then using the audio-conferences the week following the camp.
Marcia Ferguson from Rosebank School Balclutha
My students loved Rudd and his enthusiasm for the great outdoors and flora and fauna. We have been doing individual inquiries on the Great Walks and used this one as a model to show students what is out there and what they could do. It integrated english, science, visual arts, health and physical education.
Teresa Hutchins from St Mary's School Hastings
Giving the students the option of listening to the background pages is fantastic!  It takes away the fear of trying to read something that is 'too hard'.  It also develops a familiarity with the LEARNZ teacher.
Marcia Ferguson from Rosebank School Balclutha
Interesting and inspiring for my year 4 students, LEARNZ quizzed and challenged my children to be deeper thinkers. The field trip was something 'real' the children could learn about and it linked to all KCs and the principles of the NZC. Great for all learner needs.
Nichole Bichan from Rosebank School Balclutha
Our class is studying ecology in the lead up to our annual camp so the information was very fitting in all aspects.
Nina Booth from Newbury School
It was very engaging for all students and they learnt a lot. It was also easy to integrate across the curriculum. Very effective to encourage fitness and knowledge of other New Zealand Great Walks.
Bridget Patrick from Rosebank School Balclutha
Relates well to developing thinking and analysis skills, applying information and evaluating conservation issues. Students used the information as a basis to do further research on NZ Great Walks.
Gavin Kidd from Ellesmere College
Children inspired to walk tracks and parents wanting to join them. Great topics, different way of presenting things in class, able to get involved through audioconferences. Differentiated readings and audio/video options meant all class could access information, including Special Needs children.
Hazel Halton from Rapaura School
Students said about the live audioconferences: "We got to talk to real people who are actually there" and "We get to ask questions and they actually listened to us". This field trip enabled my students of different academic abilities to all access the same information in a number of different ways, which led to great discussion and debate about aspects of physical activity and conservation.
Shelley Galloway from St Albans School
We thought it was brilliant! It tied nicely in with out Health, and Science topics. Kids loved the Ambassador and (the field trip) helped prepare for our own walks.
Stacey Vowles from Hillcrest Normal School
It was a great support for the Virtual Great Walkers competition, that we have entered in. Lots of helpful information that covered all areas. Valuable resource.
Stacey Hockey from Gisborne Home School
Very engaging. Tied perfectly with our current inquiry into Hauora.
Courtney Wiedel from Ashburton Borough School
Great for extension group. Broad range of materials for reading and writing.
Rhys Clark from Rahotu School
Pages