Testimonials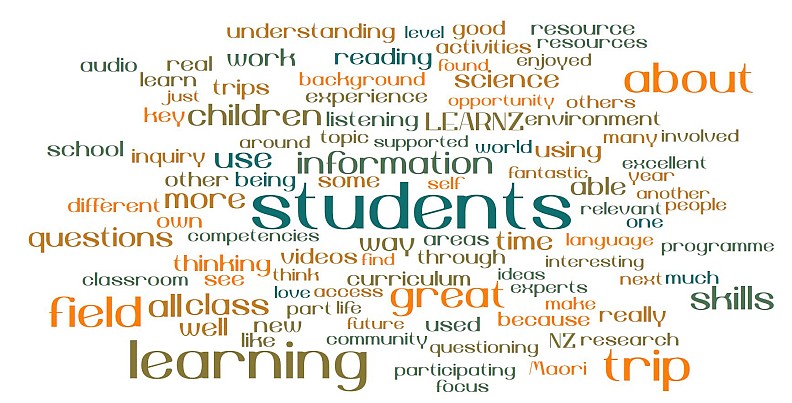 Antarctica
Excellent source of information for the students, aimed at their level, well presented and easy for the students to access and work with. Students found it extremely interesting and they learnt plenty of new things about Antarctica.
Susan Dane from Elm Park School
This was so engaging for our class. This is a great way to bring science alive in the classroom and it led to so many discussions.
Amie-Lee Mills from Te Akau ki Papamoa Primary School
My class of all boys love the LEARNZ background readings and activities; their non-fiction reading levels have all improved. They like the fact that they can work at their level and at their own pace. They all love science and anything (like LEARNZ) that helps develop their understanding of how our world works.
Angela Moeke from St Patrick's Catholic School Taupo
It was a great way to learn about people places and animals without actually being there.
Jennifer Barrow from Karoro School
My Year 7 & 8 students found the field trip very engaging and effective for many reasons eg. extending knowledge, developing inquiry skills, digital technology. It also covered science and social science well, and variously incorporated the Principles, Values, and Key Competencies of the NZC.
Alison Milne from Waipipi School
This field trip supported our science and geography topics. We found the videos very informative.  It was great to listen to scientists and the artist giving us a glimpse of what living and working in Antarctica is really like.
Brenda Town from Town Family Home School
Children loved every part of the experience- thoroughly engaging. Really cool for the students to be able to participate with a group outside of their immediate context!
Ruth Millett from Upper Harbour Primary School
Excellent presentation and a great learning experience for the students. Students really enjoyed a different approach to learning and it was good that the weaker readers were able to participate.
Susan Dane from Elm Park School
LEARNZ is a great way to study a topic using a medium that is accessible to all, even my low vision student and those with poor reading skills. The Antarctica field trip supported the science and social studies areas of the curriculum and much more, such as the key competencies.
Carolyn Thelning from Weston School
Engages the students. Interesting material which covers a breadth of issues and topic areas. Students gained an understanding of the Antarctic food web.
Michael Reed from Loburn School
Great for Nature of Science. Also enviroscience topics. The kids were really interested - we found all the science fascinating and it was delivered in a way that made it understandable for the class. Also just the glimpse into life in the Antarctic.
Deirdre Hutton from Holy Family School Wanaka
This unit linked with our topic of sustainability and enabled cross curricular learning in a digital context. This type of learning resource helps students to work at their level, irrespective of where they start and their reading ability.
Kersty Millar from Reporoa College
Students became very curious with lots of wonderings about Antarctica and they decided that science is really cool. The field trip made for fun learning and helped us use the i-pads and laptops more effectively for independent research.
Paula O'Neill from New River Primary
It was in line with our learning focus for this year of being a fully digital classroom. Online help was all good.
Jennifer Barrow from Kaniere School
The students were highly motivated throughout this field trip. A fantastic resource that can be used easily within any classroom setting to support classroom programmes around skills and attitudes we are fostering with our children.
Kiri Waghorn from Cornwall Park District School
My Year 3-4 students found the field trip extremely interesting, particularly as we had an ambassador join Shelley on the trip, too. We used the background pages for our reading programme and used the videos. There was a high degree of curiosity from the students, and their questions were answered at their level.
Fiona Mackley from Alexandra School
My curriculum focus was supported fully by the LEARNZ Antarctica programme and two NIWA scientists visiting the class in person helped no end to endorse what we had learned. Some students were able to really drive their own learning, while having the two levels for reading enabled some of my less able readers to participate more fully. 
Valerie Moratti from Havelock North Intermediate
Catered to the needs of all students. Tasks were easily differentiated for all curriculum levels. Great opportunity for students to make connections with the wider community.
Christina Fortes from Hay Park School
Fantastic links to the science curriculum AOs - lots of learning due high interest and combination of videos and great background information. Learnz is real world and happening at the moment. Where else can you get this sort of access to scientists and researchers?
Christopher Wratt from Hanmer Springs School
Very appropriate for year 7/8 students. They absolutely loved being able to look at the resources, especially the photo/video content. It gave maximum opportunity to discuss what they were looking at and learning.
Adrianne Harding from Ross Intermediate
I thought LEARNZ did a great job of mixing up content that covered multiple curriculum areas in a logical and accessible way. Most of the time my Year 8-9 class were engaged and absorbed by what was happening.  Well done.
Adrian Humm from Ruawai College
I really enjoy the learnz trips. My class loved learning about preservation and discovery in Antarctica. It delved into the deeper questions. 
Gina Matheson from Marshall Laing School
It motivated my top reading group. It was well organised, informative and something different to use as a reading tool/experience.
Heather Mangan from St Joseph's School (Upper Hutt)
This field trip was very appropriate for my Year 4 class as we used it under the theme of Kaitiakitanga. I feel the effectiveness (of the virtual field trip) can be gauged by the involvement and the questions asked by the children, and this Antarctica study has really had them enthused and doing independent research of their own. It is fascinating to discover how much knowledge the children take home and discuss with their families.
Pam McDowell from Westbrook School
Having all of the Antarctica resources together makes it very easy for students to self-explore the parts of the topic they are especially interested in. The real benefit for us has been having all of the audio with the readings for my lower readers; they prefer to listen and the NZ accent of the reader is a bonus.
Lisa O'Connor from St Teresa's School Featherston
Pages