Testimonials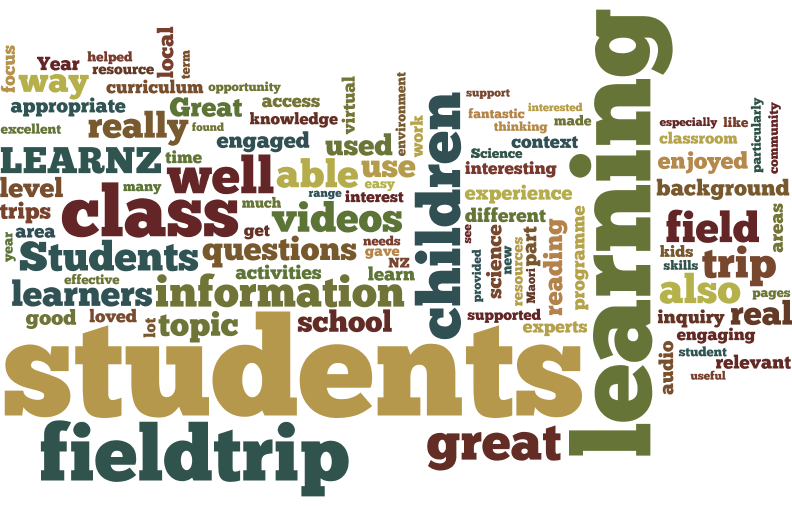 Antarctica
This field trip has been the highlight of the year for all the students. Amazing enthusiasm from the whole school.
Emily Wells from St Mark's School Christchurch
Children loved every part of the experience- thoroughly engaging. Really cool for the students to be able to participate with a group outside of their immediate context!
Ruth Millett from Upper Harbour Primary School
It definitely ticked the boxes. A great topic. We enjoyed all that was on offer.
Lorena McStay from Templeton School
The field trip was very effective, especially from the view point of engagement and motivation as the students felt it was relevant and real.
Jeremy Shroff from Glendowie School
The field trip was extremely appropriate and challenging. Very effective. My class really got into it - it was so well organised for teachers and students.
Jane Austen from Cornwall Park District School
The context of this Antarctica learning trip was helpful to discuss the ESS topic (L5): Earth systems. Students learnt lots of new things about Antarctica and sea ice formation, with some good extra teaching material and activities to extend students.
Nataliia Kravchenko from Te Awamutu College
Rather than just researching independently about Antarctica, the students enjoyed having a variety of tools at their fingertips. The mixture of videos, photos, quiz etc kept students interested and being able to listen to the information rather than having to read it is highly beneficial.
Marcia Karaitiana from West Gore School
This unit linked with our topic of sustainability and enabled cross curricular learning in a digital context. This type of learning resource helps students to work at their level, irrespective of where they start and their reading ability.
Kersty Millar from Reporoa College
We used the Inquiry method to study Antarctica and we loved it! Shelley's videos created lots for discussion. Brilliant!
Allison Cotter from Newtown School
Great for students to have new people connecting to them in a different way, linking many aspects of the curriculum in a real setting.
Janet Valentine from St Brigids School Johnsonville
Students said it was great because it simulated going to Antartica and it was awesome seeing (our ambassador) BuzzBee there. It was easy to set up my programme using Google classroom so students and their families could see what was happening whenever they wanted.
Cheryl Dunick from Spring Creek School
Interactive, engaging and highly motivating. Helps create partnership between home and school as students are extremely keen to share the field trip experiences with their parents.
Karen Edwards from Brightwater School
We integrated the learning across all curriculum areas, which was easily done. All my students enjoy learning in this way and the background reading was perfect for my Year 4 class.
Jacqueline Barrett from Westbrook School
It was a great way to learn about people places and animals without actually being there.
Jennifer Barrow from Karoro School
It takes us to a place we have never been and experienced before and it gives us more insights of what's happening there. It's incredibly interesting.
Arfi Binsted from Binsteds Home School
The LEARNZ personnel and experts feel like real friends or students' own personal teacher, which helps to make the learning experiences very potent. They field trips like Antarctica are great and I just love the work you all do to make them interesting and engaging. Thank you.
Lesley Johnston from Firth School
Students were highly engaged, especially by the videos and photos of our ambassador. Students who need extra support with literacy really appreciated the easy to read background material.
Cristy Yonetani from St Mark's School Christchurch
It has taken my students to new worlds of understanding, given them purpose and focus to read and write about a 'real-life' topic that is of interest to them.
Alice Keeling from Springston School
Engages the students. Interesting material which covers a breadth of issues and topic areas. Students gained an understanding of the Antarctic food web.
Michael Reed from Loburn School
This field trip supported our science and geography topics. We found the videos very informative.  It was great to listen to scientists and the artist giving us a glimpse of what living and working in Antarctica is really like.
Brenda Town from Town Family Home School
Pages