Testimonials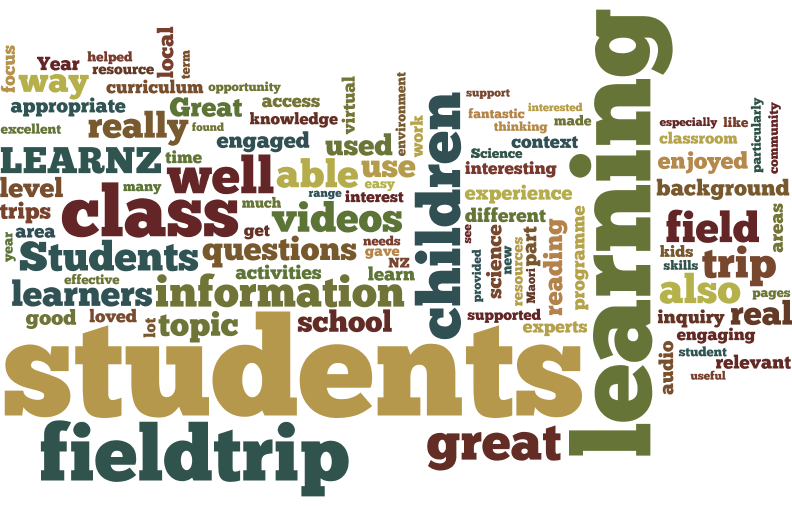 Virtual Great Walker
It was very engaging for all students and they learnt a lot. It was also easy to integrate across the curriculum. Very effective to encourage fitness and knowledge of other New Zealand Great Walks.
Bridget Patrick from Rosebank School Balclutha
Relates well to developing thinking and analysis skills, applying information and evaluating conservation issues. Students used the information as a basis to do further research on NZ Great Walks.
Gavin Kidd from Ellesmere College
Children inspired to walk tracks and parents wanting to join them. Great topics, different way of presenting things in class, able to get involved through audioconferences. Differentiated readings and audio/video options meant all class could access information, including Special Needs children.
Hazel Halton from Rapaura School
Students said about the live audioconferences: "We got to talk to real people who are actually there" and "We get to ask questions and they actually listened to us". This field trip enabled my students of different academic abilities to all access the same information in a number of different ways, which led to great discussion and debate about aspects of physical activity and conservation.
Shelley Galloway from St Albans School
We thought it was brilliant! It tied nicely in with out Health, and Science topics. Kids loved the Ambassador and (the field trip) helped prepare for our own walks.
Stacey Vowles from Hillcrest Normal School
It was a great support for the Virtual Great Walkers competition, that we have entered in. Lots of helpful information that covered all areas. Valuable resource.
Stacey Hockey from Gisborne Home School
Very engaging. Tied perfectly with our current inquiry into Hauora.
Courtney Wiedel from Ashburton Borough School
Great for extension group. Broad range of materials for reading and writing.
Rhys Clark from Rahotu School
Engagement levels were awesome during our field trip. A GREAT FIELD TRIP! Lots of discussion, questioning, making connections. We linked some of our camp planning to the field trip, especially in terms of preparing for our hike and looking at the species of plants and creatures in our camping environment. Allows another teacher (the LEARNZ Teacher) to be in the room! Lessons are easy to plan from the field trip.
Tinaka Pawa from Oturu School
Antarctica
It was superbly rich with a wide range of activities to select from, to cater for differentiated learning in a class of individuals with multiple learning needs. LEARNZ Field trips have been an intrinsic part of my teaching aand learning programme for many years now. Extremely appropriate.
Graham Elsmore from Christian Renewal School
I thought LEARNZ did a great job of mixing up content that covered multiple curriculum areas in a logical and accessible way. Most of the time my Year 8-9 class were engaged and absorbed by what was happening.  Well done.
Adrian Humm from Ruawai College
LEARNZ is a great way to study a topic using a medium that is accessible to all, even my low vision student and those with poor reading skills. The Antarctica field trip supported the science and social studies areas of the curriculum and much more, such as the key competencies.
Carolyn Thelning from Weston School
The students became very curious about Antarctica. They couldn't wait to find out what would happen next and were so upset if we didn't watch everything first thing in the morning.
Gemma Forde from St Theresa's School (Invercargill)
You do a great job of preparing and motivating us to engage with the topic. Well structured for all students. Even low achieving readers well engaged. Covered science, values, aspirations and career information. 
Martin Dodge from Balclutha School
Having all of the Antarctica resources together makes it very easy for students to self-explore the parts of the topic they are especially interested in. The real benefit for us has been having all of the audio with the readings for my lower readers; they prefer to listen and the NZ accent of the reader is a bonus.
Lisa O'Connor from St Teresa's School Featherston
Provided real meaning and connections to topical subjects like global warming. There was a high level of interest about Antarctica from the students.
John Brunton from Marshall Laing School
It was in line with our learning focus for this year of being a fully digital classroom. Online help was all good.
Jennifer Barrow from Kaniere School
My Year 7-10 students can access the field trip whenever needed, not necessarily during the trip. Relevant topic. Students keen to learn more about Antarctica.
Ruth Soper from Southern Regional Health School
My students have a different view of the world we live in after this field trip. My students love the field trips.
Martie Andrew from Awakeri School
Real life engagement with scientists on ice was interesting - great for students to see what we had been studying in real life.
Vanessa Carnevale from Waiheke High School
Pages