Testimonials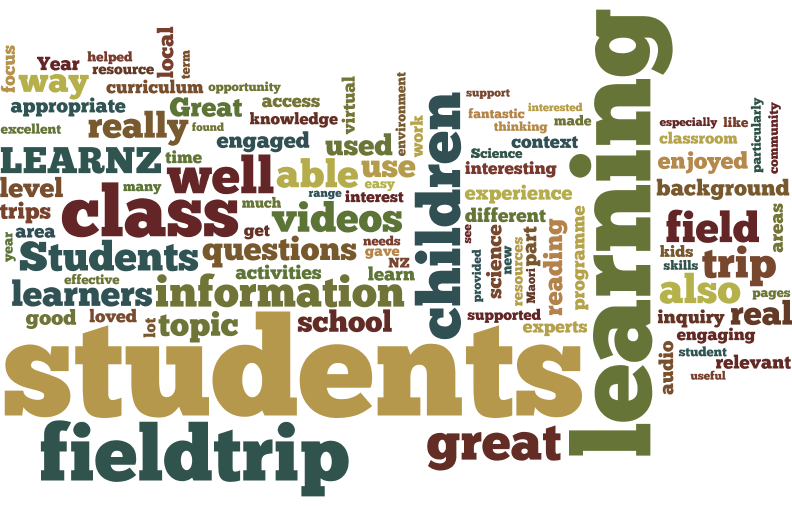 Antarctica
It was superbly rich with a wide range of activities to select from, to cater for differentiated learning in a class of individuals with multiple learning needs. LEARNZ Field trips have been an intrinsic part of my teaching aand learning programme for many years now. Extremely appropriate.
Graham Elsmore from Christian Renewal School
I thought LEARNZ did a great job of mixing up content that covered multiple curriculum areas in a logical and accessible way. Most of the time my Year 8-9 class were engaged and absorbed by what was happening.  Well done.
Adrian Humm from Ruawai College
LEARNZ is a great way to study a topic using a medium that is accessible to all, even my low vision student and those with poor reading skills. The Antarctica field trip supported the science and social studies areas of the curriculum and much more, such as the key competencies.
Carolyn Thelning from Weston School
The students became very curious about Antarctica. They couldn't wait to find out what would happen next and were so upset if we didn't watch everything first thing in the morning.
Gemma Forde from St Theresa's School (Invercargill)
You do a great job of preparing and motivating us to engage with the topic. Well structured for all students. Even low achieving readers well engaged. Covered science, values, aspirations and career information. 
Martin Dodge from Balclutha School
Having all of the Antarctica resources together makes it very easy for students to self-explore the parts of the topic they are especially interested in. The real benefit for us has been having all of the audio with the readings for my lower readers; they prefer to listen and the NZ accent of the reader is a bonus.
Lisa O'Connor from St Teresa's School Featherston
Provided real meaning and connections to topical subjects like global warming. There was a high level of interest about Antarctica from the students.
John Brunton from Marshall Laing School
It was in line with our learning focus for this year of being a fully digital classroom. Online help was all good.
Jennifer Barrow from Kaniere School
My Year 7-10 students can access the field trip whenever needed, not necessarily during the trip. Relevant topic. Students keen to learn more about Antarctica.
Ruth Soper from Southern Regional Health School
My students have a different view of the world we live in after this field trip. My students love the field trips.
Martie Andrew from Awakeri School
Real life engagement with scientists on ice was interesting - great for students to see what we had been studying in real life.
Vanessa Carnevale from Waiheke High School
I run the GATE programme and we do Future Problem Solving so the ecological sustainability was particularly relevant. A great teaching tool which is motivating for students.
Maree Flashman from St Mary's School Ellerslie
Catered to the needs of all students. Tasks were easily differentiated for all curriculum levels. Great opportunity for students to make connections with the wider community.
Christina Fortes from Hay Park School
All students (Year 8, Levels 2-5) were able to access and make sense of the content. Antarctica fitted perfectly with our concept study of 'Environments'.  It was our first experience and we will be back for more.
Peter Fowler from Cobham Intermediate
Caves Critters and Karst
 Fantastic - we were going to Waitomo on our field trip, and the timing and content could NOT have been better. Greatly improved audioconferences - the backchannel improved engagement, and the kids were highly interested in hearing their questions asked over the Internet, and the immediate responses.
David Hanah from Knighton Normal School
Seeing people passionate about their interest is so encouraging for kids. We were focusing on fossils and limestone of North Otago, so it was  useful comparing with Waitomo.
Jennifer Kitchin from Weston School
This field trip tied in nicely with our Science topic this term. Students were highly engaged throughout the field trip and are highly passionate about using LEARNZ in the classroom.
Marcia Ferguson from Rosebank School (Balclutha)
Airport
Was impressed with how my children were engaged in the videos and ambassador updates. Although my class is Year 2, I was able to cater the activities and videos for their ability.
Patricia Ree from Mt Somers Springburn School
I had a careers focus with my Year 7&8 class and I could not have chosen a more effective venue than an airport. The LEARNZ experience cannot be matched for engagement and student enthusiasm.
Graham Elsmore from Christian Renewal School
Easy to use loads of resources, visual and device friendly, mascot was great connector. My students enjoyed the 4 language options as this included every student except my Kiribati one. Being able to put questions to experts in the live audio conference as well as in the back channel chat was great.
Jane Speers from Flaxmere Primary School
Pages