Testimonials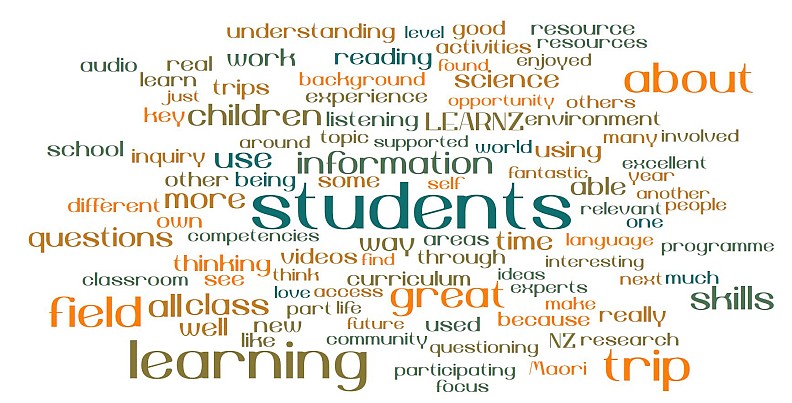 Antarctica
We used the Inquiry method to study Antarctica and we loved it! Shelley's videos created lots for discussion. Brilliant!
Allison Cotter from Newtown School
It takes us to a place we have never been and experienced before and it gives us more insights of what's happening there. It's incredibly interesting.
Arfi Binsted from Binsteds Home School
The LEARNZ personnel and experts feel like real friends or students' own personal teacher, which helps to make the learning experiences very potent. They field trips like Antarctica are great and I just love the work you all do to make them interesting and engaging. Thank you.
Lesley Johnston from Firth School
The students particularly enjoyed the videos and the quizzes. They also commented on how much they liked how the diaries were written as if they were there. This LEARNZ Antarctica trip fitted in well with the Nature of Science aspects of questioning and using vocabulary that we were focussing on.
Lauren Milnes from Ngatimoti School
Students were highly engaged, especially by the videos and photos of our ambassador. Students who need extra support with literacy really appreciated the easy to read background material.
Cristy Yonetani from St Mark's School Christchurch
It has taken my students to new worlds of understanding, given them purpose and focus to read and write about a 'real-life' topic that is of interest to them.
Alice Keeling from Springston School
It was a great way to learn about people places and animals without actually being there.
Jennifer Barrow from Karoro School
This field trip supported our science and geography topics. We found the videos very informative.  It was great to listen to scientists and the artist giving us a glimpse of what living and working in Antarctica is really like.
Brenda Town from Town Family Home School
Listening to someone who was there reinforced how close we are to Antarctica and viewing the videos diaries really focused the students into the whole experience. The readings and activities made students manage their time appropriately.
Ian Timo from Linwood College
Caves Critters and Karst
Seeing people passionate about their interest is so encouraging for kids. We were focusing on fossils and limestone of North Otago, so it was  useful comparing with Waitomo.
Jennifer Kitchin from Weston School
This field trip tied in nicely with our Science topic this term. Students were highly engaged throughout the field trip and are highly passionate about using LEARNZ in the classroom.
Marcia Ferguson from Rosebank School (Balclutha)
 Fantastic - we were going to Waitomo on our field trip, and the timing and content could NOT have been better. Greatly improved audioconferences - the backchannel improved engagement, and the kids were highly interested in hearing their questions asked over the Internet, and the immediate responses.
David Hanah from Knighton Normal School
Airport
 The field trip was a great way for the students to use technology to access information. They could decide what they wanted to find out about Airports and this gave them choices in their learning. I like the interactive nature of the field trips and having an ambassador creates a great connection for the children. Great multilevel materials for all levels.
Jennifer Barrow from Karoro School
Best when you build an inquiry unit around the Field Trip. Being able to ask questions using Back Channel was particularly useful during audioconferences. Great to have access to experts that you would otherwise not have access to. The video footage and commentaries were a perfect length. 
Rachel O'Connell from Lawrence Area School
My class loves being part of the field trips, watching the teachers on the videos and listening to real people in real life situations. We were learning about transport with a technology focus so it was a very interesting topic for the children, pitched at a good level.
Louise Parker from Twyford School
The students and me learnt a lot more about an airport, what careers are available and how so many people are involved with the running of an international airport. It gave students who have travelled the opportunity to share their personal experiences with their peers, which made it even more realistic.
Teresa Hutchins from St Mary's School (Hastings)
 It built nicely onto our class trip to Oamaru airport. Children were engaged - videos and activities were much enjoyed. Audioconferences are a great way to engage the children - developing and asking their own questions is great.
Carolyn Thelning from Weston School
 For many it was very engaging, and they especially enjoyed learning about customs as well as how an airport works and the many types of jobs that people do there. Students enjoy learning online - they love the videos and love seeing their ambassador and getting updates from him.
Te Ireland from Karoro School
The audioconferences put our students in contact with other NZ kids - connects them to their peers. Students were fascinated by the videos of behind the scenes at the airport.
Jennifer Kitchin from Weston School
 Excellent self paced real world learning. Great to have multi media resources students could relate to. Individual support and emails made the programme more accessible for our Special Needs Class.
Kevin Mellon from Sommerville School
It was such an engaging learning experience for my Year 9 class. This was my first experience (with a LEARNZ field trip) and I was so pleased it was a success.
Maria Connelly from Ellesmere College
The field trips work for independent and well as peer work. They ignited passions the students didn't even know they have! I have a number of low ability readers in my class, being able to listen to the text is fantastic.
Marcia Ferguson from Rosebank School (Balclutha)
Was impressed with how my children were engaged in the videos and ambassador updates. Although my class is Year 2, I was able to cater the activities and videos for their ability.
Patricia Ree from Mt Somers Springburn School
I had a careers focus with my Year 7&8 class and I could not have chosen a more effective venue than an airport. The LEARNZ experience cannot be matched for engagement and student enthusiasm.
Graham Elsmore from Christian Renewal School
Easy to use loads of resources, visual and device friendly, mascot was great connector. My students enjoyed the 4 language options as this included every student except my Kiribati one. Being able to put questions to experts in the live audio conference as well as in the back channel chat was great.
Jane Speers from Flaxmere Primary School
Pages