Testimonials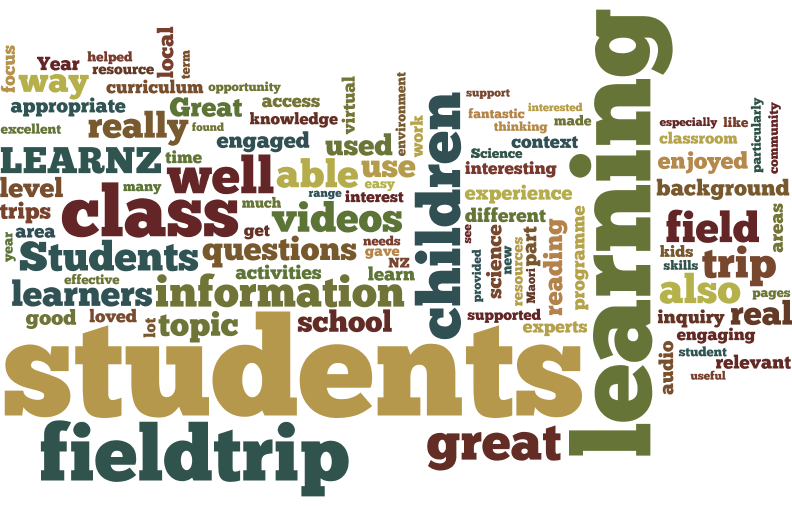 Harbours and Estuaries
Students were able to make comparisons between Ohiwa and our local Ahuriri estuary. The field trip challenged them to think about what it means to be living near a coast. Covers diverse areas that would otherwise be inaccessible to my students.
Gabriel Hawke from St Mary's School (Hastings)
The students were very motivated and learned many new things. They have changed their attitude to estuaries in our area. They particularly enjoyed the audioconferences and twitter - audioconferences are fantastic. I like the contact with scientists and other experts. Good links with careers education and Nature of Science.
Susan Feron from Collingwood Area School
It helped my students understand about estuaries as they had no knowledge of what they were before we read about them and participated in the audioconference. Two of my students with ASD are highly excited and showing the site to their whanau, which is great. The Te Reo content and Maori perspectives in the texts and from Guest experts is also excellent and much appreciated.
Sue Hodge from Elm Park School
Perfect for my class level. Children were engaged and gained environmental knowledge and inspiration to care for the local area. Useful resource with great planning and layout. Catered to a variety of learning styles. A valuable learning tool that engages the children in a different way. Easy to follow lessons with realistic and interesting follow up activities.
Philippus Meyer from Ohope Beach School
It linked well with our focus on global issues and water use. It caters for a range of abilities and now that we have more devices allows students to work at their level. The live links created more reality and interest to begin with. Great stuff.
Francis Ganderton from Cashmere Primary School
Stewart Island
Fitted fine with our topic, Taonga. Level 2. Suits the way I like children to learn, and the children gain so much from this sort of online learning. Caters for the range of different children/cultures/needs/learning styles. Able to view the material more than once.
Lynn Douglas from St Francis Xavier Catholic School Whangerei
Kauri
The virtual field trip worked well for my mixed ability y9 science class. It engaged the students and it was relevant to the curriculum. The class enjoyed the wide range of activities. One of my students is a boarder, who has iwi connections, with the far north and kauri forests - the kauri are taonga to her iwi. She was very engaged in this unit of work.
Phoebe van der Pol from Nelson College for Girls
My students enjoyed it and learnt so much. They were inspired and did their own projects on kauri dieback. They learnt to do inquiry learning. They enjoyed the videos and doing the activities to test their knowledge.
Julia Kippen from St Mark's School (Pakuranga)
This was a brilliant trip for my class. They gained a sense of guardianship responsibility for kauri. The videos were absolutely wonderful and students loved reading the diary entries also. The field trip enabled me to transport my students to a distant place, at no cost, in order to show them first hand some real NZ based learning. Students feel they know Andrew and Egbert and are keen to do more trips.
Brigitte Glasson from Westburn School
It is visual, relevant, easy to access, and makes good use of technology to be virtually there. Very relevant and topical in Northland.
Denise Hadwin from Paihia School
Easy to implement and a wide variety of resources to choose from. We made a kauri forest in our class with tracks and did some science experiments. Being hands on the students really enjoyed the new learning and have retained the information well.
Amelia Read from Pillans Point School
Engaging and can be tailored to the specific needs of a small group of students. Uses all of the Key Competencies. Enabled students to self regulate their learning.
Patricia Patten from Oaklands School
The kids really enjoyed it and were well supported on the website, as they we able to navigate to find their way around to answer questions they had generated. I was able to take different aspects for different abilities in the class. We also followed up with a visit in our local area to a native bush stand.
Vicki Karetai from Brooklyn School Motueka
The field trip was yet another way to utilise the tools in our digital classroom. My recommendation to colleagues is this resource, while valuable when it links to current teaching and learning, has also proven to be excellent for use with smaller groups to extend critical thinking and learning linked to a real context.
Adrienne Dines from St Patricks School Panmure
Owing to time constraints with other curriculum areas, I sadly did not get an opportunity to use this wonderful resource with my class. I will be using it retrospectively however.
Valerie Moratti from Havelock North Intermediate
As an Enviro school it is wonderful to be interfacing with experts in the field on real issues in real time. Some of my students go onto Learnz to explore further as additional home learning. Great to hear them educating their parents about what's happening to our mighty taonga, Kauri. LEARNZ is the most marvellous educational resource for NZ teachers. This is my 14th year with Learnz and I get great great support if I need it. The staff are truly amazing at every level.
Susan Hodge from Elm Park School
Wonderful guided learning with experts to interact with and the real time learning makes it relevant, engaging and applicable. My class found the level appropriate (they are year 6). The delivery was manageable for all students. It fitted our theme study around NZ bush and our camp in the bush.
David Henderson from Cornestone Christian School
My class always enjoys the Learnz Field Trips, regardless of the trip we enrol in. The LEARNZ teachers are so enthusiastic, it really teaches the children things that I can't.
Louise Parker from Twyford School
It provided a quality opportunity for integrating eLearning into the Inquiry programme. As part of our inquiry we will be researching possible sites at school and in our local area to plant several Kauri. I really like the questions and activities for further inquiry in the green boxes at the bottom of the Background pages. The videos also provided excellent class discussion with the questions that were attached to each video. Many children revisited the videos frequently during the trip.
Heather Richmond from Otakiri School
Resources that we used were excellent, thought provoking and have my whole class sold on taking care of kauri. Teaching kit very helpful, well thought out, age appropriate.
Sarah Parker from Pillans Point School
Pages