Testimonials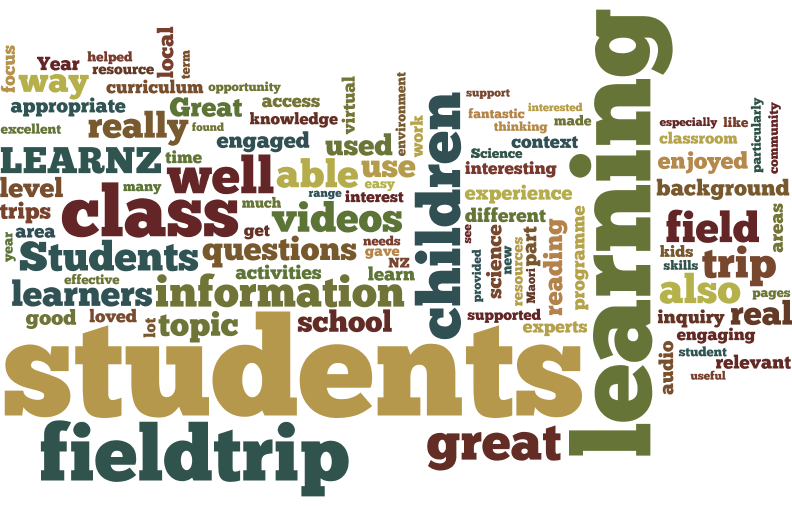 Harbours and Estuaries
Appropriate as an introduction to harbour ecology. Made for a useful comparison to our own harbour. My Year 12 Science students were able to compare and contrast both ecological and social values of the harbours.
Keith Hartle from Ruawai College
The material was age appropriate (particularly liked the audio links, reading the material).  The participation levels at school and at home were a lot higher than usual because material was readily accessible and easy to read and understand. Audio conferences were excellent. Having the few visual photographs kept some of my less focussed kids engaged, as did the summary sheets that they had in front of them.  I was surprised at just how much they picked up.  It was great to be able to ask questions via the backchannel and get immediate responses - the kids loved that.
Vada Miers from Riverina School
The students were very motivated and learned many new things. They have changed their attitude to estuaries in our area. They particularly enjoyed the audioconferences and twitter - audioconferences are fantastic. I like the contact with scientists and other experts. Good links with careers education and Nature of Science.
Susan Feron from Collingwood Area School
It helped my students understand about estuaries as they had no knowledge of what they were before we read about them and participated in the audioconference. Two of my students with ASD are highly excited and showing the site to their whanau, which is great. The Te Reo content and Maori perspectives in the texts and from Guest experts is also excellent and much appreciated.
Sue Hodge from Elm Park School
It linked well with our focus on global issues and water use. It caters for a range of abilities and now that we have more devices allows students to work at their level. The live links created more reality and interest to begin with. Great stuff.
Francis Ganderton from Cashmere Primary School
Stewart Island
Fitted fine with our topic, Taonga. Level 2. Suits the way I like children to learn, and the children gain so much from this sort of online learning. Caters for the range of different children/cultures/needs/learning styles. Able to view the material more than once.
Lynn Douglas from St Francis Xavier Catholic School Whangerei
Kauri
Engaging and can be tailored to the specific needs of a small group of students. Uses all of the Key Competencies. Enabled students to self regulate their learning.
Patricia Patten from Oaklands School
It illustrated clearly community engagement, ecological sustainability, participating and contributing. Students were interested. It also helped in the Nature of Science ... seeing how the community can work with the scientists on an issue.
Jane Seymour from Makuri School
Set at a great level for year 7 and 8 students. A lot of the planning has been organised for you. Great learning experience. Majority of students loved the topic and the quality of the work completed was outstanding.
Paul Hammond from Greytown School
As an Enviro school it is wonderful to be interfacing with experts in the field on real issues in real time. Some of my students go onto Learnz to explore further as additional home learning. Great to hear them educating their parents about what's happening to our mighty taonga, Kauri. LEARNZ is the most marvellous educational resource for NZ teachers. This is my 14th year with Learnz and I get great great support if I need it. The staff are truly amazing at every level.
Susan Hodge from Elm Park School
Related to our personal environment, local issues, and experiences at camp. Very relevant to developing a MLE and BYOD environment. Combined literacy, science, social science. Andrew (the LEARNZ Teacher) was friendly, engaging, and related well to students and experts.
Paula Walker from Titirangi School
The kids get really engaged with what they are learning about. Because it is real the kids really respond to it. We can make links to what is happening around our area, also.
Ryan Fraser from Maheno School
Fabulous e-learning experience! Very appropriate to our Inquiry theme of Survival. Very effectively presented. Children really enjoyed the videos and questions that were included which helped them focus on key ideas. Enthusiasm overflowed into homework! Love the idea of having background notes read so children of all levels can listen and learn. Really liked the integration of Te Reo. Can be used by a range of learning levels in a variety of ways.
Anthea Shattock from Otakiri School
We are in a reasonably remote area and it is great that we can interact with other schools. The Web Quest was fantastic for a range of abilities. LEARNZ is wonderful for those students who learn in different ways e.g. listening (and they can refer back to recordings to check information). We are now interested in "adopting" a local reseve and planting some natives, including kauri.
Debra Sheehan from Pukenui School
We used this field trip to help us cover our Deep Learning Topic of Past and Present. it was very helpful in many aspects as we also wanted a science based focus in this area. The activities and background pages were useful for self management.
Judith Van Boxel from Waiau Pa School
The virtual field trip worked well for my mixed ability y9 science class. It engaged the students and it was relevant to the curriculum. The class enjoyed the wide range of activities. One of my students is a boarder, who has iwi connections, with the far north and kauri forests - the kauri are taonga to her iwi. She was very engaged in this unit of work.
Phoebe van der Pol from Nelson College for Girls
Easy to implement and a wide variety of resources to choose from. We made a kauri forest in our class with tracks and did some science experiments. Being hands on the students really enjoyed the new learning and have retained the information well.
Amelia Read from Pillans Point School
Ties in so well with the guiding principles - Education for sustainability, Treaty of Waitangi etc. My Year 4 children were engaged and able to relate this field trip to our term concept of Turangawaewae. Content interesting and informative. Well presented as usual by Andrew with passion. Children with different learning styles are well catered for and my special needs children are also keen to engage in this type of online learning.
Lynn Douglas from St Francis Xavier Catholic School Whangerei
This was a brilliant trip for my class. They gained a sense of guardianship responsibility for kauri. The videos were absolutely wonderful and students loved reading the diary entries also. The field trip enabled me to transport my students to a distant place, at no cost, in order to show them first hand some real NZ based learning. Students feel they know Andrew and Egbert and are keen to do more trips.
Brigitte Glasson from Westburn School
... upon completion and reflection the most impact was on the areas of our Key Competencies. Absolutely without a doubt the field trip supported the true essence of our NZC. The children became kauri experts and were keen to cometogether as the Kauri Class and learn. It promoted true collaboration and it was thoroughly enjoyable for both the children and myself.
Sharlene Carki from Weston School
Pages