Testimonials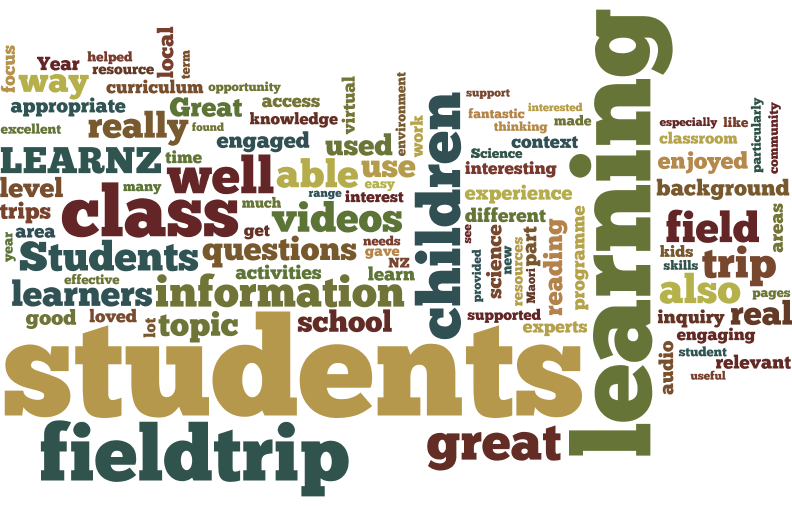 Harbours and Estuaries
The material was age appropriate (particularly liked the audio links, reading the material).  The participation levels at school and at home were a lot higher than usual because material was readily accessible and easy to read and understand. Audio conferences were excellent. Having the few visual photographs kept some of my less focussed kids engaged, as did the summary sheets that they had in front of them.  I was surprised at just how much they picked up.  It was great to be able to ask questions via the backchannel and get immediate responses - the kids loved that.
Vada Miers from Riverina School
The students were very motivated and learned many new things. They have changed their attitude to estuaries in our area. They particularly enjoyed the audioconferences and twitter - audioconferences are fantastic. I like the contact with scientists and other experts. Good links with careers education and Nature of Science.
Susan Feron from Collingwood Area School
It helped my students understand about estuaries as they had no knowledge of what they were before we read about them and participated in the audioconference. Two of my students with ASD are highly excited and showing the site to their whanau, which is great. The Te Reo content and Maori perspectives in the texts and from Guest experts is also excellent and much appreciated.
Sue Hodge from Elm Park School
It linked well with our focus on global issues and water use. It caters for a range of abilities and now that we have more devices allows students to work at their level. The live links created more reality and interest to begin with. Great stuff.
Francis Ganderton from Cashmere Primary School
Perfect for my class level. Children were engaged and gained environmental knowledge and inspiration to care for the local area. Useful resource with great planning and layout. Catered to a variety of learning styles. A valuable learning tool that engages the children in a different way. Easy to follow lessons with realistic and interesting follow up activities.
Philippus Meyer from Ohope Beach School
Stewart Island
Fitted fine with our topic, Taonga. Level 2. Suits the way I like children to learn, and the children gain so much from this sort of online learning. Caters for the range of different children/cultures/needs/learning styles. Able to view the material more than once.
Lynn Douglas from St Francis Xavier Catholic School Whangerei
Kauri
Easy to implement and a wide variety of resources to choose from. We made a kauri forest in our class with tracks and did some science experiments. Being hands on the students really enjoyed the new learning and have retained the information well.
Amelia Read from Pillans Point School
Ties in so well with the guiding principles - Education for sustainability, Treaty of Waitangi etc. My Year 4 children were engaged and able to relate this field trip to our term concept of Turangawaewae. Content interesting and informative. Well presented as usual by Andrew with passion. Children with different learning styles are well catered for and my special needs children are also keen to engage in this type of online learning.
Lynn Douglas from St Francis Xavier Catholic School Whangerei
It provided a quality opportunity for integrating eLearning into the Inquiry programme. As part of our inquiry we will be researching possible sites at school and in our local area to plant several Kauri. I really like the questions and activities for further inquiry in the green boxes at the bottom of the Background pages. The videos also provided excellent class discussion with the questions that were attached to each video. Many children revisited the videos frequently during the trip.
Heather Richmond from Otakiri School
Adds to the learning experiences of our topic studies. We are studying kauri dieback using the "Keep Kauri Standing - Kauri Dieback" school resource so this trip supported that learning. It visited some of the areas we had already learned about and added some information from experts that helped to answer some of the questions we had.
Sharon McGaffin from Verran Primary School
This was a brilliant trip for my class. They gained a sense of guardianship responsibility for kauri. The videos were absolutely wonderful and students loved reading the diary entries also. The field trip enabled me to transport my students to a distant place, at no cost, in order to show them first hand some real NZ based learning. Students feel they know Andrew and Egbert and are keen to do more trips.
Brigitte Glasson from Westburn School
... upon completion and reflection the most impact was on the areas of our Key Competencies. Absolutely without a doubt the field trip supported the true essence of our NZC. The children became kauri experts and were keen to cometogether as the Kauri Class and learn. It promoted true collaboration and it was thoroughly enjoyable for both the children and myself.
Sharlene Carki from Weston School
Very informative as to what is happening on our doorstep, and we did not know about it. We are now going to contact DOC in our area and finding out more that we can do to help locally. All children saw things they related to, and saw the relevance of what they were learning. Nice to have the extra background from maori perspective.
Diana Donovan from Pamapuria School
The kids really enjoyed it and were well supported on the website, as they we able to navigate to find their way around to answer questions they had generated. I was able to take different aspects for different abilities in the class. We also followed up with a visit in our local area to a native bush stand.
Vicki Karetai from Brooklyn School Motueka
They (LEARNZ virtual field trips) are informative and they reinforce what I am teaching. We had watched with real disappointment the Kauri Grove in Cambridge and our local area die in last year's drought.
Pamela Furze from Roto-O-Rangi School
Wonderful guided learning with experts to interact with and the real time learning makes it relevant, engaging and applicable. My class found the level appropriate (they are year 6). The delivery was manageable for all students. It fitted our theme study around NZ bush and our camp in the bush.
David Henderson from Cornestone Christian School
We live in the north and are surrounded by Kauri trees. Our students are now aware that kauri trees are under threat as they did not know this initially. I feel science is a very important part of the curriculum and want to encourage students to interact with the New Zealand environment. We are now going to visit the local bush and observe our trees.
Sharlene Tornquits from Kaiwaka School
Resources that we used were excellent, thought provoking and have my whole class sold on taking care of kauri. Teaching kit very helpful, well thought out, age appropriate.
Sarah Parker from Pillans Point School
Activities that went with the videos were fantastic.
Christopher Gore from Wellsford School
Fitted in very well with our non-fiction reading strategies and gave information that we weren't aware of. Also topical with the news broadcast about Coromandel.
Brigid Stevens from Greytown School
Pages