Testimonials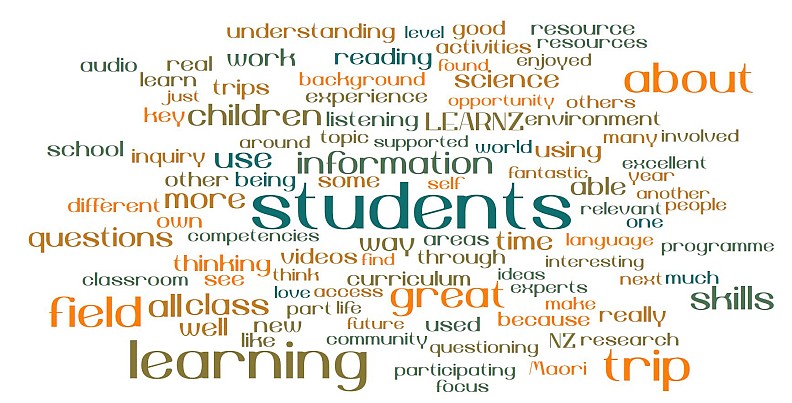 Antarctica
Great resource with a variety of media. Very comprehensive, providing students with another layer of learning material connected to real world around them.
Roland Gorlich from Arahoe School
It was superbly rich with a wide range of activities to select from, to cater for differentiated learning in a class of individuals with multiple learning needs. LEARNZ Field trips have been an intrinsic part of my teaching aand learning programme for many years now. Extremely appropriate.
Graham Elsmore from Christian Renewal School
Linked well to our inquiry this term on Ecosystems and Science.
Jillian Adams from Trentham School
For my Year 4 class enjoyed the learning experience. The virtual field trip raised their awareness of how special and unique Antarctica is and made them think about being the guardians of the area.
Jacqueline Barrett from Westbrook School
WOW, what a powerful learning tool the Audio Conference was - our extension Year 3-4 students were so engaged in listening and learning that they didn't make a sound.
Joanne Drake from Geraldine Primary School
Real life engagement with scientists on ice was interesting - great for students to see what we had been studying in real life.
Vanessa Carnevale from Waiheke High School
The context of this Antarctica learning trip was helpful to discuss the ESS topic (L5): Earth systems. Students learnt lots of new things about Antarctica and sea ice formation, with some good extra teaching material and activities to extend students.
Nataliia Kravchenko from Te Awamutu College
You do a great job of preparing and motivating us to engage with the topic. Well structured for all students. Even low achieving readers well engaged. Covered science, values, aspirations and career information. 
Martin Dodge from Balclutha School
This was an amazing way to make the learning come alive for our study of Antarctica. Very effective - personalised the learning.
Elley Mullany from Mullany Homeschool
Very appropriate for Year 5/6 students, who loved the 'real' experience. Covers lots of the curriculum areas, from reading groups to individual programmes with students who have special needs. Web site means students can follow up at home and share with family what they have learnt.
Patricia Molloy from Turitea School
The LEARNZ virtual journey to Antarctica was great because EOTC is not possible in Antarctica for a school classroom to do for real. The opportunity to hear real scientists talk to the LEARNZ representative, Shelley Hersy, was very valuable and also helped us form some of our science goals.
Dianne Morgan from Matakana School
The field trip was very effective, especially from the view point of engagement and motivation as the students felt it was relevant and real.
Jeremy Shroff from Glendowie School
We loved the field trip! Thanks so much for all that you do. It is such an engaging way to connect with various areas of the curriculum.
Sarah Trethewey from Katikati Primary School
Students said it was great because it simulated going to Antartica and it was awesome seeing (our ambassador) BuzzBee there. It was easy to set up my programme using Google classroom so students and their families could see what was happening whenever they wanted.
Cheryl Dunick from Spring Creek School
My students have a different view of the world we live in after this field trip. My students love the field trips.
Martie Andrew from Awakeri School
Caves Critters and Karst
Seeing people passionate about their interest is so encouraging for kids. We were focusing on fossils and limestone of North Otago, so it was  useful comparing with Waitomo.
Jennifer Kitchin from Weston School
This field trip tied in nicely with our Science topic this term. Students were highly engaged throughout the field trip and are highly passionate about using LEARNZ in the classroom.
Marcia Ferguson from Rosebank School (Balclutha)
 Fantastic - we were going to Waitomo on our field trip, and the timing and content could NOT have been better. Greatly improved audioconferences - the backchannel improved engagement, and the kids were highly interested in hearing their questions asked over the Internet, and the immediate responses.
David Hanah from Knighton Normal School
Airport
 Suited all students regardless of their knowledge of International airports. All were interested in the behind-the-scenes look at how an airport works.
Gabriel Hawke from St Mary's School (Hastings)
It was such an engaging learning experience for my Year 9 class. This was my first experience (with a LEARNZ field trip) and I was so pleased it was a success.
Maria Connelly from Ellesmere College
 The field trip was a great way for the students to use technology to access information. They could decide what they wanted to find out about Airports and this gave them choices in their learning. I like the interactive nature of the field trips and having an ambassador creates a great connection for the children. Great multilevel materials for all levels.
Jennifer Barrow from Karoro School
The field trips work for independent and well as peer work. They ignited passions the students didn't even know they have! I have a number of low ability readers in my class, being able to listen to the text is fantastic.
Marcia Ferguson from Rosebank School (Balclutha)
My class loves being part of the field trips, watching the teachers on the videos and listening to real people in real life situations. We were learning about transport with a technology focus so it was a very interesting topic for the children, pitched at a good level.
Louise Parker from Twyford School
Was impressed with how my children were engaged in the videos and ambassador updates. Although my class is Year 2, I was able to cater the activities and videos for their ability.
Patricia Ree from Mt Somers Springburn School
The students and me learnt a lot more about an airport, what careers are available and how so many people are involved with the running of an international airport. It gave students who have travelled the opportunity to share their personal experiences with their peers, which made it even more realistic.
Teresa Hutchins from St Mary's School (Hastings)
Pages