Testimonials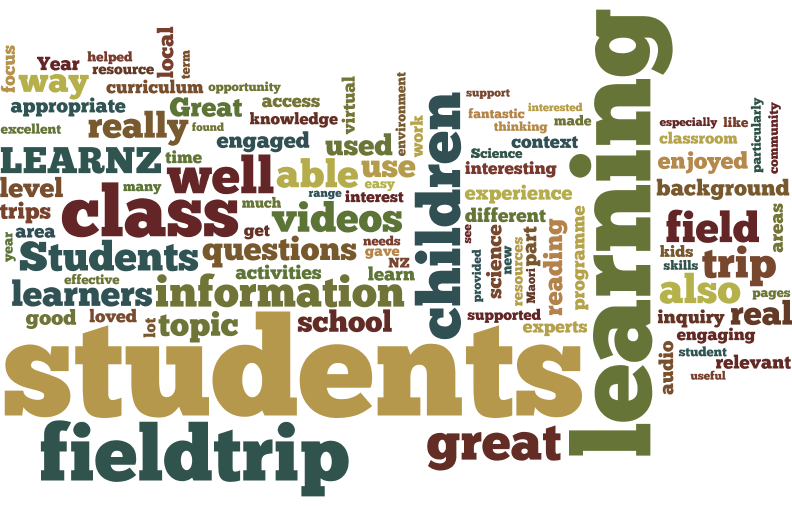 Kauri
The kids really enjoyed it and were well supported on the website, as they we able to navigate to find their way around to answer questions they had generated. I was able to take different aspects for different abilities in the class. We also followed up with a visit in our local area to a native bush stand.
Vicki Karetai from Brooklyn School Motueka
The field trip was yet another way to utilise the tools in our digital classroom. My recommendation to colleagues is this resource, while valuable when it links to current teaching and learning, has also proven to be excellent for use with smaller groups to extend critical thinking and learning linked to a real context.
Adrienne Dines from St Patricks School Panmure
As an Enviro school it is wonderful to be interfacing with experts in the field on real issues in real time. Some of my students go onto Learnz to explore further as additional home learning. Great to hear them educating their parents about what's happening to our mighty taonga, Kauri. LEARNZ is the most marvellous educational resource for NZ teachers. This is my 14th year with Learnz and I get great great support if I need it. The staff are truly amazing at every level.
Susan Hodge from Elm Park School
Wonderful guided learning with experts to interact with and the real time learning makes it relevant, engaging and applicable. My class found the level appropriate (they are year 6). The delivery was manageable for all students. It fitted our theme study around NZ bush and our camp in the bush.
David Henderson from Cornestone Christian School
It illustrated clearly community engagement, ecological sustainability, participating and contributing. Students were interested. It also helped in the Nature of Science ... seeing how the community can work with the scientists on an issue.
Jane Seymour from Makuri School
Related to our personal environment, local issues, and experiences at camp. Very relevant to developing a MLE and BYOD environment. Combined literacy, science, social science. Andrew (the LEARNZ Teacher) was friendly, engaging, and related well to students and experts.
Paula Walker from Titirangi School
My class always enjoys the Learnz Field Trips, regardless of the trip we enrol in. The LEARNZ teachers are so enthusiastic, it really teaches the children things that I can't.
Louise Parker from Twyford School
It provided a quality opportunity for integrating eLearning into the Inquiry programme. As part of our inquiry we will be researching possible sites at school and in our local area to plant several Kauri. I really like the questions and activities for further inquiry in the green boxes at the bottom of the Background pages. The videos also provided excellent class discussion with the questions that were attached to each video. Many children revisited the videos frequently during the trip.
Heather Richmond from Otakiri School
We used this field trip to help us cover our Deep Learning Topic of Past and Present. it was very helpful in many aspects as we also wanted a science based focus in this area. The activities and background pages were useful for self management.
Judith Van Boxel from Waiau Pa School
Resources that we used were excellent, thought provoking and have my whole class sold on taking care of kauri. Teaching kit very helpful, well thought out, age appropriate.
Sarah Parker from Pillans Point School
Very informative as to what is happening on our doorstep, and we did not know about it. We are now going to contact DOC in our area and finding out more that we can do to help locally. All children saw things they related to, and saw the relevance of what they were learning. Nice to have the extra background from maori perspective.
Diana Donovan from Pamapuria School
Adds to the learning experiences of our topic studies. We are studying kauri dieback using the "Keep Kauri Standing - Kauri Dieback" school resource so this trip supported that learning. It visited some of the areas we had already learned about and added some information from experts that helped to answer some of the questions we had.
Sharon McGaffin from Verran Primary School
Activities that went with the videos were fantastic.
Christopher Gore from Wellsford School
We are in a reasonably remote area and it is great that we can interact with other schools. The Web Quest was fantastic for a range of abilities. LEARNZ is wonderful for those students who learn in different ways e.g. listening (and they can refer back to recordings to check information). We are now interested in "adopting" a local reseve and planting some natives, including kauri.
Debra Sheehan from Pukenui School
Easy to access and structured well for independent work. Just the right level and interest.
Craig Barrow from Riwaka School
... upon completion and reflection the most impact was on the areas of our Key Competencies. Absolutely without a doubt the field trip supported the true essence of our NZC. The children became kauri experts and were keen to cometogether as the Kauri Class and learn. It promoted true collaboration and it was thoroughly enjoyable for both the children and myself.
Sharlene Carki from Weston School
They (LEARNZ virtual field trips) are informative and they reinforce what I am teaching. We had watched with real disappointment the Kauri Grove in Cambridge and our local area die in last year's drought.
Pamela Furze from Roto-O-Rangi School
I used a lot of independent learning time using the background pages which promoted managing self. Also promotes community engagement, future focused thinking. It is well integrated across the curriculum and supports a range of learning types.
Kate Cvitanovich from Nelson Intermediate
We live in the north and are surrounded by Kauri trees. Our students are now aware that kauri trees are under threat as they did not know this initially. I feel science is a very important part of the curriculum and want to encourage students to interact with the New Zealand environment. We are now going to visit the local bush and observe our trees.
Sharlene Tornquits from Kaiwaka School
My 31 mixed-ability children were completely engaged in our study. It was such an authentic context for us, as we are a silver enviroschool and we have three kauri at our school that we are learning to protect. Was great for the children to see real science in action; they were very interested in the laboratory work.
Lynn Douglas from St Francis Xavier Catholic School Whangarei
Pages