Testimonials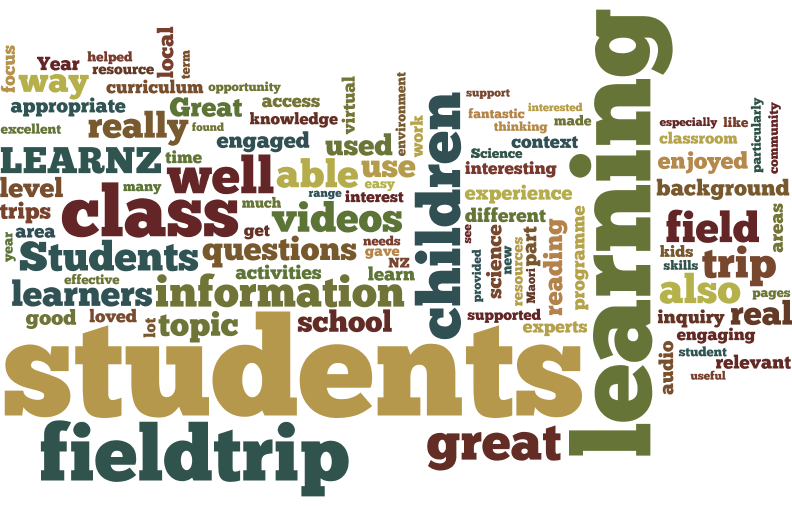 Kauri
The kids really enjoyed it and were well supported on the website, as they we able to navigate to find their way around to answer questions they had generated. I was able to take different aspects for different abilities in the class. We also followed up with a visit in our local area to a native bush stand.
Vicki Karetai from Brooklyn School Motueka
They (LEARNZ virtual field trips) are informative and they reinforce what I am teaching. We had watched with real disappointment the Kauri Grove in Cambridge and our local area die in last year's drought.
Pamela Furze from Roto-O-Rangi School
Wonderful guided learning with experts to interact with and the real time learning makes it relevant, engaging and applicable. My class found the level appropriate (they are year 6). The delivery was manageable for all students. It fitted our theme study around NZ bush and our camp in the bush.
David Henderson from Cornestone Christian School
We live in the north and are surrounded by Kauri trees. Our students are now aware that kauri trees are under threat as they did not know this initially. I feel science is a very important part of the curriculum and want to encourage students to interact with the New Zealand environment. We are now going to visit the local bush and observe our trees.
Sharlene Tornquits from Kaiwaka School
Resources that we used were excellent, thought provoking and have my whole class sold on taking care of kauri. Teaching kit very helpful, well thought out, age appropriate.
Sarah Parker from Pillans Point School
Activities that went with the videos were fantastic.
Christopher Gore from Wellsford School
Fitted in very well with our non-fiction reading strategies and gave information that we weren't aware of. Also topical with the news broadcast about Coromandel.
Brigid Stevens from Greytown School
Students were motivated by the field trip and made gains in reading, research, and critical thinking.
Judith Clark from Matakana School
Easy to access and structured well for independent work. Just the right level and interest.
Craig Barrow from Riwaka School
I used a lot of independent learning time using the background pages which promoted managing self. Also promotes community engagement, future focused thinking. It is well integrated across the curriculum and supports a range of learning types.
Kate Cvitanovich from Nelson Intermediate
My 31 mixed-ability children were completely engaged in our study. It was such an authentic context for us, as we are a silver enviroschool and we have three kauri at our school that we are learning to protect. Was great for the children to see real science in action; they were very interested in the laboratory work.
Lynn Douglas from St Francis Xavier Catholic School Whangarei
Photos generated a lot of discussion.
Suzanne Maddox from Warkworth School
We found it an effective way to learn. It focussed us on our work and was more interesting than just picking up a book. We would use LEARNZ again because we get to learn more about what's outside of our local community.
Leane Barry from Glen Innes School
I like that we can do the work live, or delay it to suit our needs, and either way not miss out on any of the content. It helped the children to further understand the need to value our natural environment and how easy it is for us to lose a taonga through lack of awareness or willingness to contribute. This topic also increased their cultural awareness.
Cathy Norris from Norris Home School
Engaging and relevant. My tamariki loved learning about the kauri. The field trip allowed them to engage with and utilise the learning we were doing in the classroom.
Vanessa Hira from Tuakau School
The visual and aural activities of the virtual fieldtrips, real time and recorded, are an immediate way to bring the wider environment into the classroom. The field trips and their material are flexible enough to give opportunities for a variety of uses in the classroom.
Jane-Mary Gunson from St Francis Xavier Catholic School Whangerei
There is so much in a LEARNZ field trip that it is possible to pick and choose what is most suitable for each class. There is so much motivating stuff to choose from for supporting reading, writing, inquiry, oral language, etc. I like the way that Te Reo is incorporated - this really supports Te Reo in my class.
Leone Baylis from Fairburn School
Hearing from experts is fantastic from a multi-layer perspective - from learning about future careers (scientists, DOC rangers, visitor centre staff) to the significance of the kauri to NZ was excellent. The (bilingual class) children really enjoyed hearing guest speakers present in Te Reo, present their mihi and hear first hand how important the kauri was and is to them.
Lisa Ward from Victory Primary School
LEARNZ adds a rich IT experience to the class learning, that relates to local topics and utilises local expertise very well.
Esther Dickinson from Kaitaia Abundant Life School
Owing to time constraints with other curriculum areas, I sadly did not get an opportunity to use this wonderful resource with my class. I will be using it retrospectively however.
Valerie Moratti from Havelock North Intermediate
Pages