Testimonials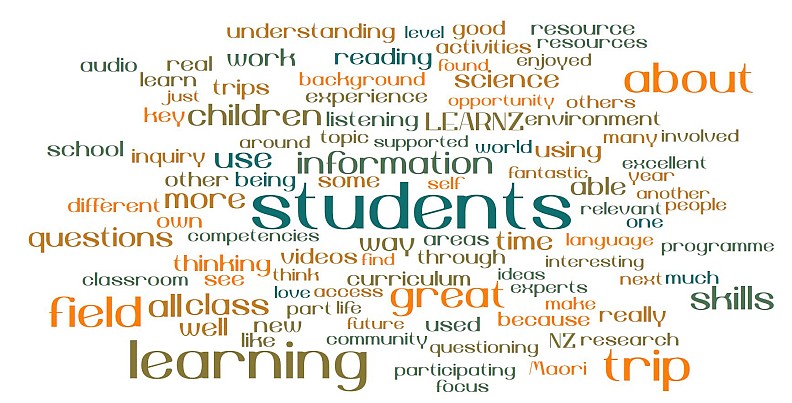 Virtual Great Walker
Our Inquiry is called "Waipahihi Kakariki". We are a pilot school involved in Kids Greening Taupo so it was very appropriate to our Inquiry. We are wanting to plant natives to bring back native birds into our area so this field trip supported it well.
Beth Willis from Waipahihi School
It was a great support for the Virtual Great Walkers competition, that we have entered in. Lots of helpful information that covered all areas. Valuable resource.
Stacey Hockey from Gisborne Home School
This field trip ... encouraged students to develop Future Focused thinking - how the way we interact with our environment now, impacts on the future.
Marcia Ferguson from Rosebank School Balclutha
It was very engaging for all students and they learnt a lot. It was also easy to integrate across the curriculum. Very effective to encourage fitness and knowledge of other New Zealand Great Walks.
Bridget Patrick from Rosebank School Balclutha
Great for extension group. Broad range of materials for reading and writing.
Rhys Clark from Rahotu School
For the Year 7/8 class I was working with, the field trip tied in perfectly with their camp (Borland Lodge). It worked well using the background pages as build up prior to camp, then using the audio-conferences the week following the camp.
Marcia Ferguson from Rosebank School Balclutha
Students were really interested in the content which we used as part of our weekly reading programme and to support digital literacy. We also set it up for independent learning so students could gain self-management skills.
Megan Croll from Beachlands School
Giving the students the option of listening to the background pages is fantastic!  It takes away the fear of trying to read something that is 'too hard'.  It also develops a familiarity with the LEARNZ teacher.
Marcia Ferguson from Rosebank School Balclutha
It was an excellent insight into exploring a new area that not a lot of children had visited before. The children came up with a lot of great questions, especially around saving native birds and the effect of a beach mast this year.
Jeffrey Burrow from Warrington School
Our class is studying ecology in the lead up to our annual camp so the information was very fitting in all aspects.
Nina Booth from Newbury School
Students are focussed and engaged. They have a purpose. "This is fun, I didn't know you can learn like this".  During camp we studied the native birds and plants and compared them to the field trip. A great effort went into using our thinking skills to prepare for camp and doing the research.
Marne Hendriks from Rosebank School Balclutha
Children inspired to walk tracks and parents wanting to join them. Great topics, different way of presenting things in class, able to get involved through audioconferences. Differentiated readings and audio/video options meant all class could access information, including Special Needs children.
Hazel Halton from Rapaura School
We connected this field trip with an older one - Restoring the Kepler.  By doing this, students began to look at ways that they can contribute in the wider community as well as our school community, working towards a common goal. Maori students in the class particularly liked the glossary - we also added more to our own one on the wall.
Marcia Ferguson from Rosebank School Balclutha
We thought it was brilliant! It tied nicely in with out Health, and Science topics. Kids loved the Ambassador and (the field trip) helped prepare for our own walks.
Stacey Vowles from Hillcrest Normal School
Definitely sparked some very valuable discussions on stewardship of our natural resources. Worked well in bringing the reality of the walk to students who are unfamiliar with these areas.
Gabriel Hawke from St Mary's School Hastings
From the start of the trip, the students were actively engaged - making connections with their own lives and new information they were receiving - even our hunters were interested! Throughout this year we are looking at environmental issues and what we can do to help - as individuals and as a school.  This field trip aligned with this nicely.
Marcia Ferguson from Rosebank School Balclutha
Antarctica
The whole field trip has added a sense of authenticity to student learning. This really is a wonderful way to give us invaluable learning experiences - students have been so engaged and have been thinking of their own experiments to test some of the things that they have learnt.
Shannon Mainey from Waiau Pa School
It was a very REAL and engaging focus for a lot of different interest groups. Use of the Audio conferences was a first and was very impactful for the students.
Jean Mallinson from Alfriston School
The students were highly motivated throughout this field trip. A fantastic resource that can be used easily within any classroom setting to support classroom programmes around skills and attitudes we are fostering with our children.
Kiri Waghorn from Cornwall Park District School
Students love them (LEARNZ field trips) - they are engaging, use real life contexts which have an impact on students' lives, encourage whanau involvement. Fabulous resource.
Caroline Arnold from Lepperton School
Led to better engagement and met the learning towards taumata 5 tikanga ā-iwi marau in the TMOA. Outcomes for my kura were evident and supported our kura value system or mātāpono, kaitiakitanga (guardianship of our earth mother Papatuānuku) and rangatiratanga (self-determination that comes from our own actions).
Kararaina Iasona from Te Kura Maori o Porirua
This unit linked with our topic of sustainability and enabled cross curricular learning in a digital context. This type of learning resource helps students to work at their level, irrespective of where they start and their reading ability.
Kersty Millar from Reporoa College
This is a rich experience for students who know NZ but are often living offshore.
Robina Smythe from Te Aho o Te Kura Pounamu
This field trip has been the highlight of the year for all the students. Amazing enthusiasm from the whole school.
Emily Wells from St Mark's School Christchurch
Fantastic links to the science curriculum AOs - lots of learning due high interest and combination of videos and great background information. Learnz is real world and happening at the moment. Where else can you get this sort of access to scientists and researchers?
Christopher Wratt from Hanmer Springs School
Pages