Testimonials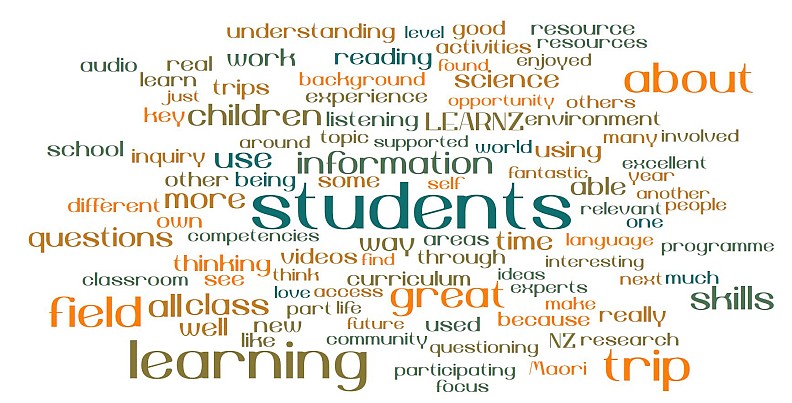 Wetland Biodiversity
We enjoyed the audio conferences - the children who were involved in them will never forget that experience. This was the first time I have been on a virtual field trip and was pleasantly surprised at how much 5 year olds were able to get from it. Having Percy the Pukeko go as our ambassador helped the 5 year olds follow along. There was also lots of discussion to and fro between the children and parents.
Deborah Lamont from Methven School
I feel it covered all areas of the key competencies - I used it to foster new learning relationships within our class, and it was an excellent tool to draw out my innovative thinkers. Due to the video nature of this field trip, the students were very engaged.
Kathryn Rayson from Brooklyn School Motueka
The quality of resources is exemplary. Being able to access audio to support the readings is crucial for a number of learners in my class. The field trip met all of the learning intentions outlined by the LEARNZ overview and opened new lines of discussion and knowledge for all students.
Beverley Kemp from Karoro School
9 out of 10 of my children felt that they enjoyed this way of learning, and I can see a deeper curiosity for the world around them. They were able to take away more information than I thought possible.  
Vicki Brookes from Fernside School
Great to see and hear interaction and questions from students of other schools, which set high expectations for my class with questioning. The support material is excellent and students are able to connect with Science community in real contexts.
Rosemary Benns from Rangeview Intermediate
The trips are well planned and resourced - especially with the use of field experts, and provide a wealth of material students can use to aid their studies. The multi-level pitch of these field trips makes them suitable for a range of ability levels, and they can be self-paced.
Robyn Gillies from Roncalli College
The videos make it easy for all students to access and understand what is happening. Material was accessible for different learning styles. Students really enjoyed it, they were able to ask questions and get answers, it encouraged deeper critical thinking and students worked cooperatively to learn.
Shelley Galloway from Mt Somers Springburn School
Wonderfully appropriate. Supported our science focus very well, as well as the key competencies of self management, relating to others (sharing tablets, working together) and texts (reading and responding to the information).
Carolyn Thelning from Weston School
Thank you, this was fantastic for my class. It worked well with our topic. Children were able to undertake this independently and were able to answer the questions after watching the videos.
Kirsty White from Grantlea Downs School
Student engagement in LEARNZ field trips is always high - they had also recently visited a local wetland. The knowledge students gain from listening to experts, developing questions, reading and viewing the videos and diaries is compelling learning! Highly motivating for students and teacher workload is reduced!
Lynn Burrell from Tangowahine School
Students have learned so much and they have become overnight advocates for wetlands. The LEARNZ programme really enhanced the pronunciation of Maori place names, values and importance of early Maori traditions to our lives today.
Joanne Phillips from Te Mata School Havelock North
Students valued the inclusion of speakers who related the land and resources to an earlier style of living on the land by Maori, in pre-European times.
Maree O'Leary from Whangaparaoa College
It provided further background for our ecology unit and class trip work. The field trip was appropriate for my class studying the wetland biome in New Zealand and we would use more of the resources next time, but this was a good beginning, looking at the videos and the photos.
Joanne Eason from Cathedral Grammar School
Our school curriculum focuses on the environment and having outside experts present information is a fantastic way to extend my students' learning and knowledge.
Sarah Laugeson from Lynton Downs School
Love the SOLO Taxonomy integration - that is the kind of thing we love! Great model for us of how to use such tools. The field trip was part of our Wonderful Wetlands term focus. We also went for an afternoon to Travis Wetlands in Christchurch. Good contrast of virtual and hands on. LEARNZ gives access to environments and experts that are pure quality.
Megan Feller from Elmwood Normal School
Watching the students get excited about their role (we were a speaking school, which was a breeze) and then watching them make connections in their learning, has been a real highlight. They built connections with the area the trip took us to and linked it to our local community and loved connecting what they were reading and hearing with specific people.
Cheryl Dunick from Spring Creek School
Students got to continue to learn about the environment (following on from involvement in the Virtual Great Walks field trip). The detail and facts included in the background pages made things more interesting to read (or listen to!).
Marcia Ferguson from Rosebank School Balclutha
This field trip has helped me to step out of the classroom and look at what is on our doorstep. It is great for the children to learn about authentic contexts.
Beth Summers from Hinds School
Many of my students found the Māori Tikanga section the most interesting. I also liked that the learning was rewindable and allowed for student agency. The opportunity to experience a virtual field trip really excited the children and motivated them to want to find out more, as it provided a meaningful and authentic learning context that included SOLO and built on our own 'Freshwater Frolicking' field trip to The Groynes.
Anna Wright from Templeton School
It is an amazing opportunity for the students to able to experience natural NZ. As this is our first virtual field trip we are busy exploring and familiarising ourselves with the website and using it as a warm up for Kauri (the next field trip).
Leane Barry from Glen Innes School
The children were fascinated by the virtual field trip videos. They learnt a lot of new ideas and words and talked about it for days. The field trip was effective as it showed our students that other people did what we do.
Frances Grover from Te Mahia School
We used it as part of immersion for starting off on our journey of restoring a Wetland. It prompted questions, wonderings and enhanced their interest. Being able to send along an Ambassador was fantastic as it helped the younger members of our Wetlands group relate to what was happening.
Jillian Hodgson from Shotover Primary School
Our Inquiry was Sustainability this term and students really got into the field trip. It was a spectacular way for students to practice the Key competencies and meet people online they would otherwise have no access to.
Karen Blatchford from Tai Tapu School
It was very relevant as we visited our own local Maungatautari wetland, so it was great to compare.
Pamela Furze from Roto-O-Rangi School
Comprehensive resources in a local context. My Year 10 student gains: posting a question to an expert, literacy from background reading.
Andrew Corney from Tauranga Boys College
Pages