Testimonials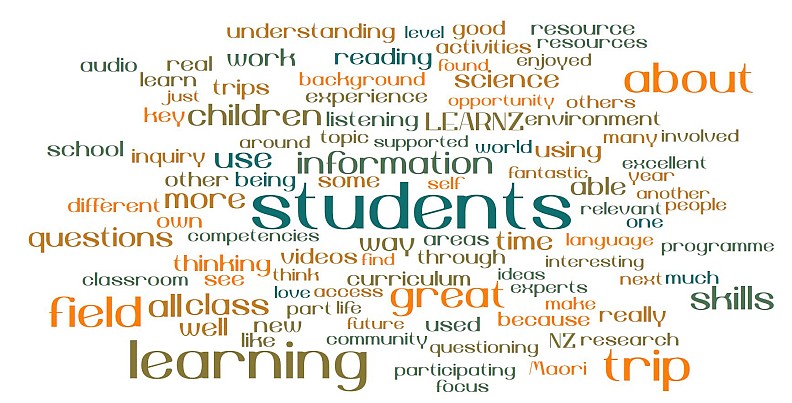 Marine Mammals
Fitted in well with Sea Week and had good information that suited our context for Year 9. Also provided our students of various ethnicity a good opportunity to learn associated Māori vocabulary.
Wyn Morris from Mission Heights Junior College
Great to connect with others in a real world context.
Katrina Curtis from Clearview Primary
It engaged the children in a different way; more authentic learning. Got students thinking about their role in our future world and how they could participate and contribute.
Rachel Ammundsen from Moturoa School
I like the LEARNZ Inquiry approach, how the students read (or listen to) all the background information first and then formulate their own questions.
Diane Henderson from Ohaeawai School
The children were particularly engaged with the videos, which were easily accessible and generated a lot of group discussion. The videos were a great addition to other images, written texts and resources that we used.
Nicola Johnson from Henderson Valley School
Whats the Plan Stan?
It is a great platform for the children to engage with their parents about what they are learning, in this case to get families to talk about how to be prepared. The children love seeing real people in real time. They engage with the learning but also relate it to the people on screen as if they are their friends.
Lesley Johnston from Firth School
The amount of information my students learn in these mini units is impressive and they generally retain more knowledge this way. Thanks for all the effort you put in. Saves on my planning too.
Alison McCartie from Waitetuna School
The students loved Stan the dog and the way he acted out in the video. This held the younger viewers interest, but also reinforced the learning points. It made online learning very purposeful, more than just a research or processing tool. Talking to someone in Auckland from Picton was very powerful and engaging for learners.
Elizabeth Ives from Picton School
Participation helped students to learn to work together as a team, so they were able to formulate appropriate questions to put to the experts. Really created an awareness of the need to have an emergency plan.
Nadeema Nordien from Zayed College for Girls
Fitted with our science unit, values of looking after others, and furthered competencies such as speaking and listening and communicating using written language.
Rhonda Beet from Orewa North School
We were involved in the Nationwide 'Shake it Out' and this added value to the day. LEARNZ is a 'one stop shop' for me - it means I do not have to spend hours surfing on the internet to support my learning programmes.
Sandra Harnett from Rangiora Borough School
The trip encouraged a great deal of thinking, with students participating in discussions where they could develop empathy for others in disaster situations. They were able to do lots of reading and writing in a meaningful context.
Caroline Arnold from Lepperton School
My multi-levelled students thoroughly enjoyed participating in watching the movies and learning through accessing the background pages and quizzes. LEARNZ is a great package of information and up to date footage, that makes usage and planning of the unit very easy for me as a teacher.
Sabine Hartmann from Karangahake School
The children love tuning in live and this really motivates them. We had been on the LEARNZ Kaikōura earthquakes trip earlier in the year and this was a great follow up.
Jennifer Croxford from Wanaka Primary School
It was like second nature to this term's inquiry and fitted like a glove. It was leveled and delivered at an excellent level and the content was perfect for my Year 8 class.
Heather Williams from Papamoa College
Linked very well with our school ShakeOut focus. Great for building Participating and Contributing, and Self-Management in students. Good design in that I can pick-and-choose what is useful for my class.
Britta Martini from Otari School
Linked to emergency procedures practised during the year. Online, current, and relevant to curriculum.
Helen Gibson from Hilltop School
Direct connection to what we were studying in our syndicate, all resources in one place, real people and real context helped engage the children in the learning. All resources are New Zealand appropriate and very suitable for my Year 5&6 class. I felt very supported with instant responses to the emails I sent. 
Lisa O'Connor from St Teresa's School Featherston
It worked in well with the nationwide earthquake drill and made students think about how to deal with different emergencies. Everything came into the Key Competencies, Health and PE curriculum, and our values at school.
Louise Parker from Twyford School
It led to a combination of other tasks including preparing their own households in the event of a disaster, getting to know their neighbourhood and even who can assist in times of need. Children can explore the information independently, challenge their understanding with the quizzes and then be encouraged to follow-up with related tasks and websites.
Glynn Hills from Central School
My class enjoyed the little videos and learnt heaps about earthquakes. Linked well to managing self and community. It involves the children with things outside the classroom - connects them to real life NZ.
Michelle Clark from Milford School
It was well organised and at the students' levels so no-one was left behind. They now have a good understanding of what to do next in the case of an emergency.
Amanda Carter from Pukekohe Intermediate
Engagement levels were very high, and they were keen to know more following the video conferences, even though we were watching them after they were recorded. The field trip enabled me to support learners with barriers to their learning, e.g. reading, and enabled the class to continue to develop their self-directed/guided learning style.
Anne Rodgers from Hanmer Springs School
I adapted it to be useful for my Year One class. I concentrated on How to keep ourselves safe during Earthquakes and Tsunamis. It assisted my delivery of interesting authentic material for my students.
Martie Andrew from Awakeri School
Activities (interactive) are great. Visiting places and discussing in short (video) clips are useful. Students had information at a variety of levels and had access to an expert, allowing teacher to become facilitator.
Kerry Godkin from Red Beach School
Pages