Testimonials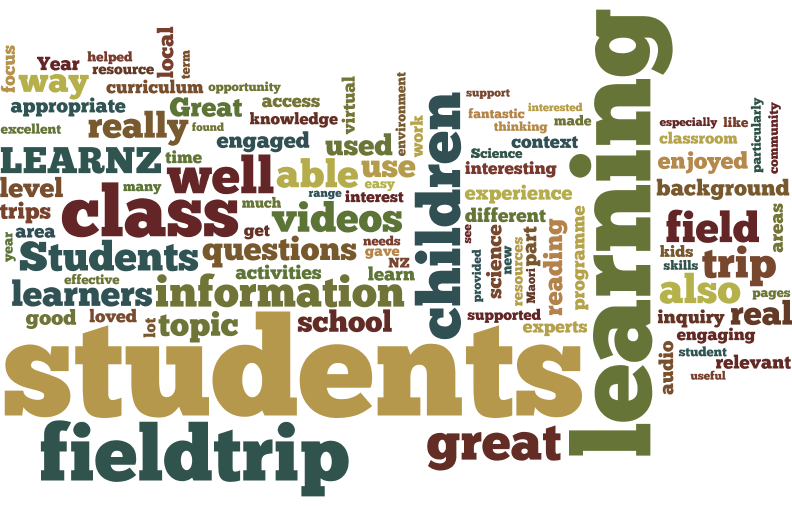 Waka Voyaging
The students were able to be self directed through this field trip. They then published a blog about their experiences.
Nicola Farrar from Patumahoe Primary School
It (the virtual field trip) allowed our students to be involved and part of something that wouldn't be attainable in a normal classroom setting. It totally enhanced my learning programme and enabled me to get support and guidance using the NZ curriculum.
Pauline Craven from Whakatane High School
Allowed opportunities for students to develop self management.
Whitney Hansen from Hoon Hay School
The topic tied in nicely with our class health focus on 'being in the waka' and working together. Although many of my students didn't connect culturally to this field trip, it was a new experience for them and therefore was engaging.
Alice Keeling from Springston School
The content was engaging and this was evident in the thinking that took place and the work produced by all my students, who absolutely loved this trip regardless of their abilities or interests. For our Maori students this was a particularly awesome experience and it was also great to look at hauora from the angle of working together to crew the waka.
Chloe Madden from Lumsden School
This field trip fitted in nicely with our health focus for the term, exploring hauora. The children were hooked in by the videos, with real people doing the jobs on the waka. It also fitted in with the Key Competencies and values - showing perseverance in the face of adversity, working together as a team, looking after our environment.
Louise Parker from Twyford School
I try and do a field trip every term. They are so valuable as a resource and really promote learning in a real life situation. I love the Learnz Field Trips!
Louise Parker from Twyford School
Outstanding and supports student development in all areas. High interest and enthusiasm to learn. Wonderful context for our polynesian/maori majority students as connections are made with how their ancestors made significant migrations.
Richard Kerr from Avondale Intermediate
Anything to do with Culture is well received by our Maori students! Also covered all the Key Competencies. Was fantastic to be able to be a part of the field trip. Our students loved it!
Tania Raynes from Whakatane Intermediate
Very relevant to our Term Two inquiry about Māoritanga and how it is shared and celebrated in NZ. I use LEARNZ withy my class because I am always able to find something that suits the children's interests, and the real-life situations are so relevant and motivating.
Jennifer Coyle from Edendale School Southland
ShakeOut
Great to follow this field trip while preparing for Shake Out on Thursday. Engaging way of learning for students. Lots of great information given and the opportunity to ask questions of experts.
Deirdre Hutton from Holy Family School Wanaka
We used the videos and some background pages for discussions.
Jennifer Barrow from Kaniere School
Resiliance was a key idea we discussed, as were some of the key competencies and their application in real life situation. Right level, good content.
Jeremy Meadows from Woodhill School
 Enjoyable to hear first hand accounts - made it more real for the children.
Robyn Wee from Wakaaranga School
We used this across the school - very appropriate. It linked well with the main ShakeOut event, managing selves, and collaboration.
Nicola Stevenson from Worser Bay School
The field trip allowed children to think deeply about emergencies, which was relevant to what we were learning in class about preparing an emergency plan. It was real life experiences from children to children which was great and the children were engaged because it was with other learners at their level.
Leigh Kaye from Frimley School
We are looking at change and our ways to survive. It (the field trip) gave more specialist knowledge to students, that the teacher could not give.
Nicola Pitcher from Glen Eden Intermediate School
Very relevant for year 7 students. I really like the audio voice over which has allowed the lower reading level students to work with a lot of independence, without having to wait for the teacher to say the word / discuss the word / explain context etc. 
Kersty Millar from Reporoa College
The kids thought it was a cool way to learn and they also said that the Shakeout drill now made a lot more sense i.e. why we do it. We found that the variety of different ways the information was presented made it interesting and accessible for all levels. 
Judy Edwards from Waterlea Public School
It was good to have a child's perspective in the videos and background pages were good science information. The field trip enabled and empowered students to have an understanding of others' experiences and the impact these experiences have on themselves and the world in which they live. 
Debbie Purves from Te Whanau o Waitangi
Pages