Testimonials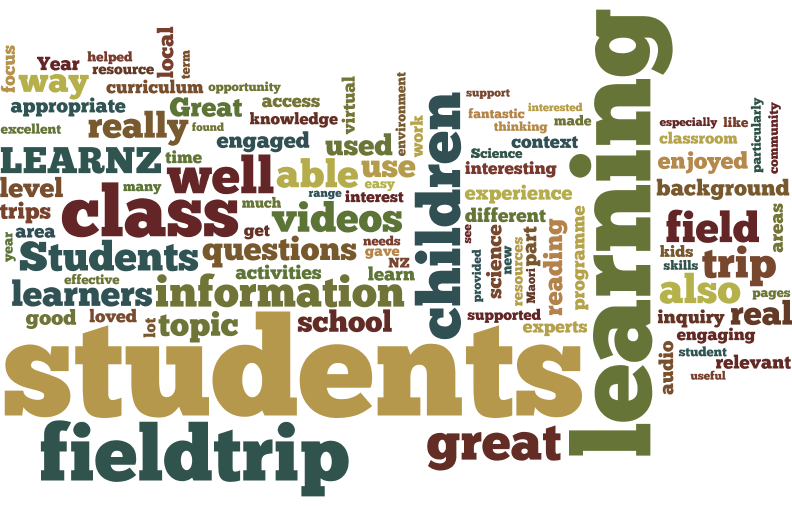 ShakeOut
Very appropriate - supported student learning about earthquakes and doing the ShakeOut drill. Interesting, motivating and flexible - students get a lot from having readings, videos, audioconferences, activities, and photos.
Jan Flannery from Masterton Primary School
We used this across the school - very appropriate. It linked well with the main ShakeOut event, managing selves, and collaboration.
Nicola Stevenson from Worser Bay School
We used the videos and some background pages for discussions.
Jennifer Barrow from Kaniere School
Very relevant for year 7 students. I really like the audio voice over which has allowed the lower reading level students to work with a lot of independence, without having to wait for the teacher to say the word / discuss the word / explain context etc. 
Kersty Millar from Reporoa College
The kids thought it was a cool way to learn and they also said that the Shakeout drill now made a lot more sense i.e. why we do it. We found that the variety of different ways the information was presented made it interesting and accessible for all levels. 
Judy Edwards from Waterlea Public School
My Yr 5&6 class were very engaged with this field trip.  The information was easy to access for the students who find reading difficult (great to have an NZ voice reading the background pages), but there was enough for my high achieving students as well. The live audio conferences were very useful - next time we will definitely put ourselves down for a speaking school role!
Melinda Bolton from Paerata School
We are looking at change and our ways to survive. It (the field trip) gave more specialist knowledge to students, that the teacher could not give.
Nicola Pitcher from Glen Eden Intermediate School
The levelled information was great. It also was at an apt time as far as reinforcing evacuation and preparedness as a class/school/whanau. I liked the availability of the videos and audio conferences to review and use, even though the fieldtrip had ended.
Joelle Walker from Edgecumbe School
We are a sole charge school of 12 students and I was able to adapt the content to suit all levels within my class. This was our first live field trip and the students really enjoyed it and got a lot from it. There were lots of comments over the week about how 'cool' and 'fun' it was.
Nicola Evans from Papanui Junction School
Was topical and at appropriate level for my student. Encouraged good discussion and gave excellent information. Student said "That was great. Can we do another one?"
Lorelei Salisbury from Salisbury Home School
The visual content helped quite a lot of discussion. So many real life experiences that the children can piggy back onto. The Field Trip was an asset for all the class. Thank you.
Deborah Lamont from Methven School
We had been involved in the Geohazards VFT so the children were well briefed and ready to take part in ShakeOut. The class really looks forward to taking part in the LEARNZ trips.
Graham Elsmore from Christian Renewal School
It broadened students' thinking and understanding of the large scale of the event and excited them about the topic. The ability to access information, colleagues and a world which we otherwise wouldn't have access to makes the learning process really meaningful.
Lucy Hannah from Christ the King Catholic School Owairaka
All my students could relate to the information according to individual ability and interest levels. LEARNZ opens up a whole new dimension of making outdoor teaching a reality.
Martie Andrew from Awakeri School
LEARNZ is doing a brilliant job and this is a fantastic resource for all teachers and students. Excellent contextual learning, and made really good links to the NZC. I loved how there was appropriate Māori and Pasifika language included to support our learners, while the inclusion of both easy and more difficult support materials allows for differentiation.
Kirsten Jamieson-Gough from Remarkables Primary School
This field trip was a short mini-unit to prepare students for the national shake out drill and was in addition to our School Curriculum plan.
Alice Keeling from Springston School
Relevant to topic at school and it was all current. Great tool.
Marne Hendriks from Rosebank School Balclutha
Reinforced other learning on natural disasters, emergency procedures and being prepared. 
Dylan Kiriona from Ohau School
It supported the Shakeout event we were participating in. It also supported the curriculum well. Visuals are excellent and information is current. The videos led to good discussions and recall of prior knowledge.
Helen Gibson from Hilltop School
The children saw themselves being part of a wider community, participating with other schools and learning from their questions. It was especially useful to have Te Reo words to complement the learning.
Anna Cullen from Clifton School Bulls
Pages