Diary 1


Date:
Monday, October 30, 2017
Field Trip Name:
Life at the Boundary
Kia ora koutou, 
Recent large earthquakes and landslides in New Zealand make this natural hazards field trip seem very topical. You may know of landslides that have occurred in your local area. Many of these have been triggered by wet weather over winter. During the week you will look at the different types and causes of landslides, earthquakes and tsunami. It's going to be a busy week!
A bird's eye view
It was a stunning day to be travelling and luckily you had a window seat, so you could enjoy the views. Your first flight left Dunedin at the leisurely time of 10am. There are no direct flights into Napier, so you had to fly all the way to Auckland first. You enjoyed clear views out over the foothills of Kā Tiritiri o te Moana, the Southern Alps. The snow has melted back a lot recently but there's still enough to cloak the high peaks. 
Land on the move
As you flew north you may have thought about the awesome forces that shape our land and have uplifted the mountains. It's amazing to think that our land is always moving. The Australian Plate and Pacific Plate are pushing against each other. This movement causes the mountains to grow higher at about the same rate that your finger nails grow. This may sound like a tiny movement but over the last 45 million years, this collision has pushed up a 20 km thickness of rocks. Thankfully, much of this uplifted rock has been eroded away. Without this erosion our mountains would be as tall as the Himalayas and much more daunting to climb!
Life at the boundary
Because New Zealand sits on top of a plate boundary earthquakes, landslides and tsunami are common. Sometimes these events are large like the Kaikoura earthquake sequence of November last year. So, life at the boundary can be challenging. Fortunately, the movement of plates has also created the stunning scenery of Aotearoa that we all enjoy today. On this trip you will learn how to identify hazards in your local area. You will also find out how to prepare for these to reduce their impact. 
Volatile volcanoes
You caught a glimpse of Taranaki before it was covered in cloud. This was a reminder of the forces at work beneath our feet. Taranaki is the youngest, largest and only active volcano in the area. It is sleeping now, but it will likely erupt again in the future. New Zealand has a lot of active volcanoes. Volcanic activity occurs in six areas, five in the North Island and one offshore in the Kermadec Islands. Before long you began your decent through the cloud into Auckland. It was a smooth landing and a couple of hours break before you headed onto a smaller plane destined for Napier.
Welcome to Ahuriri
Another smooth flight over rugged hills and winding rivers brought you to Ahuriri, Napier. After picking up a rental car you headed into the city. The first thing you may have noticed was the buildings. Napier is famous for its Art Deco buildings. This style was all the fashion back in the 1930s and was built following the 1931 7.8 magnitude earthquake that destroyed the city. Art Deco buildings line the waterfront and give the city lots of character. 
After wandering around Napier and enjoying the sunshine you made your way back to your motel to get organised for the week ahead. Tomorrow you will begin your journey back in geological time to see what can be learnt from past earthquakes, tsunami and landslides.
See you then,
Shelley the LEARNZ field trip teacher.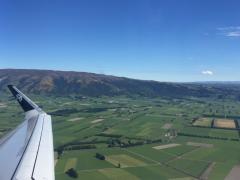 Gaining altitude after leaving Dunedin airport this morning. Image: LEARNZ.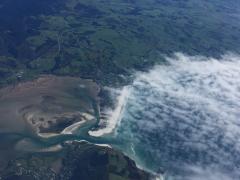 Shelley looks out over the Warrington Coast where she lives just north of Dunedin. Image: LEARNZ.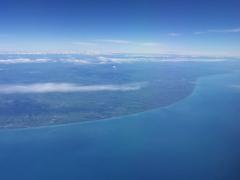 Kā Tiritiri o te Moana, the Southern Alps could be seen as you flew north. How were these mountains formed? Image: LEARNZ.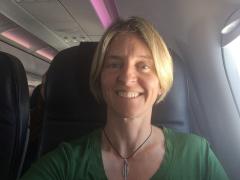 Shelley enjoys a smooth flight to Auckland. Image: LEARNZ.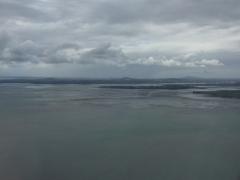 Cloud greeted you as you arrived in Auckland. Image: LEARNZ.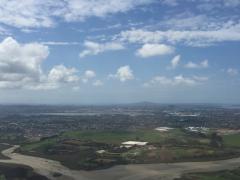 The weather improved in time for your flight from Auckland to Napier. Image: LEARNZ.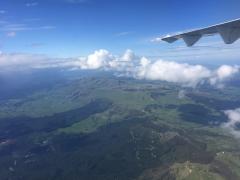 You enjoyed more great views out over the North Island as you flew south east to Napier. Image: LEARNZ.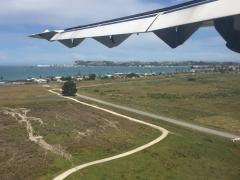 Approaching the runway at Napier airport. Image: LEARNZ.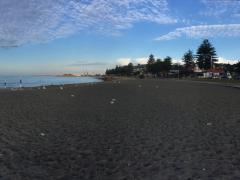 You had time to enjoy the last hours of daylight as you wandered along the beach in Napier. Image: LEARNZ.