Welcome to Life at the Boundary - investigating natural hazards. This field trip is supported by EQC (the Earthquake Commission). The field trip is from 31 October to  2 November 2017. Enrol now.

Introduction 
Get ready to explore in and around the East Coast region of the North Island, close to the Hikurangi tectonic plate boundary. This is the boundary between the Australian plate and the Pacific plate which lies just off the coast. A large team of national and international scientists will be studying the Hikurangi plate boundary, New Zealand's largest earthquake and tsunami hazard, to find out what risk it poses to New Zealand. You will meet experts who will take you to locations to help you better understand what causes natural disasters such as earthquakes, landslides and tsunami and how you can manage the risk of these events.
New Zealand sits on the boundary between the moving Pacific and Indo Australian Plate. These plates continue to shape our amazing landscape, creating spectacular mountains, valleys and lakes. During this field trip you will discover the power of these geological forces as you look at the evidence left behind in the East Coast landscape, see active landslide areas and investigate the cause and effects of tsunami.
This LEARNZ trip is the ninth in a series on geohazards that have included the Auckland volcanic field, Wellington and Canterbury Earthquakes, Bay of Plenty, Marlborough and Franz Josef.
Meet Shelley the LEARNZ field trip teacher.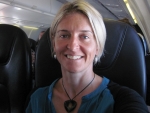 Watch the introductory video - coming soon on Vimeo.
Location
You will fly into the North Island city of Napier in the Hawkes Bay. This city like many others on the East Coast is located close to the active Hikurangi plate boundary. This plate boundary is New Zealand's largest earthquake and tsunami hazard. Napier has had large earthquakes in the past including the magnitue 7.8 earthquake that hit in 1931 killing 256 people.
Field Trip Plan - Term 4 2017
Monday 30 October
Travel Day

Join Shelley and the ambassadors as they travel from Dunedin to Napier to begin the Life at the Boundary field trip.

Tuesday 31 October

Life at the Boundary

Explore Napier and discover why New Zealand is such a geologically active country.

Wednesday 1 November

Boundary Hazards

Look back in time at evidence in the landscape left by past earthquakes, tsunami and landslides and see which hazards to prepare for in the future.

Thursday 2 November

Managing Natural Hazards

Find out how you can prepare for natural hazards to reduce their impact on people and property.
What's New
| | |
| --- | --- |
| Monday 2 October | Newsletter 1 will be sent to all enrolled classes.  |
| Monday 2 October | The Life at the Boundary background pages and their easy reading versions and student activities are now online. |
| Monday 2 October | The Life at the Boundary field trip website is now online. |