Welcome to Natural Hazards - our supervolcano. This field trip is supported by EQC (the Earthquake Commission). The field trip is from 27-29 August 2019. Enrol now.
Introduction 
New Zealand has the world's most frequently active supervolcano system!
Get ready to explore the central Taupō Volcanic Zone (TVZ). This zone has two recently active volcanic centres, Taupō and Okataina. Every few decades the Taupō Volcanic Zone experiences unrest and every few hundred years it erupts. These eruptions can be very small and short lived, or more rarely, enormous on a global scale.
For scientists deciding if unrest will lead to an eruption and estimating the timing and impacts of any future eruptions are huge challenges. During this field trip you will meet experts who are trying to understand how our supervolcano works and what we need to do to prepare for an eruption.
Meet Shelley the LEARNZ field trip teacher.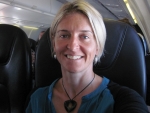 Watch the introductory video on Vimeo - coming soon.
Location
You will fly into the North Island town of Taupō. 25,500 years ago the supervolcano erupted from a massive pool of magma about 5km below the ground surface. When most of the magma had been erupted the ground above collapsed, leaving a massive depression in the middle of the North Island. This depression slowly filled with water, becoming Lake Taupō.
Field Trip Plan - Term 3 2019
Monday 26 August

Travel Day

Read the diary about the travel from Dunedin to Taupō to begin the Natural Hazards field trip. Read Alvin the LEARNZ ambassadors update.

Tuesday 27 August

Our Super Volcano

Explore the buried village of Tarawera and look back in time to see how eruptions in the Taupō Volcanic Zone have shaped the landscape. Look at different types of eruptions and what makes a volcano a supervolcano.

Wednesday 28 August

 

Volcanic Hazards

Visit the Volcanic Activity Centre in Tūrangi and see how volcanoes erupt. Meet with locals to find out how they have coped with past eruptions and look at the lessons we can learn from the past.

Thursday 29 August

Managing Natural Hazards

Travel south to Wellington where you will visit the National Geohazards Monitoring Centre. Experience the new Te Taiao exhibit at Te Papa and discover how to prepare for natural hazards and manage their impacts.

 
What's New
| | |
| --- | --- |
|  Tuesday 6 August | Newsletter 1 will be sent to all enrolled classes.  |
| Monday 5 August | The Natural Hazards background pages and their easy reading versions and student activities are now online. |
| Monday 5 August | The Natural Hazards field trip website is now online. |
The LEARNZ Team think that joining the NZASE and staying connected through the NZ Science Teacher will help you become a better teacher of science.