Bioblitz - what's living in your backyard?
About this trip
Biodiversity is a measure of different living things in an area, the more the better for its overall health. A bioblitz is meant to try and find as many different living things in area as quickly as possible.
You can do a bioblitz anywhere that has living things; your own backyard is perfect. But for this trip, we are taking you on a bioblitz into Hakatere Conservation Park and Ō Tū Wharekai, a protected wetland area nestled amongst high country tussocklands and surrounded by mountains. Experts will find you some really cool and weird species plus some creepy-crawlies that you won't find at home.
Travel online with LEARNZ to inland Canterbury to:
discover what's living in this unique high country wetland
find out about a variety of strategies used to catch, identify and record local animals
see how you could use similar techniques to find out what lives in your backyard
work with experts to identify and monitor native and introduced plants and animals
see how you can take action to preserve and restore biodiversity to any area.
Curriculum
This online field trip supports a STEM-based, cross curricular approach to teaching and learning. Participation encourages curiosity, citizen-science and student inquiry. Access curriculum links and resources plus a glossary.
Other
Attempt the activities for learners, view the photo gallery, and follow the ambassador mascots from schools.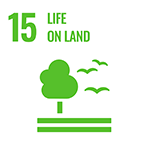 This trip reflects the United Nations Sustainable Development Goals (SDGs), especially Goal 15: Life on land: Protect, restore and promote sustainable use of terrestrial ecosystems, sustainably manage forests, combat desertification, and halt and reverse land degradation and halt biodiversity loss.
This trip is kindly supported by: