Testimonials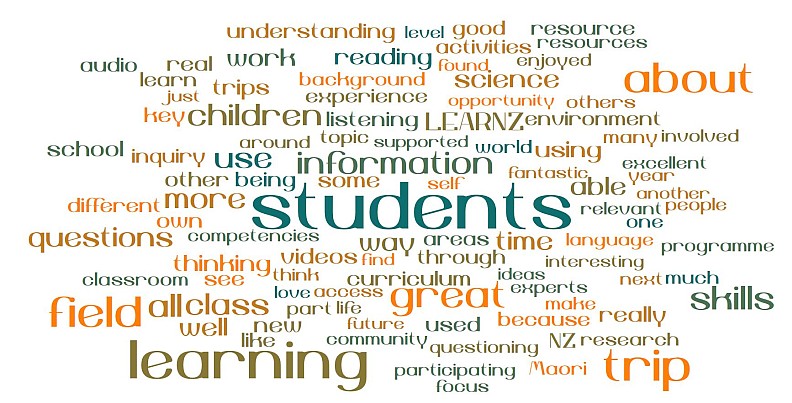 Wetland Biodiversity
Wonderfully appropriate. Supported our science focus very well, as well as the key competencies of self management, relating to others (sharing tablets, working together) and texts (reading and responding to the information).
Carolyn Thelning from Weston School
Students were asked about the KC's they used during this field trip and they unanimously said: Thinking, Relating to Others, Participating and Contributing, and Managing Self. They also said they enjoy the enthusiasm of the presenters, especially Andrew (the LEARNZ Teacher).
Seuga Frost from Ohau School
The content and style of learning is so engaging for the children. Love the strong Science focus. It was a good field trip to compare local, national and global - it lent itself really well to discussion.
Jan Thompson from Banks Avenue School
Very hands on feeling to videos and a very good learning experience all up! One of my sons loves animals and the outdoors. Living in New Zealand we all should know about the importance of these areas.
Hannelie van der Linde from Van der Linde Family Home School
This is awesome (one student, Jack, many times over)! Being my first Learnz fieldtrip I was a learner too, and found it well prepared with invaluable information to add to our Wetlands unit. The managing self aspect came into play here as well for my Year 4-8 class.
Tanya Stone from Ngutunui School
Students felt they learned a lot. The LEARNZ trip was used to introduce our inquiry and then provided a good follow up. We also visited a local wetlands and planted trees. The key competencies of Thinking, and Participating and Contributing were well covered. The field trip integrated well with Science, Social Science, Art and English. There was also a good emphasis on ecological sustainability and community engagement.
Kathleen Rutherford from Sacred Heart School Dunedin
Real life visuals and information were very specific and had a greater impact on my students and myself then scrolling through unlimited amounts of information via search engines. It supported my students learning with in-depth knowledge on worldwide topics from within New Zealand. Learnz caters for all learning needs. Totally appropriate.
Nick Sakaria from Finlayson Park School
You bring the outside world to us! Boys especially are absorbed by the videos and discussions with scientists - you help turn them on to learning. The field trip helped us connect and participate with our community and is making science real and meaningful.
Jennifer Kitchin from Weston School
Key competencies were all addressed through the use of this field trip and it was easy use the material to differentiate for different learners. The LEARNZ trips are motivating for students and supporting for teachers. They are broad enough to use as the basis for many Inquiry topics and versatile enough to use over a long or short period. 
Leone Baylis from Fairburn School
Our school curriculum focuses on the environment and having outside experts present information is a fantastic way to extend my students' learning and knowledge.
Sarah Laugeson from Lynton Downs School
Great to see and hear interaction and questions from students of other schools, which set high expectations for my class with questioning. The support material is excellent and students are able to connect with Science community in real contexts.
Rosemary Benns from Rangeview Intermediate
It supported excellence, high expectations, learning to learn, diversity and environmental sustainability, as well as the NZC level 4. It ticked all our Level 4 boxes. Great resource. My class can't wait to use it again.
Stephen Wood from Greymouth Main School
Students got to continue to learn about the environment (following on from involvement in the Virtual Great Walks field trip). The detail and facts included in the background pages made things more interesting to read (or listen to!).
Marcia Ferguson from Rosebank School Balclutha
Very purposeful learning. Supported our bi-cultural focus. Supported different learning styles. Found it very easy to incorporate into our long term plan and to integrate across learning areas. 
Amanda Ferguson from Wakanui School
Ties in to EOTC with the school camp this week which will focus on ecological sustainability. Students are already talking about the Rangitata River with new terminology. The boys were especially entranced with it all. 
Jason Shaw from Geraldine High School
I feel it covered all areas of the key competencies - I used it to foster new learning relationships within our class, and it was an excellent tool to draw out my innovative thinkers. Due to the video nature of this field trip, the students were very engaged.
Kathryn Rayson from Brooklyn School Motueka
Fitted in very well with our Term School focus of Kaitiaki and Science focus of Living World. Preparing for the audio conference extended our students thinking and created a whole new level of class discussions and understanding.
Richard Kerr from Avondale Intermediate
I particularly used the field trip in a Science context and looking at work scientists do (science capabilities). Videos had lots of content that was appropriate to use to discuss what scientists do. Community and participation as well as ecological sustainability were principles that were supported by the wet land field trip. We had a discussion about the drought as our overarching topic this year is water. 
Britta Martin from Otari School
Great for our integrated units. Fun and engaging. Allows students to greater understand ICT and the topic at the same time. I was able to adapt the materials and information provided so that it aligned with our school values, structure and learning areas we are focusing on at the moment. Fantastic and well organised. Thank you.
Patrick Wyatt from Weedons School
We were studying a local waterway and were able to compare the bio-diversity between our waterway in the Far North with a fresh waterway in the South Island. The students were motivated to research their topic, find out more about their own community and particularly enjoy the audio conference and following their ambassador.
Diane Henderson from Ohaeawai School
Our Inquiry was Sustainability this term and students really got into the field trip. It was a spectacular way for students to practice the Key competencies and meet people online they would otherwise have no access to.
Karen Blatchford from Tai Tapu School
LEARNZ projects always allow me to "let go" - to let the students lead the way for their learning. Ticks all the boxes - able to use an Inquiry approach to their learning.
Diane Henderson from Ohaeawai School
It was very relevant as we visited our own local Maungatautari wetland, so it was great to compare.
Pamela Furze from Roto-O-Rangi School
This field trip has helped me to step out of the classroom and look at what is on our doorstep. It is great for the children to learn about authentic contexts.
Beth Summers from Hinds School
Students valued the inclusion of speakers who related the land and resources to an earlier style of living on the land by Maori, in pre-European times.
Maree O'Leary from Whangaparaoa College
Pages