Testimonials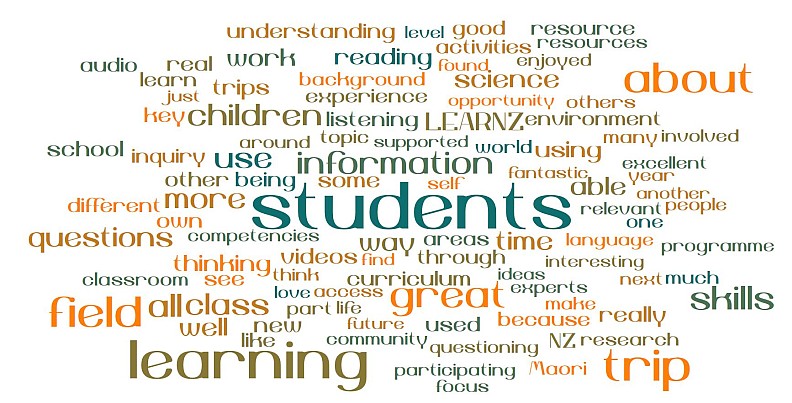 Kauri
Kauri is one of our taonga, and this field trip supported our role as tangata whenua and kaitiaki. A great resource and easy to use with the class who learnt so much about the kauri and the disease affecting it.
Anna Houston from Te Kura Kaupapa Māori o Mangere
The field trip was yet another way to utilise the tools in our digital classroom. My recommendation to colleagues is this resource, while valuable when it links to current teaching and learning, has also proven to be excellent for use with smaller groups to extend critical thinking and learning linked to a real context.
Adrienne Dines from St Patricks School Panmure
My class always enjoys the Learnz Field Trips, regardless of the trip we enrol in. The LEARNZ teachers are so enthusiastic, it really teaches the children things that I can't.
Louise Parker from Twyford School
Owing to time constraints with other curriculum areas, I sadly did not get an opportunity to use this wonderful resource with my class. I will be using it retrospectively however.
Valerie Moratti from Havelock North Intermediate
It illustrated clearly community engagement, ecological sustainability, participating and contributing. Students were interested. It also helped in the Nature of Science ... seeing how the community can work with the scientists on an issue.
Jane Seymour from Makuri School
Related to our personal environment, local issues, and experiences at camp. Very relevant to developing a MLE and BYOD environment. Combined literacy, science, social science. Andrew (the LEARNZ Teacher) was friendly, engaging, and related well to students and experts.
Paula Walker from Titirangi School
... upon completion and reflection the most impact was on the areas of our Key Competencies. Absolutely without a doubt the field trip supported the true essence of our NZC. The children became kauri experts and were keen to cometogether as the Kauri Class and learn. It promoted true collaboration and it was thoroughly enjoyable for both the children and myself.
Sharlene Carki from Weston School
I like that we can do the work live, or delay it to suit our needs, and either way not miss out on any of the content. It helped the children to further understand the need to value our natural environment and how easy it is for us to lose a taonga through lack of awareness or willingness to contribute. This topic also increased their cultural awareness.
Cathy Norris from Norris Home School
There is so much in a LEARNZ field trip that it is possible to pick and choose what is most suitable for each class. There is so much motivating stuff to choose from for supporting reading, writing, inquiry, oral language, etc. I like the way that Te Reo is incorporated - this really supports Te Reo in my class.
Leone Baylis from Fairburn School
It is visual, relevant, easy to access, and makes good use of technology to be virtually there. Very relevant and topical in Northland.
Denise Hadwin from Paihia School
We used this field trip to help us cover our Deep Learning Topic of Past and Present. it was very helpful in many aspects as we also wanted a science based focus in this area. The activities and background pages were useful for self management.
Judith Van Boxel from Waiau Pa School
Activities that went with the videos were fantastic.
Christopher Gore from Wellsford School
I used a lot of independent learning time using the background pages which promoted managing self. Also promotes community engagement, future focused thinking. It is well integrated across the curriculum and supports a range of learning types.
Kate Cvitanovich from Nelson Intermediate
My 31 mixed-ability children were completely engaged in our study. It was such an authentic context for us, as we are a silver enviroschool and we have three kauri at our school that we are learning to protect. Was great for the children to see real science in action; they were very interested in the laboratory work.
Lynn Douglas from St Francis Xavier Catholic School Whangarei
Linking a community issue with young adults (in this way with LEARNZ), has been empowering for the students. They are able to contribute to conversations outside the classroom using science and cultural based knowledge.
Fiona Patterson from Waiuku College
LEARNZ adds a rich IT experience to the class learning, that relates to local topics and utilises local expertise very well.
Esther Dickinson from Kaitaia Abundant Life School
Was extremely motivating for our learners! Very appropriate for our "Diversity" inquiry. Supported Science: Living World but also the Key Competences of "Thinking" and "Using Language, Symbols and Text". Watch the video where our Cambridge East School students share what they learned about kauri dieback at https://vimeo.com/272665119
Kathleen McIsaac from Cambridge East School
My students from this field trip are now very connected to kauri, that four weeks ago was just another native tree. Very powerful to have online learning with experts. Made a national taonga come alive and made kauri dieback real, relevant and contextual. Brings in elements of Nature of Science and the Social Science curriculum.
Janine Fryer from Pukekohe Intermediate
It is a highly motivating tool for learning. Children were highly engaged about kauri and continue to have discussions about their learning. Saves me as a teacher a lot of time as almost all of the planning and preparing is done for me. Great to be able to "call on the expert" from my classroom. Makes learning very accessible.
Karen Buchanan from Whakamarama School
It has benefited all akonga (that includes me). We knew nothing about kauri dieback disease until this field trip. Really relevant to us in Northland.
Jacqueline McGlasson from Dargaville Primary School
Children really enjoyed learning about kauri dieback. We participated in all three web conferences and I am pleasantly suprised at how much the children learned. The field trip links well to the Key Competencies as well as our school values, and was inclusive of all cultures.
Tosca Parata from Kenakena School
It was a really good way for students to learn about NZ and what's happening currently and in a manner that they could choose how they participated; some were more independent and others more supported.
Mary-Ann Bailey from St Peter's College (Palmerston North)
It brings things alive for the kids, as many are visual learners. Fabulous to learn from experts. It covered participating and contributing beautifully, and we also connected it to "Understanding about Science".
Lisa Davies from Red Beach School
It gave them the sense of being there, and the children were motivated and empowered to make a difference. The children loved watching the videos, and it made the whole learning process more authentic.
Lianne Shirley from Glenbervie School
Great that kauri dieback was in the news, while we were studying it on the virtual field trip. Good integration with Literacy, Te Reo, Key Competencies, Science, and Environmental Education. Wide range of topics, relevant, real life and happening now.
Louise Parker from Twyford School
Pages