Testimonials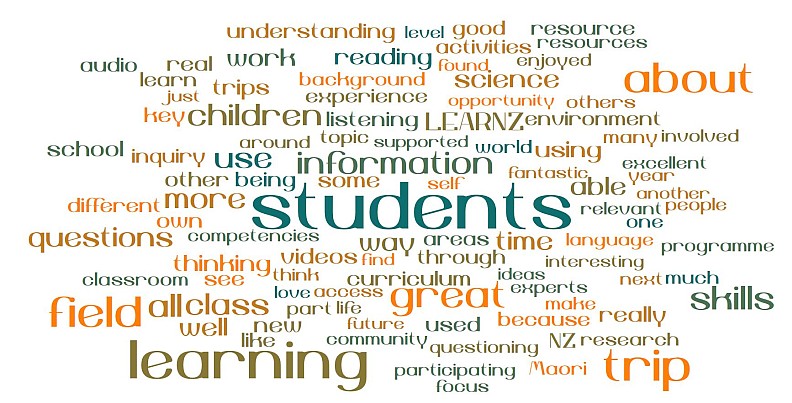 He Hokinga Whakaaro
Most appropriate for my Year 7&8 class. Incredibly effective in terms of meeting the desired Learning Outcomes. The most engaging learning experience the children could have.
Graham Elsmore from Christian Renewal School
This particular topic had all my students absolutely hooked - the 95% Maori students in my class felt it was about them and supported their culture and their own learning. I love the Inquiry focus, the research skills LEARNZ offers, the range of learning styles - with background information, diaries, audio conferences, images. All students are catered for.
Diane Henderson from Ohaeawai School
High level of student engagement, interesting topics that are relevant to students' lives. Videos are always pitched at a good level, interesting - many of my students access them at home too.
Caroline Arnold from Lepperton School
Terrific for the immersion phase of Inquiry. Children very motivated to go off and research independently. Just a stunning resource which enhances the quality of teaching and learning in my room tremendously!
Fiona Matthews from Matua School
Great visual learning, auditory learning, and inquiry learning. I like the way Māori words are put into every context of the trip.
Diana Donovan from Pamapuria School
Very well rounded experiences. Used partly to prepare for a visit to our local Marae and learning about Matariki. Visual experiences great for class.
Kathleen Roach from St Albans Catholic School
We have been researching about Captain Cook and we are also preparing for a Marae visit so components of the field trip have been particularly relevant. The easy background pages and the associated activities were just right for my Year 4 class. It is always interesting to learn from Shelley and Andrew while they are on location. The students develop a connection with them, particularly if they participate in an audio conference.
Fiona Mackley from Alexandra School
Highly engaging and extremely usable! Students gained in constructing questions to put to experts. Interpreting and making meaning of a variety of language and symbols, managing self, relating to others and also developed a wealth of knowledge about the topic.
Karen Edwards from Brightwater School
It backed up our camp from last year when we looked at the Waitemata Harbour and we are looking forward to the upcoming LEARNZ field trip to Lake Taupo, continuing our water inquiry. On this field trip, students compared the two harbours which reinforced their learning.
Pamela Furze from Roto-O-Rangi School
Good to get affirmation that other schools in NZ are learning about the First Encounters. Lots of opportunity for role play and integrated learning. The audio recording was most valuable as an addition for those who find difficulty in reading.
Pauline Maclean from St Theresa's School (Plimmerton)
Engaging and interesting for the children - they enjoyed the videos and especially the interactive activities. I loved how the children were really motivated to read and use keywords from the background pages so they could get 100% on the activities! There were also some wonderful gems from the audio conferences which we discussed and learnt from as a class.
Vanessa Cannon from Matua School
We used some of the background pages to support learning about the arrival of Europeans as part of a Treaty of Waitangi unit. We also used the Marae Protocols material and quiz as part of our preparation for a Marae visit. I found the targeted use of specific web pages (on the site) useful for a mixed range of levels.
Jacqueline McGivern from St Therese School (Three Kings)