Testimonials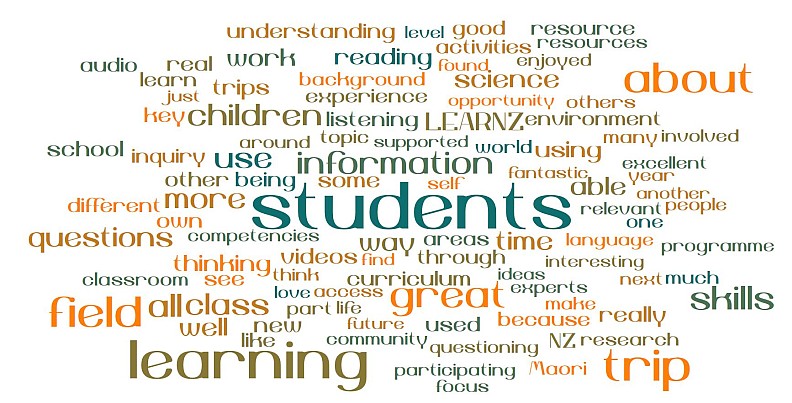 Antarctica
Having all of the Antarctica resources together makes it very easy for students to self-explore the parts of the topic they are especially interested in. The real benefit for us has been having all of the audio with the readings for my lower readers; they prefer to listen and the NZ accent of the reader is a bonus.
Lisa O'Connor from St Teresa's School Featherston
LEARNZ is a great way to study a topic using a medium that is accessible to all, even my low vision student and those with poor reading skills. The Antarctica field trip supported the science and social studies areas of the curriculum and much more, such as the key competencies.
Carolyn Thelning from Weston School
My class of all boys love the LEARNZ background readings and activities; their non-fiction reading levels have all improved. They like the fact that they can work at their level and at their own pace. They all love science and anything (like LEARNZ) that helps develop their understanding of how our world works.
Angela Moeke from St Patrick's Catholic School Taupo
It made the students aware of the value of the work done in Antarctica, both in the past and in the present, more effectively than just reading about it.
Jacinta Drummond from Mount Hutt College
Students love them (LEARNZ field trips) - they are engaging, use real life contexts which have an impact on students' lives, encourage whanau involvement. Fabulous resource.
Caroline Arnold from Lepperton School
It has taken my students to new worlds of understanding, given them purpose and focus to read and write about a 'real-life' topic that is of interest to them.
Alice Keeling from Springston School
We integrated the learning across all curriculum areas, which was easily done. All my students enjoy learning in this way and the background reading was perfect for my Year 4 class.
Jacqueline Barrett from Westbrook School
It definitely ticked the boxes. A great topic. We enjoyed all that was on offer.
Lorena McStay from Templeton School
We loved the field trip! Thanks so much for all that you do. It is such an engaging way to connect with various areas of the curriculum.
Sarah Trethewey from Katikati Primary School
Real life engagement with scientists on ice was interesting - great for students to see what we had been studying in real life.
Vanessa Carnevale from Waiheke High School
It was in line with our learning focus for this year of being a fully digital classroom. Online help was all good.
Jennifer Barrow from Kaniere School
I thought LEARNZ did a great job of mixing up content that covered multiple curriculum areas in a logical and accessible way. Most of the time my Year 8-9 class were engaged and absorbed by what was happening.  Well done.
Adrian Humm from Ruawai College
My curriculum focus was supported fully by the LEARNZ Antarctica programme and two NIWA scientists visiting the class in person helped no end to endorse what we had learned. Some students were able to really drive their own learning, while having the two levels for reading enabled some of my less able readers to participate more fully. 
Valerie Moratti from Havelock North Intermediate
Students became very curious with lots of wonderings about Antarctica and they decided that science is really cool. The field trip made for fun learning and helped us use the i-pads and laptops more effectively for independent research.
Paula O'Neill from New River Primary
Excellent presentation and a great learning experience for the students. Students really enjoyed a different approach to learning and it was good that the weaker readers were able to participate.
Susan Dane from Elm Park School
This was so engaging for our class. This is a great way to bring science alive in the classroom and it led to so many discussions.
Amie-Lee Mills from Te Akau ki Papamoa Primary School
Students were highly engaged, especially by the videos and photos of our ambassador. Students who need extra support with literacy really appreciated the easy to read background material.
Cristy Yonetani from St Mark's School Christchurch
Interactive, engaging and highly motivating. Helps create partnership between home and school as students are extremely keen to share the field trip experiences with their parents.
Karen Edwards from Brightwater School
Rather than just researching independently about Antarctica, the students enjoyed having a variety of tools at their fingertips. The mixture of videos, photos, quiz etc kept students interested and being able to listen to the information rather than having to read it is highly beneficial.
Marcia Karaitiana from West Gore School
This field trip has been the highlight of the year for all the students. Amazing enthusiasm from the whole school.
Emily Wells from St Mark's School Christchurch
Led to better engagement and met the learning towards taumata 5 tikanga ā-iwi marau in the TMOA. Outcomes for my kura were evident and supported our kura value system or mātāpono, kaitiakitanga (guardianship of our earth mother Papatuānuku) and rangatiratanga (self-determination that comes from our own actions).
Kararaina Iasona from Te Kura Maori o Porirua
My Year 7 & 8 students found the field trip very engaging and effective for many reasons eg. extending knowledge, developing inquiry skills, digital technology. It also covered science and social science well, and variously incorporated the Principles, Values, and Key Competencies of the NZC.
Alison Milne from Waipipi School
Really enjoyed it! Lots learnt! Very effective - more so for the older kids but what my young enjoyed most was the diaries.
Nicola Douthe from West Park School
Very appropriate for Year 5/6 students, who loved the 'real' experience. Covers lots of the curriculum areas, from reading groups to individual programmes with students who have special needs. Web site means students can follow up at home and share with family what they have learnt.
Patricia Molloy from Turitea School
This was an amazing way to make the learning come alive for our study of Antarctica. Very effective - personalised the learning.
Elley Mullany from Mullany Homeschool
Pages