Ambassador Egbert


Hello everyone, tēnā koutou,
I am Egbert the LEARNZ ambassador. I go on all the trips with Andrew and help look after the other ambassadors from your schools.
I really love LEARNZ field trips about New Zealand's special places. I am looking forward to discovering more about sustainable wai with you, as we explore around Lake Taupō.
Best,
Egbert
Monday 29 October
Kia ora koutou
Today we flew from Kerikeri to Auckland, and then from Auckland to Taupō. Funnily enough it was the same aeroplane for both flights! We even sat in the same row, just a different seat. From Taupō we drove to Tūrangi. On the way we stopped off for a walk on the shore of Lake Taupō. 
Tomorrow we are going white water rafting. I'm a bit nervous becasue the last time I did this activity I fell out of the raft and spent almost 5 minutes in the rapids before being rescued! We'll see how it all turns out tomorrow, I guess.
Best,
Egbert
Tuesday 30 October
Kia ora tātou
What an amazing day we had today. I had so much fun white-water rafting with Garth. When we got to the end I just wanted to go back and do it all again.
I enjoyed listening to Krysia as she explained that to see lots of critters like mayflies and caddisflies in a river was a good sign. I was amazed at how much life there was under only a couple of river stones.
It was neat looking around the freshwater aquarium with James at the Tongariro National Trout Centre. The native fish displays were so cool. I didn't realise we had so many amazing native fish living in our waterways. There were even some eels and kōura on display. Kōura are freshwater crayfish.
Best,
Egbert
Wednesday 31October
Kia ora tātou
Happy Halloween everyone!
Today we learned a bit about what Department of Conservation scientists do to monitor the trout fishery. I especially liked watching Michel Dedual at one of the fish traps. I thought it was amazing how well Michel handled the fish in the fish trap. He was so quick but so careful with them. I kind of felt sorry for the trout. They probably think they are being abducted by aliens or something. Then again, I'm sure once they are swimming freely in the river again they don't think any more of it.
I hope you are enjoying the field trip. I certainly am.
Best,
Egbert
Thursday 1 November
Kia ora koutou
Today was the last day of the field trip. It was quite a wet and windy day! But the rain is okay. We've got to get our freshwater somehow eh? Rain is also why you can do cool things like white water rafting down the Tongariro River. Interesting isn't it how rain and sun are both part of the water cycle.
I learned today that there are many people interested in freshwater, although not always for the same reasons. Somehow these interests must be balanced, and at the same time thought given to the plants and animals living in and around the river.
It has been a great week. Remember, we all have a part to play in maintaining the health of our lakes and rivers.
See you on another field trip soon! Best,
Egbert
Egbert is looking forward to learning about sustainable wai. Image: LEARNZ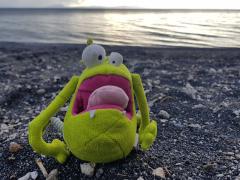 Monday. Egbert chills on the shore of Lake Taupō. Image: LEARNZ.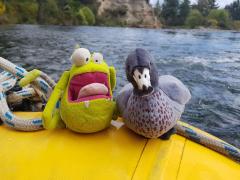 Tuesday. Egbert was hanging out with Eddy the whio today. Image: LEARNZ.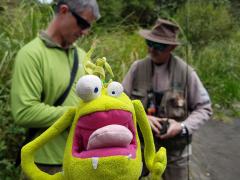 Wednesday. Egbert next to a DOC fishery scientist doing an angler survey. Image: LEARNZ.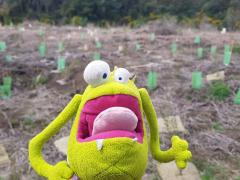 Thursday. Egbert checks out the restoration planting happening next to the Tongariro River. Image: LEARNZ.