Diary 1


Date:
Monday, October 29, 2018
Field Trip Name:
Sustainable Wai | Te Mana o te Wai
Field Trip Place:
Tūrangi
Weather:
cloudy with showers
Where You Are:
on route to Tūrangi
Egbert and I were looking forward to going to Taupō today. It is one of our favourite places in Aotearoa to visit. We had to wait around a bit though because our flight out of Kerikeri wasn't until 3:00pm.
Kerikeri to Auckland
It was soon time to head to Kerikeri Airport for our flight to Auckland. It would be another plane that would take us to Taupō. We boarded the Bombardier Q300 and found our seats. Egbert was chatting excitedly! He quietened down as we raced along the runway and powered up into the air.
As we flew down the east coast towards Auckland, I was thinking about the streams and rivers I could see that end up at harbours and estuaries. I think it's important to think about where our water goes, and what happens to it along the way. For example, I am a keen angler. I like to think that water entering the ocean from land is not going to have a negative impact on the marine environment.
You could think about how a stream or river near you affects a part of your life. There might be many parts that are affected. Or you may not think there are any links at all. But chances are you have some sort of connection to your local waterway.
Auckland to Taupō
After a 40-minute journey from Kerikeri to Auckland, we then had another hour to wait before the flight to Taupō. We took this time to walk around a bit to stretch our legs. Then we had a bit of afternoon tea.
Soon we heard the call that the flight to Taupō was boarding. We gathered up our things, got our boarding passes out, and made our way to the gate. I sometimes feel like a sheep when I'm departing at an airport. Just one of many in a flock, blindly following the one in front as we file through departure to board the cattle truck – I mean aeroplane!
It was another Bombardier Q300 aeroplane for the flight to Taupō. I snoozed for most of the 50-minute flight. I felt the landing gear come down and I woke somewhat bleary-eyed. I was just in time to get a nice photo of Lake Taupō though!
To Tūrangi
After landing in Taupō and collecting my luggage, it was time to head to Tūrangi. It was about another 35 minutes' drive from Taupō to Tūrangi. We wound our way along the edge of Lake Taupō on State Highway 1, passing through small villages such as Waitahanui, Hatepe, and Waitetoko. And of course, the Great Lake (Lake Taupō) was never far away.
We arrived in Tūrangi, 'trout fishing capital of the world', at around 7:00pm. Just in time to unpack and have some dinner.
Anyway, talk to you all again tomorrow. It is time to head off to bed. You guys should get some shut-eye too – it's going to be a busy day on the Tongariro River tomorrow!
Mā te wā,
Andrew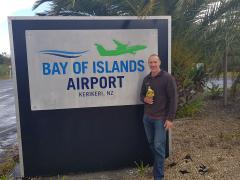 Andrew and Egbert at the airport in Kerikeri. Image: LEARNZ.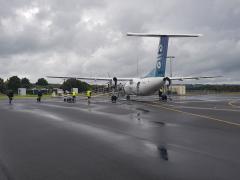 Heading to the Bombardier Q300 aircraft at Kerikeri airport. Image: LEARNZ.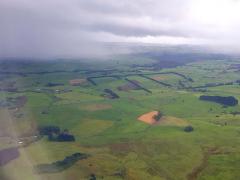 Not long after takeoff we headed into this rain cloud. When thinking of the water cycle, what is the scientific name for rain, hail, and snow? Image: LEARNZ.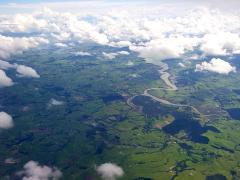 A river snakes its way through farmland towards the Kaipara Harbour. What can farmers do to reduce their impact on waterways? Image: LEARNZ.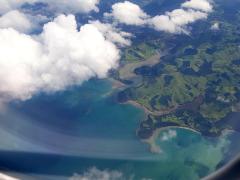 A river enters the sea just north of Orewa, Auckland. Image: LEARNZ.
What are the potential impacts to water quality that you can see in this picture? Image: LEARNZ.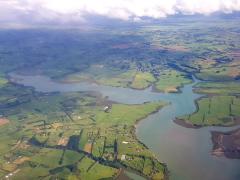 This river flows into the Manukau Harbour. How might it impact the marine life living near it? Image: LEARNZ.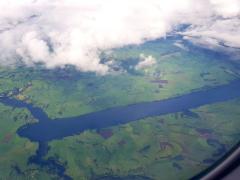 Heading south, I found the shape of this river rather odd. I have no idea what river it is - I wonder if you know. Image: LEARNZ.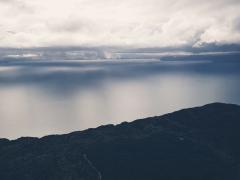 After a snooze on the plane I woke in time to take this picture of Lake Taupō. Image: LEARNZ.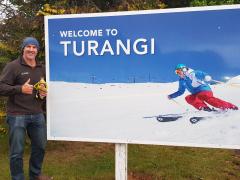 Welcome to Tūrangi! Image: LEARNZ.