Ambassador Ti Aki
<- Homepage: Matariki and navigation from Kupe to Cook to Today
---
Kia ora,
I'm Ti Aki, or Ti for short. I am a ruru and a very wise owl and I guide my class through their journey of life. I help everyone to make informed decisions and equip them with the tools they need to solve issues they may face along the way. I'm looking forward to finding out more about Matariki and navigation. I hope I don't get lost!
See you soon,
Ti.
Monday 10 June
Kia ora,
I am so lucky to be heading away on another field trip. I learnt so much on the Primary Industries field trip and shared some of the apples from the trip with the rest of the ambassadors. I know this trip will be very different from the last one and after getting lost a few times already I'm looking forward to finding out a bit more about how to navigate! We are off to Space Place tomorrow.
See you then,
Ti.
Tuesday 11 June
Kia ora, I enjoyed my first visit to a planetarium today. It was so cool seeing the stars appear on the dome ceiling. We could see what Matariki will look like when it reappears in late June. I can't wait to see it for real because it will mean that the days will start to get longer again. We also went on a waka trip. We had to work as a team and follow the calls that Ariki made to keep our paddling in time. Paddling such a big waka was hard work but luckily Māori used double hulled sailing waka when they came to Aotearoa, so they didn't have to paddle. We left Wellington on a tiny plane and we are now in Picton ready to head out into the Marlborough Sounds tomorrow.
See you then,
Ti.
Wednesday 12 June
Kia ora,
It has been a long but rewarding day. We explored the Marlborough Sounds by boat and made it all the way to Meretoto, Ship Cove. This is where Captain Cook spent most of his time when he was exploring Aotearoa. He sheltered here, met local Maōri and gathered supplies for his long voyages. We learned about how Cook navigated using tools like a sextant. I'm glad I can just use a smart phone to navigate! Tomorrow we are going to find out more about modern methods of navigation.
See you then,
Ti.
Thursday 13 June
Kia ora,
We packed a lot into our last day of the field trip. We drove all the way from Picton to Nelson where we learnt how to pilot a marine simulator. Then we left the computer screens behind and headed out into Tasman Bay on a real boat. We went so fast that I nearly fell overboard. Luckily, I was wearing a life jacket and I managed to hang on! I can't wait until the rise of Matariki and I'm looking forward to celebrating it with you when I get home.
Mā te wā
Ti.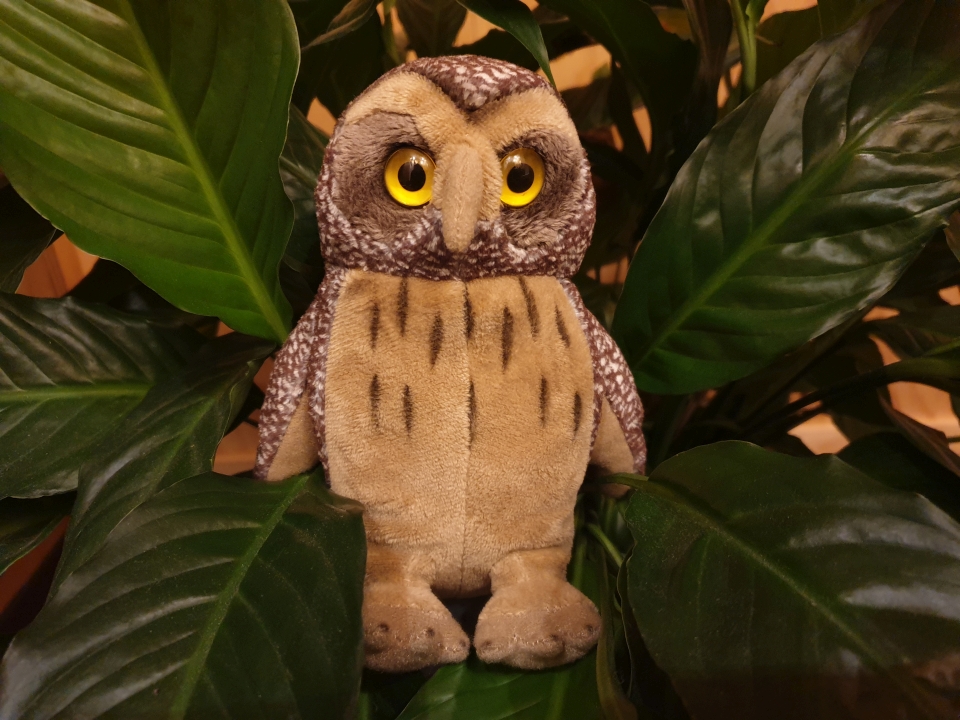 Ti Aki is looking forward to heading to Wellington to begin the Matariki and Navigation field trip. Image: LEARNZ.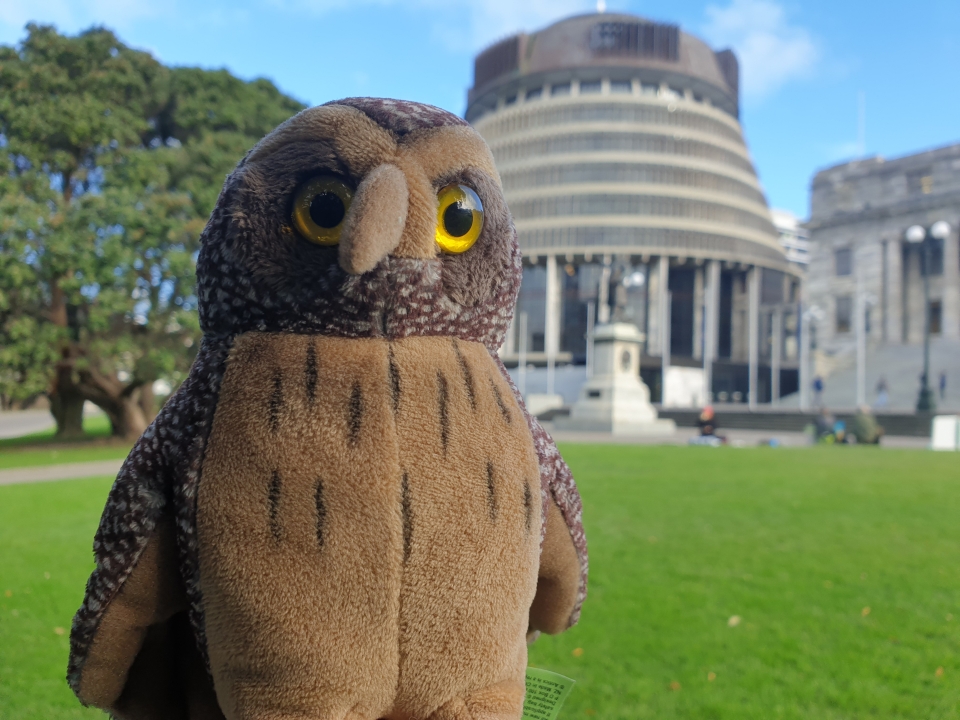 Ti Aki outside the Beehive in Wellington. I'm sure this wise old owl could teach the politicians a thing or two! Image: LEARNZ.
Ti Aki takes a closer look at a waka in the waka house at Tewharewaka o Pōneke. Image: LEARNZ.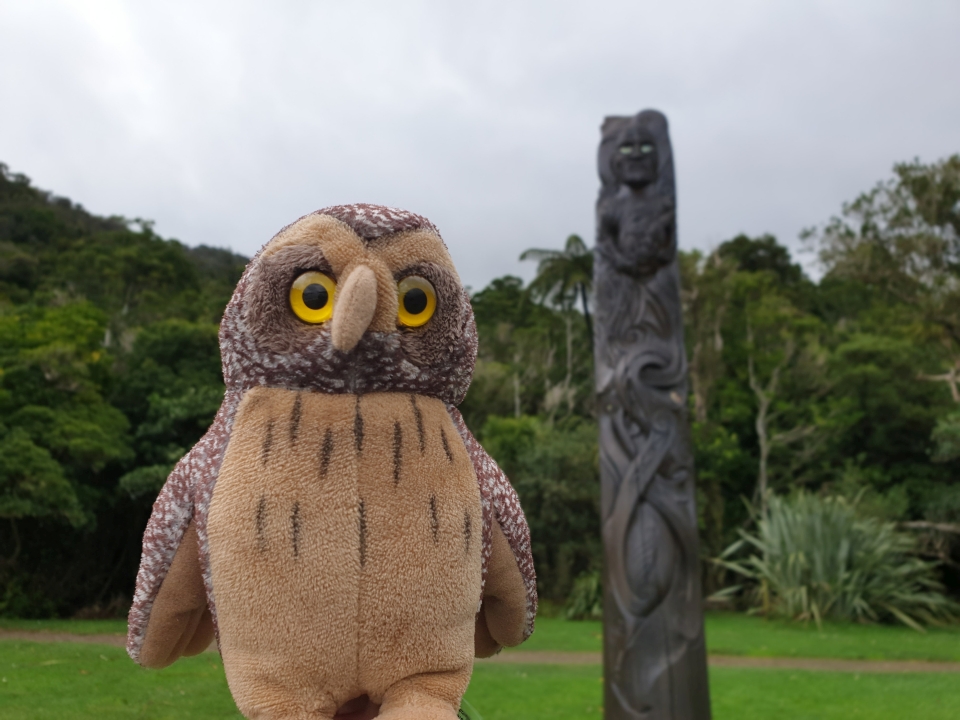 Ti Aki finds out about the story of Kupe and the giant wheke told in this pou at Meretoto, Ship Cove. Image: LEARNZ.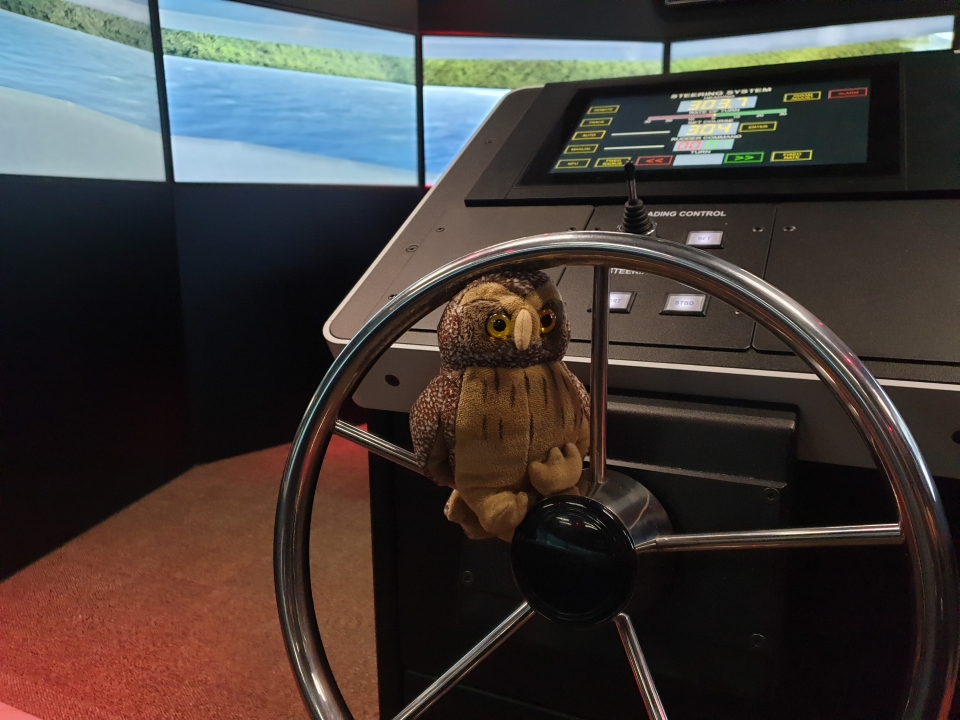 Ti Aki steers the marine navigation simulator in Nelson. Image: LEARNZ.