Ambassador Tidy Kiwi
<- Homepage: Matariki and navigation from Kupe to Cook to Today
---
Kia ora,
I'm Tidy Kiwi from Morrinsville School. This is the second field trip I've been on. I had such an amazing time in Antarctica last year, so I wanted to go on another trip. I love Monday mornings, when I find out which class I'm going to hang in for the week. I hate rubbish and love reading with kids.
Talk soon,
Tidy Kiwi.
Monday 10 June
Kia ora,
It's so good to catch up with Māia and remember what a great trip we had down to Antarctica. I know this field trip will be completely different but I'm looking forward to learning about Matariki and navigation. Today I found out that Matariki doesn't rise on exactly the same date each year. This year you will start to see Matariki rise again from 25 June. We spent the afternoon in Wellington, exploring the capital and finding our way around. Tomorrow we are heading out on a waka. I can't wait!
See you then,
Tuesday 11 June
Tidy Kiwi.
Kia ora,
We had such a fun time today. We started at Space Place where we explored the night sky in the planetarium. I was surprised at how small Matariki is, yet it is one of the closest star clusters to Earth. At least I don't have to wait until 25 June to see it now. We then headed to Te Wharewaka o Pōneke to help paddle a waka. This taught us how to work as a team and gave us an idea of how Māori used to navigate. I'm glad I can use Google Maps because I never know which way is north and my eyesight is not that great so I can't see the stars clearly. We had a bumpy flight to Picton but now we are ready to explore the Marlborough Sounds tomorrow.
See you then,
Tidy Kiwi.
Wednesday 12 June
Kia ora,
We had a spectacular day today. It was just magic seeing dolphins up close as they surfed the bow wave of our boat. We made it all the way out to Meretoto, Ship Cove where Captain Cook did some of his science work and collected supplies for his ship. I could see why he came here because it is such a sheltered area and there is plenty of fresh water. I learned about how Cook navigated and how he charted New Zealand's coastlines. Tomorrow we are going to Nelson to see how technology is improving the accuracy of navigation.
See you then,
Tidy Kiwi.
Thursday 13 June
Kia ora,
We had so much fun on the marine simulator today. I found it hard not to go too fast at first but then the motion shown on the computer screens made me feel seasick and I had to slow down! We also got to pilot a real boat out in Tasman Bay. Luckily the sea conditions were really calm. It has been such a busy week and I'm now looking forward to getting home to have a rest.
See you all soon,
Tidy Kiwi.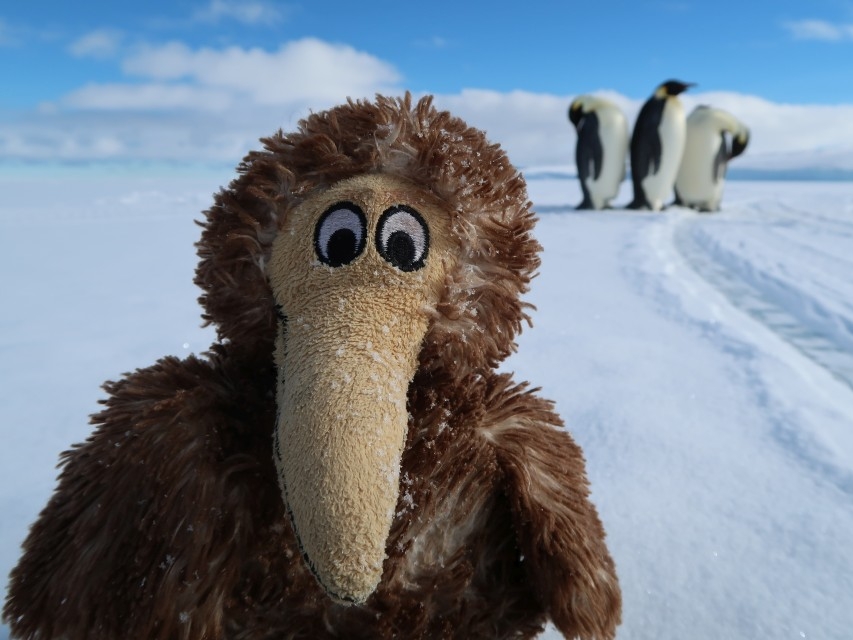 Tidy Kiwi enjoyed the Antarctica field trip so much that he wanted to go on another LEARNZ adventure. Image: LEARNZ.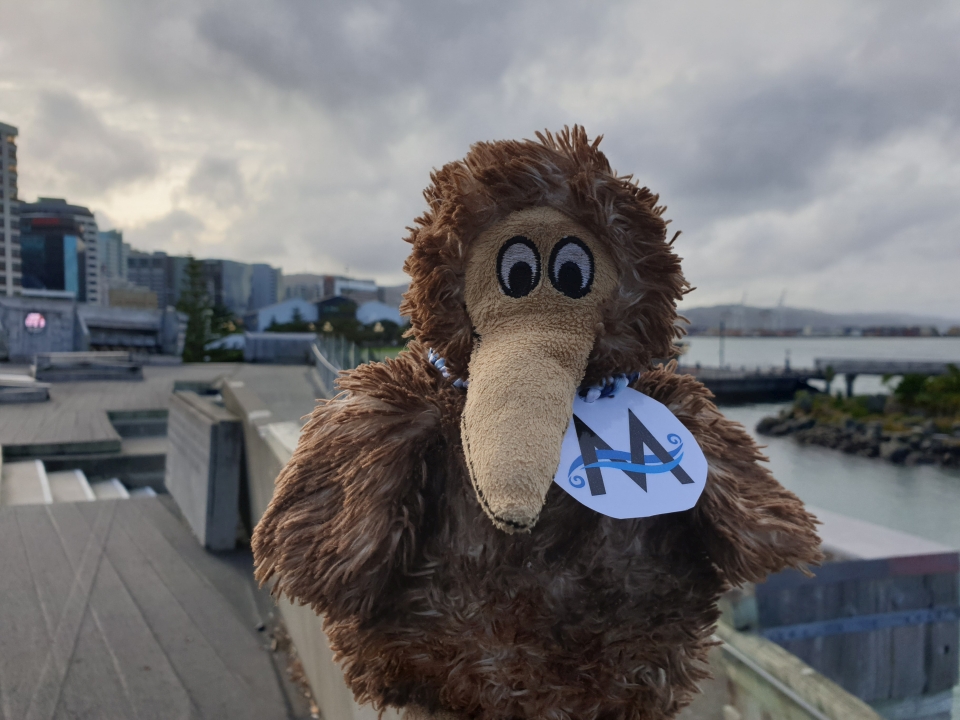 Tidy Kiwi enjoys a walk around the waterfront in Wellington. Image: LEARNZ.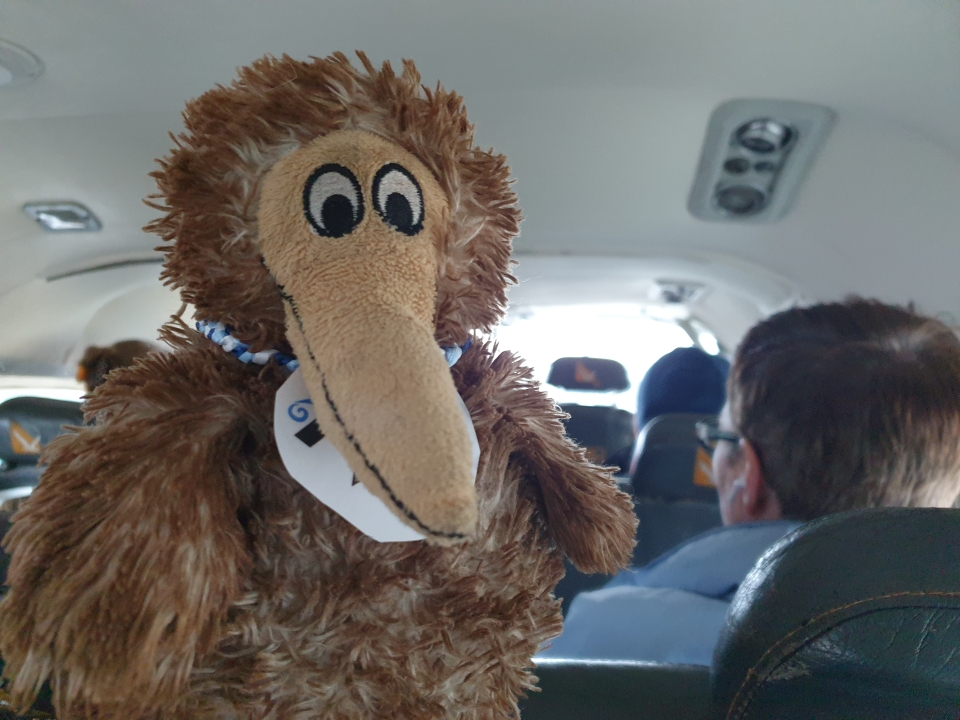 Tidy Kiwi enjoys a bumpy flight from Wellington to Picton. Image: LEARNZ.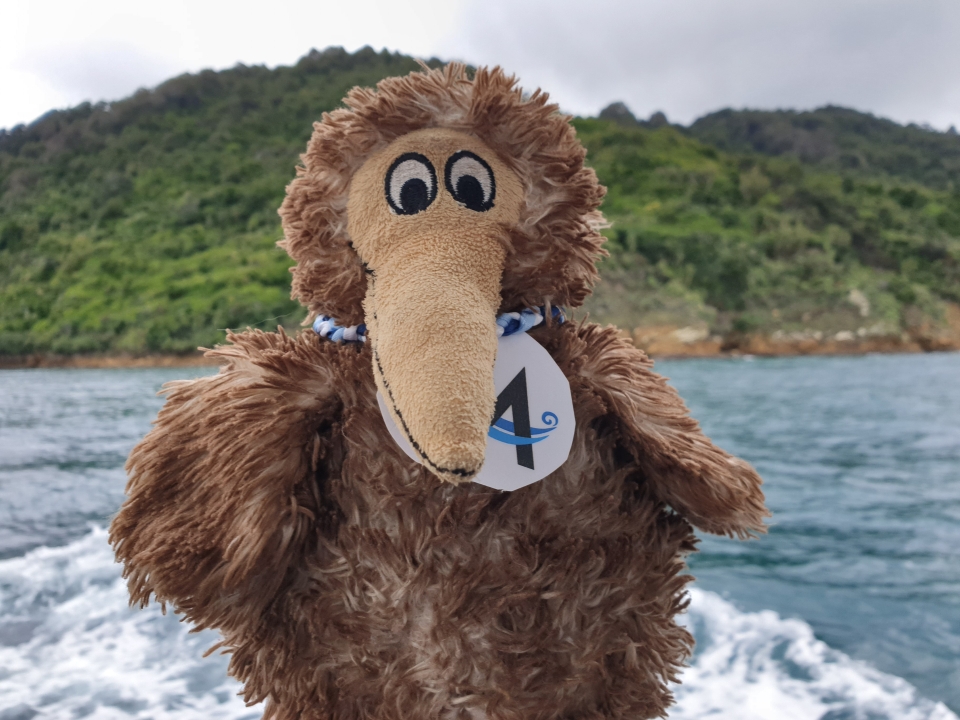 Tidy Kiwi enjoys a ride on the Tutanekai launch in the Marlborough Sounds. Image: LEARNZ.
Tidy Kiwi helps pilot a marine navigation simulator. Image: LEARNZ.