Meet John Campbell
Work background:
I have worked in a number of teaching roles particularly High School Science, Biology and Outdoor Education. Outside of my teacher roles I have worked as a Biologist mainly in Alpine Grassland and Wetland Ecology.
Favourite part of job:
Working with Primary and High School classes who visit, and learning new things with each new exhibition that comes to the Museum. 
I am continually amazed by how much children know about a wide range of subjects. For example, the 8 year old who said that our life sized model of a Haast's Eagle must have been a juvenile as it's wing span wasn't large enough to be an adult.
Least favourite part of job:
Administration (paperwork).
What I am working on now:
Preparing teaching resources for our two new exhibitions, 'Buller's Birds' and 'World Wildlife Photography' which have come to us from the Natural History Museum in London.
Qualifications:
Batchelor of Science - Honours (Botany) and a Diploma of Teaching.
Interests outside work:
Tramping, Mountain Biking, Gardening and Music (mainly Folk Guitar).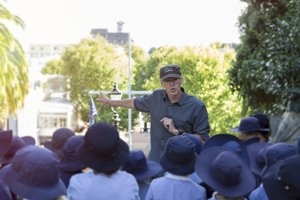 John Campbell is the Museum Educator at Nelson Provincial Museum. Image: Supplied.