Meet Pete Beech
Job description:
Running exclusive personalised Maritime Eco-tours on a 90 yr old classic launch called Tutanekai, we also take out full day or 3 day school camps on Totaranui, (Queen Charlotte Sounds.) I am pakeha, my wife Takutai is Māori, my family have lived in the sounds for 7 generations, working as Sounds farmers, bushmen, stockmen, and boat builders. Takutai's whakapapa goes back about 20 generations.
We called upon our collective knowledge about, history, Māori culture, the natural world, environmentalism, intimate knowledge of the Sounds, boats, oral histories to put together this eco-tour experience. The old Tutanekai was gifted to us as a virtual wreck, but we set to and restored him and he has served us well for 30 yrs.
Work background:
We offer exclusive charters, most of them are for 2 people or couples, but the Tut is surveyed for 40 paxs. We take tourists or schools groups, out to the outer Sounds, take them to iconic places of significance like Ship Cove, wharehunga and Motuara Island.
Most tourists know about and are interested in an overview of the life and times of Captain Cook, for students it's an important part of our history. We have lunch at Ship Cove, then steam over to Motuara island our foremost island bird sanctuary. Takutai guides our guests to the top, pointing out the endangered native birds, and the native bush sharing also her knowledge of Rongoa, Maori medicines.
We also share our Oral Histories and if people are interested an overview about the effects that colonisation had on our tangatu whenua. Also the impacts of whaling, fishing, forestry, farming, aquaculture, salmon farming and shipping (fast ferries) have had on our natural world. Our Kaupapa is Kaitiakitanga, which means that we all have a responsibility to take care of the natural world.
Favourite part of job:
Although tourists all want to learn about our history and culture, they also like to share their stories as well. I have never travelled and am unlikely to do so, so I like to listen to peoples' life stories about their families, their home towns, their jobs, their interests, sports, hobbies and about the history and culture of their countries. I also like to know about their ancestory.
Least favourite part of job:
I hate having to clean out blocked toilets on the boat, no one else ever volunteers!
What I am working on now:
I have just purchased an old launch to restore for my whānau.
A quick story about a job well done:
25 years ago we formed an environmental watchdog group called the 'Guardians of the Sounds'. We have had a lot of victories, we stopped the Fast Ferries that were devastating our Sounds. We stopped the port company from using a deadly neurotoxin called methyl bromide to fumigate export logs. We also stopped 100 logging trucks a day from rattling through our village. We have started a restoration trust that has eradicated most of the wilding pines in the whole of the Marlborough Sounds.
Qualifications:
Qualified Motor Mechanic, Train Driver, Marine Engineer and Boat Builder. Qualified as a skipper of commercial tourist craft then became owner operator of Eco-Tour. I'm a self-employed contractor restoring old wooden boats in my off season.
Interests outside work:
My family; A life long interest in Māori culture, Oral Histories and archeology. I am an environmental advocate and boat restorer. I like vintage cars, vintage boats and vintage motor bikes. I like to help my kids build their houses and furniture and I like to go down the Sounds to our turangawaewae, a batch we built in a bay where our tipuna first lived 7 generations ago.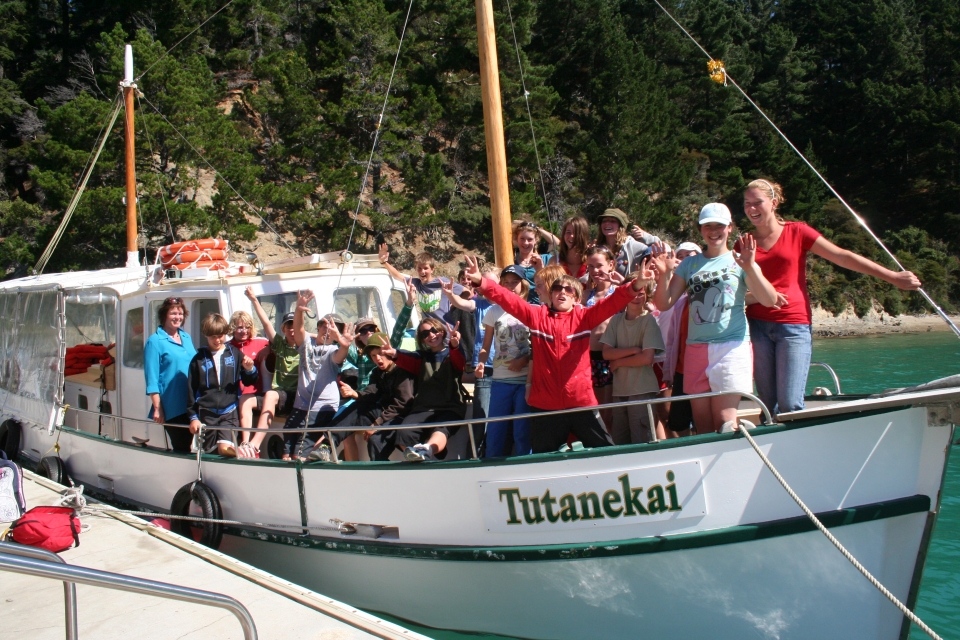 This is the Tutanekai vessel which Pete and Takutai use for their eco-tours in the Marlborough Sounds. Image: Supplied.