Meet Ben Knight
Job:
Programmes Coordinator at Sustainable Coastlines
Job description:
I've been working for Sustainable Coastlines since April last year, primarily as part of a team that are developing and rolling out a nationwide citizen science-based beach litter research and monitoring project.
Work background:
I've been involved in the recreational diving business for most of my working life as a professional diving instructor, dive boat skipper and dive business owner. More recently I've been working for Experiencing Marine Reserves as a programmes coordinator and snorkel leader.
Favourite part of job:
Getting out into the field and working with other amazing people to help keep our coastlines and beaches beautiful.
Least favourite part of job:
Doing the admin.
What I am working on now:
A new nationwide, 3-year citizen science-based beach litter research and monitoring programme called The Litter Project.
A quick story about a job well done:
Last weekend we worked with an amazing group of people from Weta Digital in Wellington to clean up an area of the beautiful Wellington harbor coastline. We managed to remove over 5 cubic metres of rubbish from this stretch of coastline in a couple of hours! And we got to meet the Places for Penguins team who were out monitoring nesting boxes – they were super stoked to see us removing all that rubbish from this stretch of coastline that the local Little Blue Penguins call home.
A (humorous) story about a job that went badly and what you learned:
I took a group of new divers out for a boat dive and having told them all how important it is to make sure you do a buddy check and double check you have all the equipment you need and that its working correctly before entering the water, I managed to roll off the boat and into the water without my fins!
Qualifications:
BA (Hons) Anthropology, SSI Scuba Diving Instructor.
Interests outside work:
I'm the chair and a founding member of the Guardians of Kāpiti Marine Reserve Trust and play an active role in the management of the reserve. A recent project involved setting up a remote webcam for monitoring the marine reserve. I've also been working for NIWA conducting a recreational fishing survey with local fishers. I enjoy getting out on my boat with friends and family and do quite a bit of exploration diving, underwater videography and enjoy freediving and spearfishing too. I have an 11-year-old daughter who often tags along on our adventures and who I also enjoy spending time with at the beach, swimming, surfing and walking our mini poodle called Princess.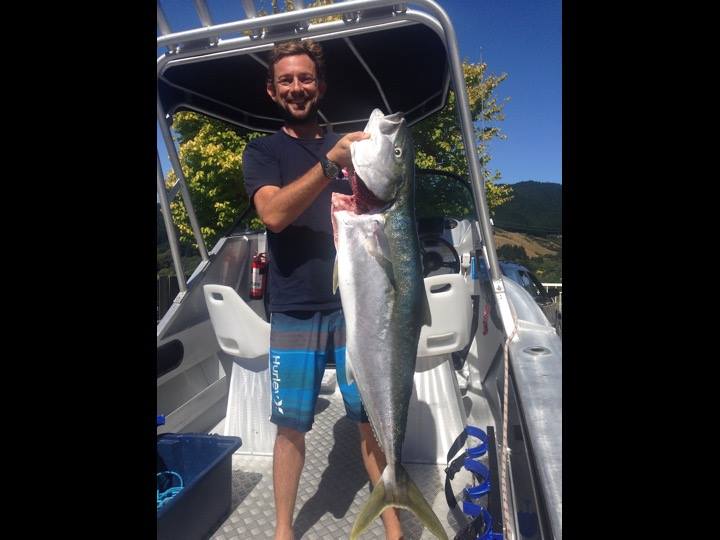 Ben enjoys spear fishing. Image: Guardians of the Kāpiti Marine Reserve.