Diary 1
Date:
Monday, August 26, 2019
Field Trip Name:
Natural Hazards
Field Trip Place:
Bay of Plenty
Weather:
Fine with a cold wind
<- Homepage: Natural Hazards: Our Taupō supervolcano
---
Kia koutou,
Aotearoa New Zealand is famous for its spectacular scenery. Many of our stunning landscapes have been shaped by plate tectonics. Living on the boundary between two moving plates has its benefits but it also means we all need to be prepared for natural hazards. During this field trip you will explore the Taupō Volcanic Zone and find out why we have a supervolcano. You will also look at how to prepare for future events.
The journey begins
You left the rain behind in Dunedin and enjoyed a smooth flight to Christchurch. Cloud hid much of the land below until you flew over Lake Ellesmere and could look out over Banks Peninsula. After a quick stop in Christchurch and a chance to reenergise you boarded another plane destined for Rotorua.
Welcome to the volcanic zone
There wasn't much of a view as you flew north and I was disappointed not to see any of the volcanoes that make up the Taupō Volcanic Zone. The ambassadors wanted to see Ruapehu. Ruapehu is one of the world's most active volcanoes. During eruptions the crater lake can overflow causing lahars or mudflows that race down the volcano causing lots of damage. The Tangiwai disaster back in 1953 was caused by a lahar. The 1945 eruption emptied the Crater Lake and dammed the outlet with tephra. The crater slowly refilled with water, until the dam collapsed causing a lahar in the Whangaehu River. The lahar took out the rail bridge and the train couldn't stop in time. 151 people were killed. Today there are lahar warning systems to try and prevent disasters like this.
Super-eruptions
You looked for Lake Taupō before landing in Rotorua. This lake was created by a super-eruption. Super-eruptions are massive eruptions that don't happen very often. These eruptions are so huge that they can leave huge depressions in the landscape. As the magma chamber below the volcano empties the land above collapses into a caldera. It is this caldera that has been partly filled with water to create our largest lake, Lake Taupō. Thankfully these eruptions are very rare and much smaller eruptions are much more likely. You can find out more by reading the background pages.
Sulphur City
You could smell Rotorua before you saw it. Nick-named 'The Sulphur City', Rotorua smells a bit like rotten eggs. The smell grows on you, and before long you don't even notice it. The smell is a reminder of the geothermal activity of this region. Just about everywhere you look in Rotorua there is evidence of this geothermal activity. You saw boiling mud and steam rising from clear hot pools in a park in central Rotorua. Even some of the cracks in the ground had steam rising up out of them. Geothermal systems are places where the earth is hotter than surrounding areas because of hot rock or magma near the earth's surface.
A restless land
After exploring Rotorua, you could understand why this area is so popular with tourists. Tourists have been coming to Rotorua since the 1870s. This was before the Tarawera eruption destroyed the famous Pink and White Terraces. So even though all this geological activity can cause many hazards it does provide us with some amazing environments.
You travelled northeast towards the coast to stay at Iramoko Marae. Here you were welcomed on to the marae and met local iwi who will guide you in your journey across the Taupō Supervolcano.
Tomorrow you will be able to look back in time and discover more about the awesome forces that have shaped this land.
See you in the morning,
Shelley the LEARNZ Field Trip Teacher.
It was raining when you left Dunedin this morning. Image: LEARNZ.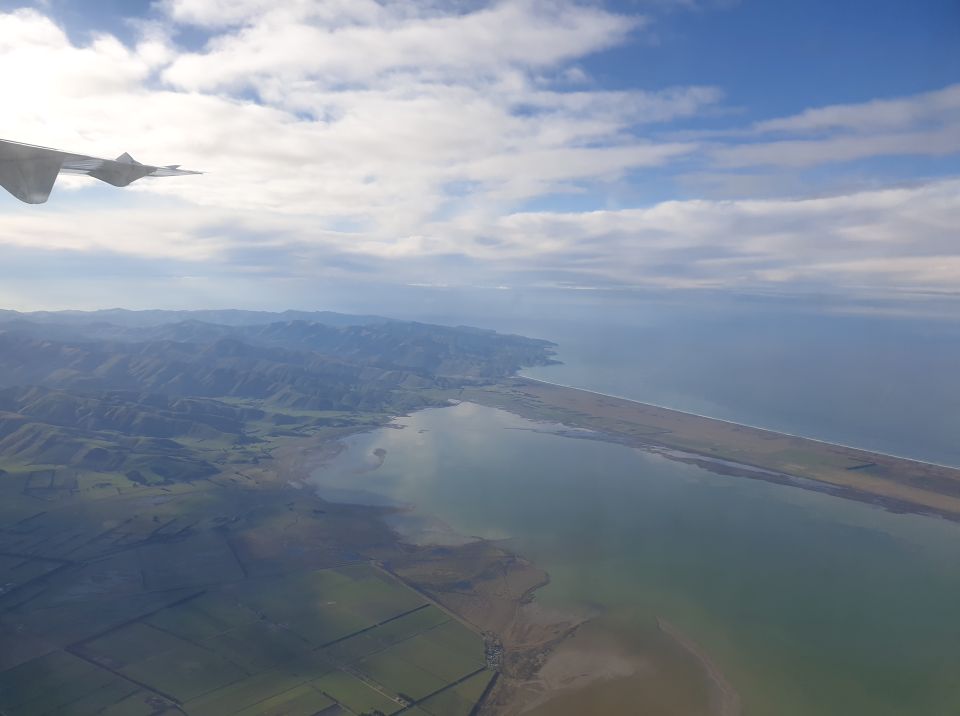 The cloud cleared as you approached Christchurch. You could see Lake Ellesmere and Banks Peninsula before landing. Image: LEARNZ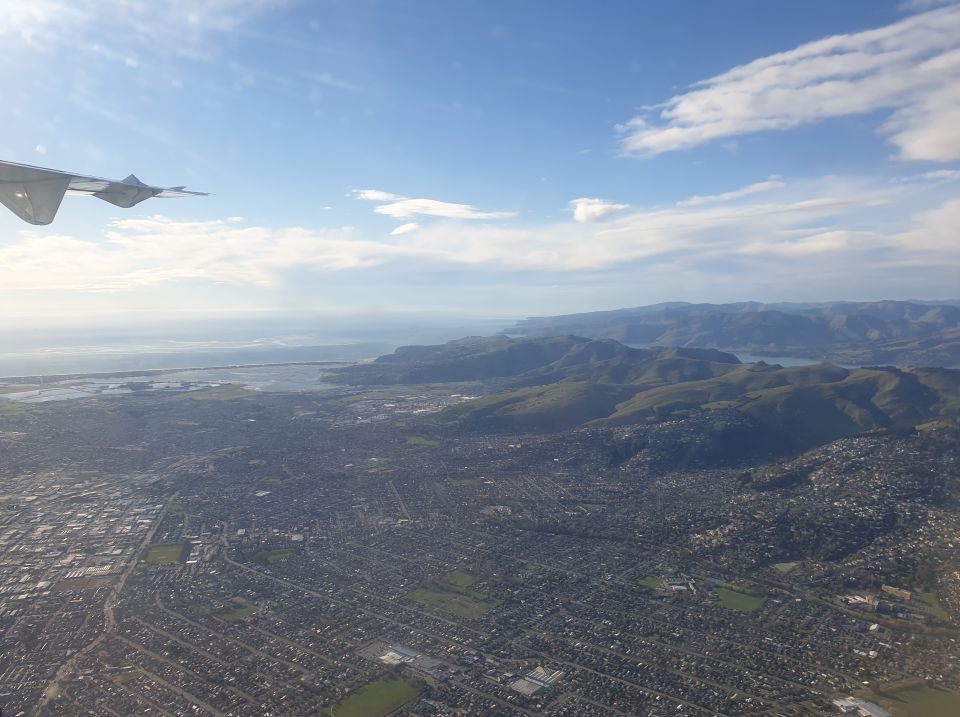 You had to land in Christchurch and board a different plane destined for Rotorua. Image: LEARNZ.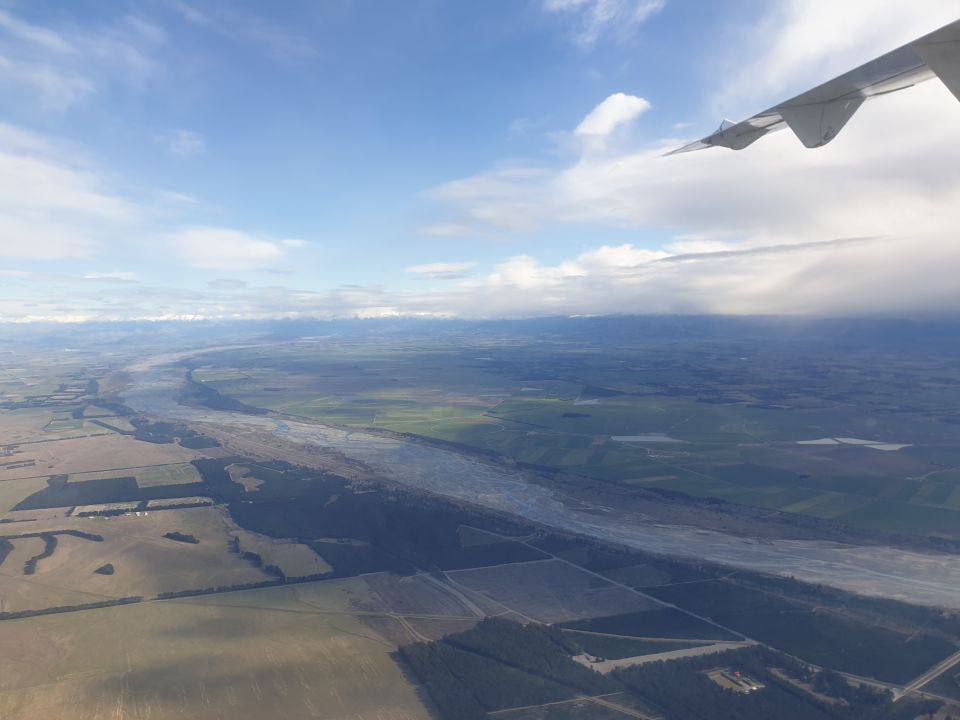 You looked out over Waimakiriri River and could see fresh snow on the foothills of Kā Tiritiri o te Moana. Image: LEARNZ.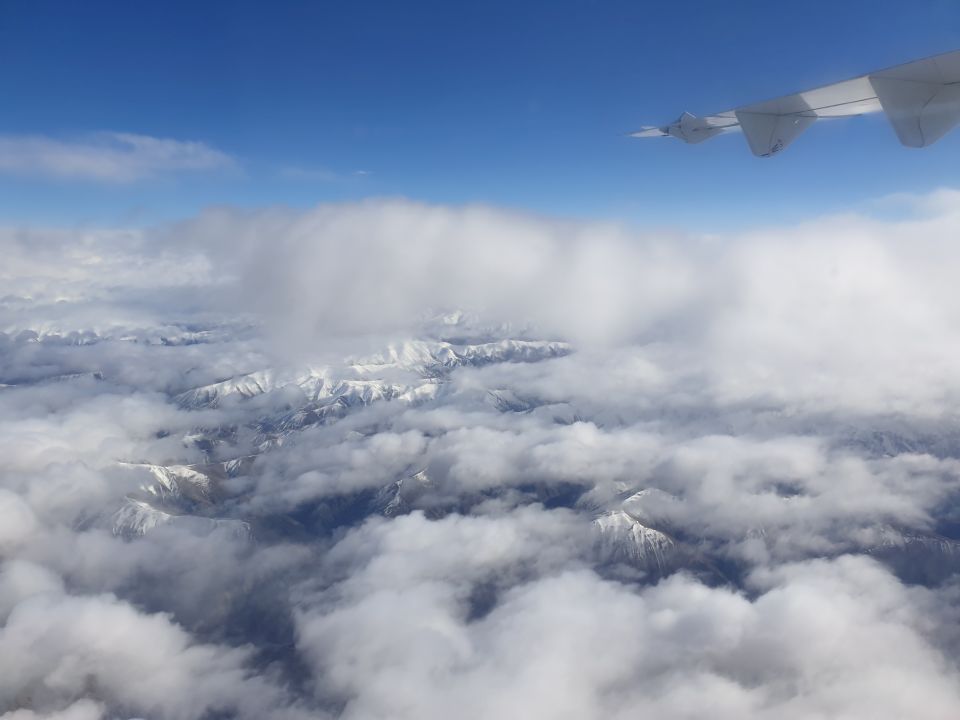 During the journey north you only caught glimpses of the land below. Image: LEARNZ.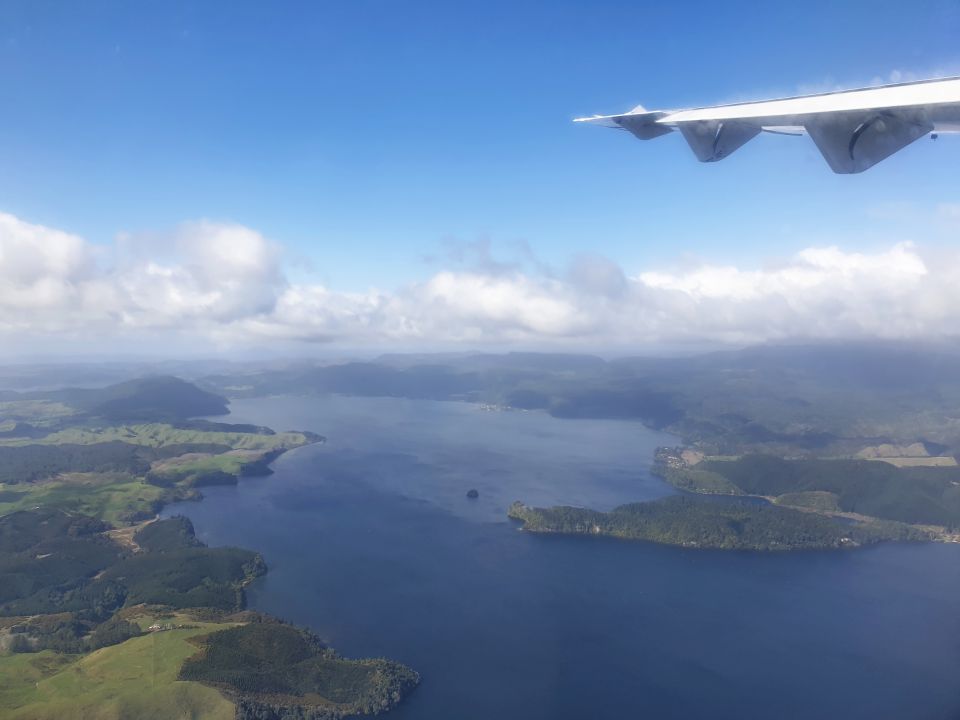 You circled over Lake Rotoiti before landing in Rotorua. How do you think this lake was formed? Image: LEARNZ.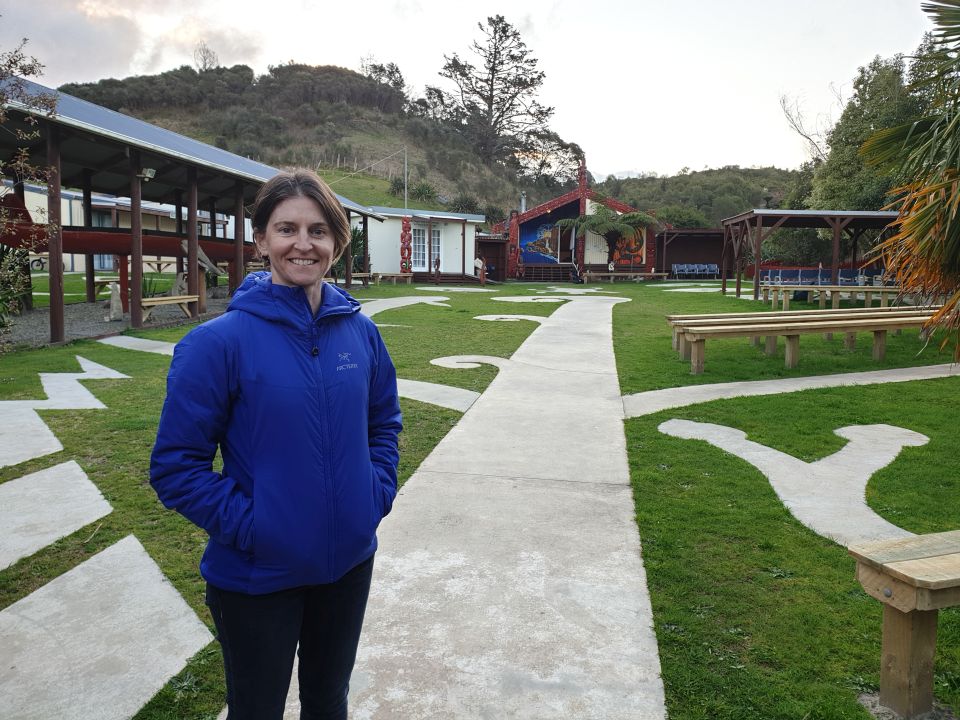 After a pohiri Shelley settles in at Iramoko Marae to find out more about the history of this whenua. Image: LEARNZ.