The Alpine Fault: when AF8 goes big!
About this trip
Explore the Alpine Fault, one of Earth's most impressive geological features, where a big earthquake happens about every 300 years and where one is likely in our lifetimes. Find out about AF8, a coordinated programme to get us better prepared.
Aotearoa sits on the boundary between the moving Pacific and Australian Plate. These plates continue to shape our amazing landscape, creating spectacular mountains, valleys and lakes. Discover the power of these geological forces as you look at the evidence left behind in the Franz Josef | Waiau landscape.
During this trip, natural hazards experts will take you to remote locations along the Southern Alps to help you understand what causes earthquakes, landslides and tsunami and how you can manage the risk of these events.
This online field trip supports a STEAM-based, cross curricular approach to teaching and learning. Participation encourages curiosity, citizen-science and student inquiry. Access the glossary.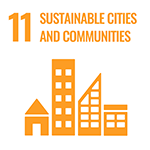 This trip reflects the United Nations Sustainable Development Goals (SDGs), especially Goal 11: Sustainable Cities and Communities: Make cities and human settlements inclusive, safe, resilient and sustainable.