Our place names: Ngāti Maniapoto stories
About this trip
Place names tell us where we are and where we might want to go. On maps they help us find our way around. But place names are also important landmarks of the history, culture and identity of our nation and the communities within it.
Māori place names tell stories of creation, ancestors, explorers and notable events. They also describe landscape features and identify resources. In this way, place names record history and define relationships between people and the land.
The lands of Ngāti Maniapoto have a unique place in Aotearoa New Zealand histories. The 150-year-old North Island main trunk railway Te Ara-o-Tūrongo runs through Ngāti Maniapoto land and is an excellent recent example of a place that now has a more complete name and recognition because of Treaty of Waitangi settlements.
Travel online to ​​Maniapoto King Country in Te Ika-a-Māui North Island to:
discover the stories and reasons behind Ngāti Maniapoto place naming throughout this area with Shane Te Ruki (member of Ngā Pou Taunaha o Aotearoa NZ Geographic Board)
explore the connection of people to special places and environments, such as local awa and maunga
inquire into how place names represent the story of settlement by a range of people in Aotearoa New Zealand
consider the importance of place names and their stories being handed down, retained, and restored
inquire into the significance and stories behind place names in your own rohe.
Sign up now to get additional support and resources, and connect with field trip experts in our live web conferences. Only available on sign-up.
This online field trip supports a STEAM-based, cross curricular approach to teaching and learning. Participation encourages curiosity, citizen-science and student inquiry. Access the glossary.

This trip reflects the United Nations Sustainable Development Goals (SDGs), especially Goal 16: Peace, justice, and strong institutions: Promote peaceful and inclusive societies for sustainable development, provide access to justice for all and build effective, accountable and inclusive institutions at all levels.
Complete, accurate, official place naming is the responsibility of Ngā Pou Taunaha o Aoteaora New Zealand Geographic Board.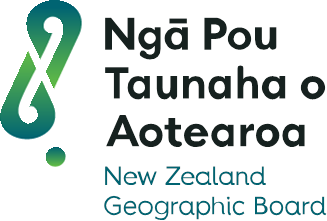 About LEARNZ
LEARNZ online field trips support students and teachers to access the inaccessible, digitally transporting them to remote locations all over Aotearoa, Antarctica and beyond. Our trips are FREE to use!